UPDATED 2021
THIS OLD HOUSE
Volume Three:
Rockland, Burnside, Harris Green,
Hillside-Quadra, North Park & Oaklands
$29.95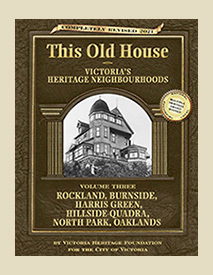 After several thousand hours of collaboration by volunteers in research, writing, graphic design and desktop publishing, Victoria Heritage Foundation's This Old House Volume 3 is now available! Out of print since 2019, this completely revised 3rd edition contains all 185 listed heritage buildings in Rockland, Burnside, Harris Green, Hillside/Quadra, North Park, and Oaklands neighbourhoods. It also includes 385 demolished buildings and is lavishly illustrated with almost 800 images. If you are interested in purchasing a copy, please email vhf@victoriaheritagefoundation.ca or phone 250-389-1864.
Proceeds go toward production of future This Old House updates.

Also available at Bolen Books, Ivy's Bookshop, Munro's Books, and Russell Books.