JOB POSTING

Job title: Executive Assistant
Reports to: Executive Director
Status: Part-time
Dates: August 21 to November 30, 2023
Hours: 15 hours a week
Salary: $21.00/hour (funding dependant)
Application Deadline: Please send your application with the words "Executive Assistant" in the subject line to vhf@victoriaheritagefoundation.ca by August 4, 2023 11:59pm. Applications will only be accepted by email.

To qualify for a Young Canada Works position applicants must be full-time students who are returning to their studies full-time in the fall. You must have an active Young Canada Works account.

Summary of Position:

The Victoria Heritage Foundation (VHF) is a not-for-profit organization under the Societies Act that supports owners of heritage buildings which were originally intended as single-family structures or duplexes. The City of Victoria established the VHF in 1983, replacing an earlier program instituted in 1978, to administer grants for owners of Designated Heritage houses. In 40 years of funding, the City and VHF have awarded 1,445 grants to 428 houses. By supporting conservation, the City has also seen an increase in the number of protected by heritage designation, from 142 to 428 in the last 40 years.

VHF has also undertaken major projects in the field of education and public awareness about heritage conservation and the celebration of heritage values. VHF produces the This Old House heritage publication series, Neighbourhood Heritage Walking Tour brochures and Your Old House booklets in partnership with Heritage BC and the Vancouver Heritage Foundation.

The VHF consists of three bodies: The Board of Directors, the House Grants Committee, and the Education Committee.

The Executive Assistant will provide support to the Executive Director, Board of Directors, and Education Committee by assisting with the digitization and archiving of VHF files, and public outreach through social media, the deliverance of Heritage Walking Tour Brochures, and by attending community events on behalf of the VHF's Education Committee.

The Executive Assistant will report directly to and be supervised by the Executive Director. Shifts will be scheduled primarily during the work week, Monday – Friday, however scheduling is flexible and can work to fit the Executive Assistant's preferences. Shifts may be scheduled outside these hours, on evenings and weekends, as required.

Duties & Responsibilities:

• Assist the Executive Director with the digitization and archiving of VHF files;
• Attend Board and Committee meetings, held in person and virtually;
• Assist the VHF Education Committee in representing the foundation at community events
• Assist the Executive Director and the Education Committee with the programming and distribution of Heritage Walking Tour Brochures;
• Assist the Executive Director and Education Committee with the distribution of the This Old House heritage publication series;
• Assist the Executive Director and Education Committee with social media content and engagement;
• Other responsibilities as assigned by the Executive Director

Qualifications:

• University graduate, with a relevant B.A., with courses in history, fine arts, museum or archival, English, or other related field; OR, a student currently enrolled in the above-mentioned programs;
• Computer skills including knowledge & experience using Microsoft Word, and digital filing systems would be definite assets;
• An intermediate level of written, oral, and reading English;
• Excellent organizational, technical writing, research, and manual skills with a penchant attention to details;
• Ability to work efficiently and self-paced;
• Excellent interpersonal skills, preferably with some experience in teamwork, and the information and service industries;
• Previous experience in a heritage environment would be a definite asset;
• Access to a personal computer and the ability to work from home. An external hard drive for VHF related work will be provided;
• Space to store up to three 24x12x10" boxes at a time and a portable scanner to be supplied by the VHF;
• Because of the physical nature of some of the work proposed, the candidate should be capable of carrying up to 15lbs. However, accommodations can be made;

All qualified applicants are invited to apply by submitting their cover letter and resume to:

Maria Buhne Executive Director,
Victoria Heritage Foundation
vhf@victoriaheritagefoundation.ca
We look forward to reviewing all applicants, however, only those selected for an interview will be contacted.

REVISED 2018 & UPDATED 2022
THIS OLD HOUSE
Volume Two: James Bay
$29.95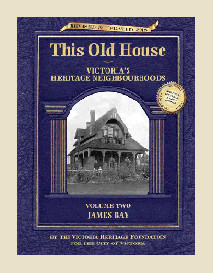 Our third edition of This Old House 2, James Bay was produced in 2018 after three years and several thousand hours of collaboration by volunteers in research, writing, graphic design and desktop publishing! It was out of print again by early 2022. Rather than simply reprinting, we added the one newly-designated house, made corrections and additions to the text, reformatted various sections to make the text and photos more accessible, and re-dated the covers and footers. If you are interested in purchasing a copy, please email vhf@victoriaheritagefoundation.ca or phone 250-389-1864.

Proceeds go toward production of future This Old House updates.

Also available at Bolen Books, Ivy's Bookshop, Munro's Books, and Russell Books.