Heritage Register
James Bay

610 Avalon Road
(ex-5, then 646 Michigan St; relocated 1914)

Built 1891
Heritage-Designated 1991
For: Edith & Walter Quinlan; Sarah Jensen

Architect: John Teague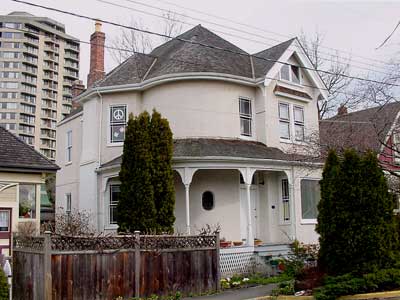 ARCHITECTURE:

This 2½-storey Queen Anne house is reminiscent of the East Coast American Shingle Style, but unusually was originally clad in drop siding, which was steamed around the tower. Unfortunately the steamed drop siding is no longer visible as the house was stuccoed in the 1960s. The hipped roof is surrounded by two gabled box bays on the front and right side, and an angled bay on the left beyond the tower, which has a conical roof. The curved porch adjoins the prominent square bay on its right and the two-storey angled bay on its left, and incorporates the tower. It has turned posts but is missing its original Eastlake balustrade. There is a wide, deep, hip-roofed extension at the rear. Queen Anne stained glass borders upper and lower panes of most of the double-hung windows. An oval stained-glass window on the lower floor of the tower remains, but the original multi-paned window in the front attic gable has been replaced. The pent roof above the paired double-hung windows on the second floor remains. The house, constructed in 1891 at 5 Michigan St, was moved in 1914 by Sarah Jensen to Avalon Rd at the rear of her property at 303 Government St, so that the school board could build the South Park School Annex (508 Douglas St, James Bay).

ORIGINAL OCCUPANTS:

1891-1908: Dr. Walter J. Quinlan (b. Dunnville, ON d.1934) and Edith Parks (b. San Jose, CA) married in Victoria in 1890. Walter, a dental surgeon, came to BC in 1886. By 1898 he was in Nelson, and c.1919, Ocean Falls, where he ran his practice and the post office. He returned here c.1927. In 1891 the Quinlans had a boarder, Marian, widow of Alexander Allan (1833-1888), who came to BC in 1883.

OTHER OCCUPANTS:

1908-14: Edith Quinlan passed the property to Marian Allan (b. Devon 1840-1921), who sold it to the Board of School Trustees.
Tenants: c.1899-1901: Frances and the Hon. Abraham Smith (1838-1915). Born in Royston, ENG, in 1838, Abraham emigrated to America with his family in 1848. For about 40 years in Woodstock, IL, he was postmaster, printer and editor of The Gazette. In 1897 President McKinley made him US Consul at Victoria, an office he held until his death. Frances (1846-1921) was born in Athens, PA; at her death, she lived in the Cherry Bank Boarding House.

1916-40: Margaret Thoburn (b.ON 1848-1943), widow of John, was probably a widow when she moved to Victoria c.1911. 1942-51: John and Nellie "Kittie" Fallon rented out rooms. When they married in Vancouver in 1925, John, from Northumberland, ENG, was a miner, and Kittie, from London, had a widow's pension. 1952-68: Johanna Akkerman (c.1897-1968), a Dutch divorcee, came to Canada c.1920, to Victoria in 1942. She lived in one of four suites in the house until her death. She was a charter member of the Ex-Servicewoman's Branch No.182, Royal Canadian Legion.

ADDITIONAL INFORMATION & IMAGES:

• James Bay History

• James Bay Heritage Register



• This Old House, Victoria's Heritage Neighbourhoods,
Volume Two: James Bay