Heritage Register
James Bay

648 Battery Street
The Retreat/Alma House

Built 1907
Heritage-Registered
For: John & Ellen Hall

Designer/Builder: George C. Mesher & Co.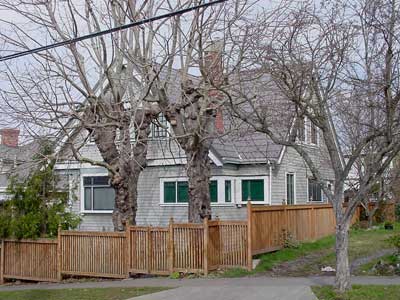 ARCHITECTURE:

This cross-gabled, 1½-storey house with a steeply-pitched, wide pedimented front gable is an unusual example of the Edwardian Vernacular Arts & Crafts (EVA&C). The now glassed-in sleeping porch below the front gable projects slightly from the façade. Some of the details of this house are typical of the Shingle style, better known in elaborate late 19th Century summer mansions on the US east coast. Characteristic features of the style are the irregular shape of the building (including the cutaway left front corner), the bands of windows, and the continuous cladding of shingles, uninterrupted by cornerboards. There are two brick chimneys, each with two flues. The entry is on the right side. The designer/builder is assumed to be Mesher as he signed the plumbing permit for the new house in 1907. In the mid-1980s this house survived neighbourhood development pressure, and in the mid-1990s it acquired a metal roof.

ORIGINAL OCCUPANTS:

The Halls bought this lot and the one directly behind c.1892, and lived in an Italianate house at 655 Niagara St (demolished in the 1980s) until building this one in 1907. John Hall was born in San Francisco and came here when he was four in 1859. He married Ellen Elliott in England in 1887. Daughter Muriel was born in Nottingham, and then Hall brought them here. Ellen's brother John, an insurance inspector, lived with them during the 1891 census.

John Hall described himself as a gentleman in census and voters lists, and was a city alderman in 1892, 1895, 1897-98 and 1900-01. According to research by John Adams, Hall played a significant role in the development of the neighbourhood, lending money to people to build their homes. He was later a compositor for the provincial government printing bureau. Hall acquired the nickname "5 Cent John" because of his love of beer, which cost 5 cents.
In 1914 Muriel married mechanical engineer William Wardle, but they divorced and she was living here again by 1920. Muriel played piano in local theatres and in 1925 married fellow musician Herbert Handel Vinall, who in 1929 was playing for the silent films at the Capital Theatre, but when he died in Vancouver in 1958 at 60, he was a lighthouse keeper. They, too, divorced. When Muriel died in 1943, she was married to Archibald Gordon and they lived at 35 Wellington. Archibald was living here at the time of John Hall's death in 1944. Ellen still lived here when she died at 98 in 1955.

ADDITIONAL INFORMATION & IMAGES:

• James Bay History

• James Bay Heritage Register



• This Old House, Victoria's Heritage Neighbourhoods,
Volume Two: James Bay