Heritage Register
James Bay

652 Battery Street
Seaview

Built 1892
Heritage-Designated 2010
For: Mary H. & George A. Campbell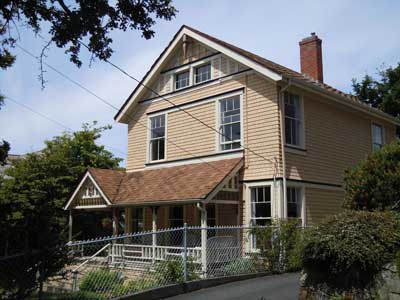 ARCHITECTURE:

This 2½-storey, front-gabled Victorian house has a main-floor, gabled box bay on the left side. In the apex of the front gable, beneath a drop finial, are two small, square, multi-light windows between string courses, with stickwork above and beside the windows. The two second floor front windows have a common header and apron and are separated by a panel of shingles. Many of the windows on the house are unusual in their design. The shed-roofed porch has bracketed square posts, and vertical and horizontal balusters; the porch stops short of the front right side and wraps around to the left, interrupted by a gable above the front steps at the left front corner. The main entry door is in the box bay on the left side. The spindled and trussed gable resembles a pedimented gable. The house is clad in drop siding on the first floor and shingles above. Architect Samuel Maclure signed the 1903 plumbing permit.

ORIGINAL OCCUPANTS:

George Campbell came to Victoria in 1889 and was a commission agent for manufacturers of a variety of goods including underwear, mens clothing, ladies and mens gloves and drygoods. Campbell was active with the Boy Scout movement, as Assistant Commissioner of the Wolf Cubs. The Campbell family moved to Vancouver in 1905. Mary was born in India, the daughter of Surgeon Major-Gen. Ward of Bombay. She died in Point Grey in 1927 at 70. George, born in Montreal, Quebec, died in 1928 at 73.

OTHER OCCUPANTS:

1908-09: Louise Berridge and her sons William Harold, bookkeeper at the West End Grocery, Frank, bookkeeper at Goodacre & Son, and Wallace, cashier at Melrsoe Co. Ltd.
From 1910-12, William M. Platt and his daughter Hilda rented and paid the taxes. According to City Directories, the house was vacant several years during WWI, but Hilda and her mother Matilda were again living in the house in 1920 and Hilda was a bookkeeper. Matilda, born in Toronto, died that year at 52. In 1925 Hilda married Cecil Rose in Victoria. William Platt died in Victoria in 1935 at 89; also from Toronto, he was a railway mail clerk in BC for 20 years, and lived at the YMCA when he died.

Mary S. Crofton paid the taxes from 1912 to at least 1916, although it appears she never lived here. Born Mary Bullock in Chalfont St. Peter, England, she married farmer Ernest Crofton of Saltspring Island in 1901. They lived at Mote Cottage in Ganges when Mary died in 1948 at 79. Ernest, who was born in Dublin, Ireland, and served with the Royal Navy during WWI, returned to Ross-on-Wye, England, in 1948 and died there in 1962 at 83. Saltspring Island's famous Harbour House was built by his brother.

This house had a string of renters over the next few years. In 1929-30 it was the home of Elizabeth Katy and Sydney A. Reynolds, who at that time was a clerk at Weiler Furniture. He later became a china and glass retailer of note, and Sydney Reynolds is still a prominent shop across from the Empress Hotel. Katy was born in Hampshire, England, and came here c.1929; they were living at Albert Head in Metchosin when she died in 1971 at 81. Sydney was born in Hampworth, England and was still living in Metchosin when he died in 1980 at 89.

The house was vacant during the worst years of the Great Depression in the early 1930s. From 1946, owners were Ernest and Amy Thomas. Like many retirees then and now, they came from Saskatchewan to a warmer climate. Ernest was a letter carrier in Saskatoon for 22 years. They still lived in the house when he died in 1959 at 81.

ADDITIONAL INFORMATION & IMAGES:

• James Bay History

• James Bay Heritage Register



• This Old House, Victoria's Heritage Neighbourhoods,
Volume Two: James Bay