Heritage Register
James Bay

321 Belleville Street (ex-86)

Built 1877
Heritage Covenant
For: James & Sarah Clark

Builder: A.J. Smith & G. James Clark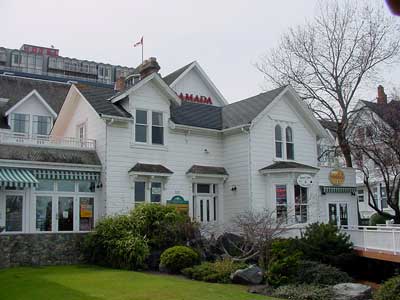 ARCHITECTURE:

This 1½-storey, L-plan, gable-roofed house has a prominent right front wing with a pair of round-arched windows on the second floor over a shallow, hip-roofed, angled bay. To the extreme left on the L is a gabled through-the-roof wall dormer with paired windows; there are paired windows on the main floor below. The front door sits to the right in the angle of the building; its transom window and narrow sidelights are similar to 327-329 Belleville St next door. The bracketed, hipped hoods over the left windows and door, the brackets on the bay, and the bullseyes on the window casings were added between 1967 and 1977. An archival photo of 309 Belleville St gives a glimpse of the right side of 321 (pg 73), and a 1950s photo before all details were removed and asbestos siding applied has just been found on CVA's new website. Once present on the gable on the right side was an unusual feature, a cut back of the gable overhang. 321 is clad in drop siding on the front, asbestos siding on the other three sides. A corbelled, split-stack, brick chimney at the mid-roof peak remains; a second split-stack chimney was removed. A one-storey, shed-roofed addition on the right side and a passage to 327-329 on the left are recent additions.

ORIGINAL OCCUPANTS:

This house was assessed at $1,500 in 1878. James Clark, born in Sterlingshire, Scotland, in 1838, was a carpenter and contractor with Smith & Clark. When he died in 1884, his doctor was Dr. Chan Dan Tong: it was unusual for the British to go to Chinese doctors at that time. The 1891 census listed Sarah Clark alone in the house, but by 1892 she had a lodger, barrister Francis Brooke "Frank" Gregory. For several years he was joined by Gordon Hunter, who became Chief Justice of the BC Supreme Court, and then Lyman P. Duff (1745 Rockland Av), who was later knighted and became Chief Justice of the Supreme Court of Canada. Hunter married in 1896 and in 1899 bought the house next door, 327 Belleville St.

The 1901 census listed Sarah's 20-year-old Chinese cook, Quang Quang. During WWI, Sarah moved to her sister's in Bowman, CA, and died there in 1918 at 71. Gregory bought the house and lived in it until 1920. He was born in 1862 in Fredericton, NB, son of a judge of the New Brunswick Supreme Court. He took law at Harvard and was called to the bar in 1884. In 1890 he came to Victoria and joined in partnership with Thornton Fell as Fell & Gregory. In 1909 he was appointed to the BC Supreme Court. In 1913 Gregory married Hannah, the daughter of Senator F.P. Thompson of Fredericton, NB. Frank Gregory joined the local militia in 1893, and was Colonel of the 5th Regiment from 1899 to 1901. He then became one of the originators of the craze for wooden jigsaw puzzles in Victoria, setting up a wood and metalworking shop in the Belleville house by 1909, and continuing their production into his retirement in 1933. Gregory died at 73 in 1936, Hannah in 1947 at 70. The Gregorys were prominent members of St Andrews Presbyterian Church, then First United Church.

OTHER OCCUPANTS:

The next renters were Walter W. Baer and son Walter, a salesman for Gillespie Hart & Todd. Walter Snr's wife "Elsie" was born in Windsor, England, came to Victoria in 1888 and ran the Hotel Aberdeen on McClure for about 40 years until her death in 1943 at 73. Her husband, who was born in Goderich, ON, studied for the Methodist ministry and filled pastorates at Nanaimo, where their children were born in the early 1890s, and Victoria's Centennial Methodist Church. He then wrote editorials for Victoria Daily Times, and was secretary for Liberal BC Premiers Harlan Brewster and John Oliver.

In the later 1920s this was the home of Florence and Edward P. Girdwood, PEng, Provincial Lands Department draughtsman, who died at 54 in 1930, when they lived at 243 Kingston St, James Bay. Through most of the 1930s, the residents were Robert and Helen (MacMillan) Rowan, proprietors of the Flower Box. In 1935-36, they rented a room to T. Lay of Amos 'n' Andy Sweeps, who used 321 Belleville as his business address. The Rowans were from Dunoon and Greenock, Scotland, respectively, and married in Victoria in 1914. Robert died in 1952 at 65.

Retiree Richard Boyns lived in the house from c.1940 until his death in 1956 at 87. Born in St. Just, Cornwall, England, and trained as a tinsmith, he was a printers' helper for Bapco Paint Co. He was a brother-in-law of William J. Pendray (309 Belleville St), owner of Bapco. Boyns, a bachelor, lived with the Pendrays from his arrival in Victoria in 1901 until they sold 309 Belleville c.1939.

By the late 1960s, this was a tourist attraction, known as "Land of the Little People." In recent years this house has been part of Belleville Park of Huntington Manor.