Heritage Register
James Bay

111-13-15 Clarence Street (ex-92)

Built 1905
Heritage-Registered
For: Albert Pike
Builder: Albert Pike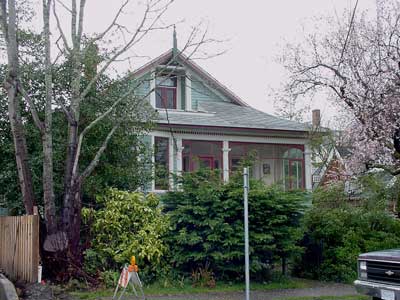 ARCHITECTURE:

The front-gabled, gable-on-hip roof has a recessed door in the gable leading to an inset balcony in the hip; there is a porch on the hip on the rear. The hipped roof is bellcast and forms the cover of the front porch and the wide angled bay to the left of the porch. A tight denticulated frieze surrounds the front and sides of the house. The porch, which has eliptical arches between chamfered posts, is enclosed with large old, well-proportioned windows. Both the front and rear gables have finials. The house is shingled above the watertable, which sits on a high brick foundation, and it has two corbelled brick chimneys.

The original owner and builder of this house was Albert Pike, a bricklayer living at 554 Niagara St, James Bay.

ORIGINAL OCCUPANTS:

Norah (Denny, 1876-1961) and Francis Pengelley (1877-1968) lived here until 1910, then moved their new house at 427 Arnold Av, Fairfield. Frank was born in Ontario and came to Victoria in 1898. Norah was born in Victoria and married Frank in 1907. Frank was a salesman with Weiler Bros all his adult life until he retired in 1960.

OTHER OCCUPANTS:

From 1924-1930s, Frederick Armour and Carrie Irvine lived here. Fred, a carpenter, was born in Victoria to William and Florence (Carlow) Irvine. William was the Victoria-born son of Saanich pioneers John and Jessie Irvine, who came to Victoria in 1851 on the Tory as identured servants of HBC and lived at Fort Victoria, and Craigflower Farm before cutting a farm, Rose Bank Farm, out of the forest in the Cedar Hill area of Saanich. Fred married Carrie Milligan of Vernon, BC, in 1906. He died in 1932 at 46. Carrie sold, dying in 1935 at 48.

From c.1937-40, Albert Ernest and Margaret Janette (White) Matcham were occupants. Margaret was born in Waterloo, IA, in 1903 and came to Canada in 1906. She lived in Regina, SK, for many years before coming to Victoria with Albert in 1929. A long-time member of Fairfield United Church, she died in 1957. Albert was born in Aldershot, England, in 1899 and was a bookkeeper at MacDonald Electric when he lived here. He later became an accountant. A member of the Oak Bay Camera Club, Gordon Head Garden Club, and Victoria Credit Granters Association, Albert died in 1976.

From c.1945 George and Charlotte (Whall) Thomas lived here. George (1889-1974), born in Moncton, NB, was a civil engineer and surveyor. From 1954-74 the owners were George (1907-19870 and Isabella (Lamond, 1909-1989) Puritch. George's family emigrated from Austria and homesteaded at Roxton, SK. He was in the army in WWII, stationed in Britain as a heavy-duty mechanic. Isa, a war bride from Perth, Scotland, sailed in 1946 with their young son and daughter on the Queen Mary to Halifax, then came by train to Victoria. George had come to Victoria nine months earlier and was a mechanic with Wilson then Morrison Motors until his retirement.