Heritage Register
James Bay

100 Cook Street
Beacon Hill Park

Built 1858; 1882; 1889
Heritage Designated 2010/Institutional
For: City of Victoria

Landscape Architect: John Blair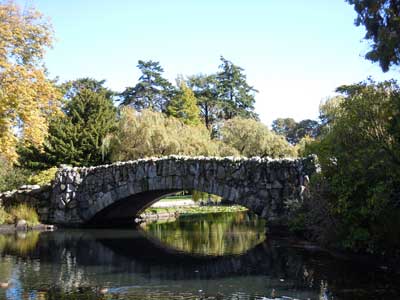 This park is one of the jewels of the City of Victoria. Its long history dates back to when the Songhees, originally called Lekwungen, First Nations occupied the land, then known as Meeachan. Evidence of occupation by the Lekwungen people was found in various shell middens in the area, as well as several house platforms, still visible at the southern end of the park. Remnants of a defensive trench at Holland Point and additional house platforms have been found at the north end of the park. Remnants of a fortified village site, dating to 950AD have been found at Finlayson Point, which was occupied again 500 years later. The blue blossoms of the camas flower, which cover Beacon Hill in April, indicate that the Lekwungen cultivated them as a staple food. They buried their dead at this site, as is evident by various burial cairns on Beacon Hill, some of which were demolished during the 1970s to allow for grass-mowing. In 1986, staff of the Royal BC Museum aided in the reconstruction of several of these burial cairns.

The area surrounding Beacon Hill, equally as picturesque with its vast prairie-like environment and rolling hills, was selected as the site of Fort Victoria in 1842. By 1846, navigation beacons had been placed on the hill, akin to the site's namesake. The particular appeal of Beacon Hill led to its reservation for use as a park in 1858 by Governor James Douglas. This decision was based on typical British colonial settlement plans, which detailed the division of land for schools, churches, and other settlement necessities, including parks. By this time, European settlers had already been enjoying the park, as the area was used for horse-racing and cricket. Today's Circle Drive was built over the race track. The park was used for other recreation, including a birthday party for the Douglas's 2-year-old son in 1852. The Lekwungen people continued to use the site as well, although they often conflicted with the European settlers, who used the hill for grazing animals.

Discussions about appropriate park use date back to the early 1860s, when tree-cutting for firewood was controversial. Citizens expressed their concerns in the newspapers over tree-depletion in the park and there was a move to regulate this activity. The issue of appropriate park use arose once more in the early 1880s, when the Agricultural Association attempted to appropriate parts of the park for agricultural purposes. The BC Supreme Court prohibited this action. This judgment was used in 1998 to prevent the not-for-profit Capital Region Festival Society from charging admission to a musical event on park property.

Fears of a Russian invasion led to military use, and batteries were constructed in 1878 at Victoria Point; until 1892, two 64-pound guns were mounted at Finlayson Point to protect the city. The park saw military service during WWI, when the City had little money for park upkeep.

In 1879 the City of Victoria was appointed park Trustee, and 1881 legislation allowing cities to administer parks led to granting Beacon Hill Park in trust to the City for public recreation and enjoyment in 1882. During the 1880s, the City began to actively manage the park and manipulate its landscape. Improvements included benches, a bandstand designed by architect L. Buttress Trimen, and Fountain Lake by 1888. In 1889, the City held a competition for an overall landscape plan. Architect Henry J. Cresswell won the competition, but the designs of John Blair, a 30-year landscape design veteran who did not enter, were selected instead. As he was over 60, Beacon Hill Park was one of his last large scale projects. Blair utilized a typical English landscape style, incorporating the existing environment with significant modifications to create a picturesque landscape.

Blair's design included, besides lakes and bridges, a zoo, bear pit and deer enclosure. The zoo opened in 1890 at Cook and Dallas, and continued operating in various states until it was re-established as a children's petting zoo east of Circle Drive in 1973. The bear pit housed a grizzly, cinnamon, black and a rare kermode bear named "Ursus", by 1924. The bear pit closed in 1948 after Ursus died. Deer lived on the property from 1889 to 1990, when the last doe moved to Royal Roads Military College. The Robert Burns monument, first of many monuments, was installed c.1900, then a children's playground. In 1910, a lawn bowling green and first clubhouse were added.

Subsequent park managers largely maintained Blair's vision. W.H. Warren was superintendent from 1930-70. His contributions included an ornamental garden in the wetlands containing Rose Lake (today's Show Garden), Checker's Pavilion (the Lookout) in 1936 built by relief workers, re-surfacing the playing fields at the southwestern end of the park in 1961, and three tennis courts in 1964. A maintenance building designed by architects Spurgin & Johnson was built in 1931. Cameron Bandshell (1320 Purcell Pl, Rockland) was built in 1948. The bridge dedicated to Emily Carr (620 Battery St, James Bay) was built at the south end of Goodacre Lake in 1952-53. Warren faced public pressure to increase sports and parking facilities, but he wanted to maintain the relative peace and tranquility. His friendship with D.D. McTavish (28 Douglas St, James Bay), Parks Committee chair, helped.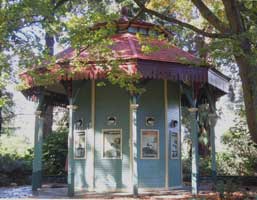 The City of Victoria is developing a management plan for the park and park roads. There has been controversy over appropriate use of the park, particularly regarding commercialism. As this invaluable heritage resource is used by a great variety of people, establishing an appropriate management plan is an ongoing project. Meanwhile, the bandstand was restored in 2010, and the City won a Hallmark Award in 2011.

ADDITIONAL INFORMATION & IMAGES:

• James Bay History

• James Bay Heritage Register

• Royal BC Museum Archives Image 1

• Royal BC Museum Archives Image 2

• Royal BC Museum Archives Image 3

• Royal BC Museum Archives Image 4

• This Old House, Victoria's Heritage Neighbourhoods,
Volume Two: James Bay