Heritage Register
James Bay

680 Douglas Street
Thunderbird Park

Built 1940-41; 1953
Provincial Historic Site 1963
For: Province of British Columbia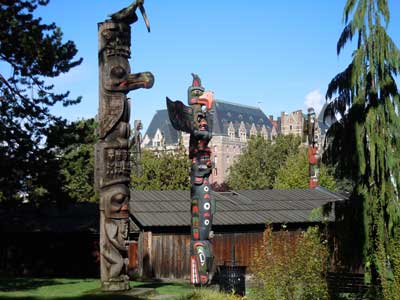 The SW corner of Douglas and Belleville Sts, near Victoria's Inner Harbour, is part of the Royal B.C. Museum (RBCM) complex, which includes St. Ann's Schoolhouse (637 Elliot St) and Helmcken House (638 Elliot St). The structures in 2012 consist of the 1953 Longhouse and 11 replica poles. Eighteen original poles are displayed in the enclosed forecourt of the museum, and another replica stands in front of the museum, near the sidewalk.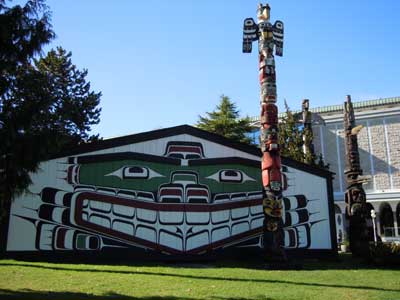 Thunderbird Park is named for the mythological creature found on many totem poles: the ones in the park came from the Gitxsan, Haida, Kwakwaka'wakw and other First Nations. The original totem poles were in the RBCM collection; in 1941 they were moved outdoors onto the then vacant lot. Several years later a restoration programme became necessary and Kwakwaka'wakw carver and craftsman Mungo Martin headed the work, in collaboration with the anthropology curator Wilson Duff. Martin had established a similar programme at the University of British Columbia in the Anthropology Museum.

The lengthy project at Thunderbird Park involved once again moving the poles indoors and replacing them with replicas. Martin's work included the 1953 construction of a traditional Longhouse. He died in 1962 and was succeeded by Henry Hunt, who was assisted at various times by his sons Tony and Richard, Tim Paul, Lawrence Bell, David Gladstone, David Martin and Bill Reid. All the replicas were in place by 1992.