Heritage Register
James Bay

512 Simcoe Street (ex-39 Simcoe St)

Built 1884; 1910
Heritage-Registered/Commercial
For: Lizzie & John Chandler (1884);
John Virtue (1910)

Architects: D. Clumas (1884);
Crawford Coates (1910)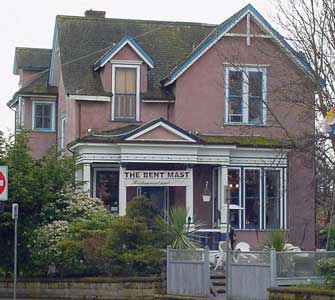 ARCHITECTURE:

This 1½-storey, cross-gabled, eclectic Queen Anne house has three through-the-roof, gabled, wall dormers. The dormer on the left side bisects a hip-roofed, full-height box bay. To the rear of the small dormer on the right side of the house is a gabled box bay over an angled bay. The third dormer on the front is to the left of the main gable. A jerkin-headed extension on the rear is to the left of a narrow, hip-roofed, one-storey box bay. There are chamfered Stick Style trusses in the apices of the four main gables. Beneath the front main gable is another hip-roofed, one-storey box bay, the roof of which is continuous with the roof of the symmetrical front porch. The porch roof has a small pediment-gabled extension supported on two brackets attached to two of the four Tuscan columns which support the porch roof. There is one square pilaster on the left side of the porch against the wall. The frieze around the porch and the bay is denticulated. The balusters are turned and, like the porch itself, Classical in style. On the left side are two arched windows; one, the stairwell window, is multi-paned with Queen Anne leaded, coloured and etched glass. An art glass transom window is to the left of the front door. The house has been stuccoed, and a great deal of trim was lost in the process. Some of the low concrete block retaining wall still exists. The Chandlers had this house built for $4,500.

ORIGINAL OCCUPANTS:

Owners: 1884-1909: John Chandler (b. Windsor, NS 1845-1905) and Lizzie Denham (b. St. John, NB 1849-1912) came to Victoria in 1878. Lizzie was educated in England, but moved back to the Maritimes to teach. John was a bookkeeper and accountant with HBC. From 1895 they farmed on Wilkinson Rd in Saanich, then returned to live in a small cottage behind 512, as it is thought that Lizzie disliked the kitchen at the back of the basement. John was president of Victoria Liberal Association for several terms.

OTHER OCCUPANTS:

Tenants: 1889-90: James & Mary Angus lived in 102 Menzies while their house was being built at 1321 Rockland Av, Rockland. James was a partner in Angus & Gordon, grocers and wine merchants.

1897-1901: Cecilia Isabel (née Raymur, b. Halifax, NS 1813-1908), widow of Richard Jones, in 1899 was joined by her daughter, Agnes Seawell Blaiklock (b. Halifax, NS 1847-1946), widow of Frederick William Blaiklock.
1905-08: Henry "Harry" Currie and Orfa Catherine (née Miller, b. Clinton, ON 1874-1946) married in Victoria in 1902. Harry was a salesman, then carpet department manager for Weiler Bros.

Owners: 1910: John Alexander Virtue, builder of the Oak Bay Beach Hotel, commissioned architect Crawford Coates to design extensive additions and alterations.

1911-68: Robert Sirius Moffitt (b. Omach, IRL 1861-1955) and Margaret Jane (née Ott, b. Chatham, ON 1867-1953) lived in Chilliwack until 1911, then moved here. Robert came to Canada c.1880 and married Margaret in Delta, BC, in 1892. They lived here until 1941, moved to 531 Toronto St which they built in 1940 for $2,500; Margaret ran 512 as a rooming house. Robert, a blacksmith, retired in 1925. He was a member of IOOF. Their son and daughter-in-law, Robert John Moffitt (b. Ladner, BC 1901-1968) and Mary Norma (née Dieroff), continued to operate 512 as a rooming house and lived at 531 Toronto St until at least 1968.

1970s-2018+: This has been a restaurant since the 1970s. In 1975 then owner Bill McKechnie won a Hallmark Award for his rehabilitation and adaptive reuse of the house.

ADDITIONAL INFORMATION & IMAGES:

• James Bay History

• James Bay Heritage Register



• This Old House, Victoria's Heritage Neighbourhoods,
Volume Two: James Bay