BURNSIDE

• Burnside Heritage Register Properties

• Burnside Neighbourhood Heritage Walking Tour

Burnside Neighbourhood History
By Dennis Minaker © 2004
This expansive neighbourhood, stretching from the northern edge of downtown through Rock Bay to the city's north and west limits along Harriet and Tolmie Streets and east to Blanshard Street, was for centuries home to First Nations whose campsites dotted the harbour shore. With European colonization this area soon hosted an extraordinary range of urban development, both industrial and residential. By 1900, waterside factories, mills and shipyards – along with attendant cabins and lodgings nearby for labourers – shared a common shoreline with grand mansions, rose gardens and croquet lawns. Tracks for streetcars and no less than three railroads traversed adjoining working-class neighbourhoods.
Click on the titles below to reveal more information
---

Like much of Victoria, residential development began with the sale of raw land from the fur trade reserve in the 1850s, mainly to employees of the Hudson's Bay Co (HBC). The 103-acre Rock Bay Estate of Sarah and Roderick Finlayson, former chief trader of Fort Victoria, stretched eastward from the water of Rock Bay to the Fernwood area.

Their rambling 2-storey manor, surrounded by ornamental gardens, orchards and open fields, stood isolated west of Douglas Street, north of Queens Avenue, until demolition c.1907. Bay Street separated Finlayson's property from Hillside Farm, the huge estate owned by Sarah's parents, retired HBC chief factor John and Josette Work (see Hillside-Quadra history). Craigie Lea Farm, covering 400 acres along the waterway beyond Cecelia Ravine, belonged to HBC shipwright-turned-publican James and Mary Yates. Harriet Street was named after their second daughter. The Garbally Estate of Anne and Richard Woods, provincial Supreme Court registrar, was established in 1862 on 110 acres bordering Selkirk Water. Richard died at 63 in 1876; Anne managed the estate until her death at 70 in 1883.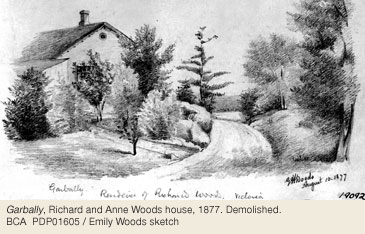 Early access to these properties was by boat along the waterway or a rough ride over crude forest trails. Douglas Street was pushed northward to meet Burnside Road and the old road to Saanich by 1859. Two years later the first bridges were erected over the Arm at Point Ellice and Rock Bay – the latter supported at midstream by a rocky islet for which the small bay was possibly named.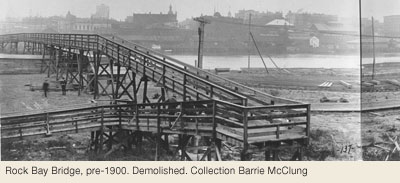 Creeks that flowed into the waterway were also spanned, notably along Douglas and Government Streets near Queens where a meandering stream from Fernwood spilled into Rock Bay as Finlayson Falls. A small water-powered mill was built there in the 1860s. Two bridges along Gorge Road spanned creeks draining the area of Topaz and Speed Streets. The present span over Cecelia Creek ravine on Gorge Road was constructed in 1912. Several more bridges crossed upstream at Burnside, Beta and Delta Roads. Tidal water from Rock Bay almost reached John Street, between Bridge and Ludgate, until 1890 when a combination of landfill and bridgework connected Bay Street with the approach to Point Ellice Bridge. A drive-through concrete tunnel still passes under the roadway there.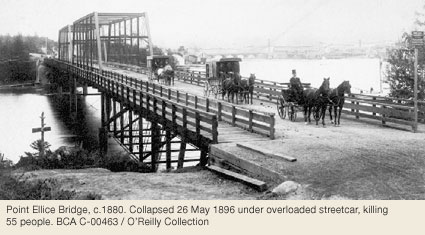 The area's longest bridge, the Selkirk train trestle, was constructed over the waterway in 1917 by Canadian Northern Pacific Railway – allowing logs from Cowichan Valley to be delivered directly to neighbouring sawmills. During this period, sportsmen and picnickers bound for Deep Cove on the Saanich Peninsula could ride BC Electric Railway's Interurban Line from downtown along Douglas Street and Burnside Road. The Victoria & Sidney Railroad (V&S) operated a passenger and freight service from 1895-1919, with a line running north from city hall along present-day Blanshard Avenue. The turntable and engine house were located at Nanaimo and Market Streets. The Albion Freight Yard of the Esquimalt & Nanaimo Railway (E&N) was on the site of Albion Iron Works. Tracks for electric streetcars were laid along Douglas to Hillside (1890), across Point Ellice Bridge to Esquimalt (1891), and along Burnside to Carroll Street (1924). Tram service ended after 1946 when BC Electric Co established their Garbally bus yard on Gorge Road.

Expansion of the area's roadways – however rustic – allowed subdivision of the founding estates to begin as early as 1861. The waterside properties near Point Ellice attracted some of the first newcomers, notably Charles Wallace who married Catherine Work from Hillside Farm in 1861 (Point Ellice House, 2616 Pleasant Street), then sold the property to colonial gold commissioner Peter and Caroline O'Reilly in 1868.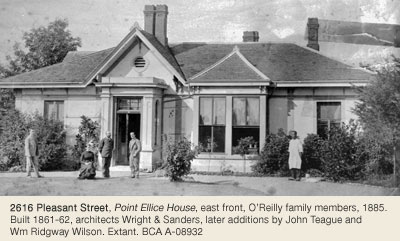 Supreme court judge Montague and Joanna Tyrwhitt-Drake and dry goods merchant, city mayor and BC premier John and Elisabeth Turner also lived on that aptly-named Pleasant Street. Mill owner James and Selina Mann built a comfortable house nearby in the 1880s, as did sealing captain William and Helen Grant.

Capt Grant was known to gather up his crew from the Rock Bay Tavern at Bridge and Bay Streets prior to sailing. Their Mansard-style house next to Point Ellice Bridge served as first-aid station and mortuary when the streetcar bridge collapsed in 1896. The western extension of Hillside Avenue from Pleasant Street to Douglas Street attracted the greatest number with 55 houses by 1893. Residents included hackmen, boatbuilders, longshoremen, tannery workers, sawyers and teamsters.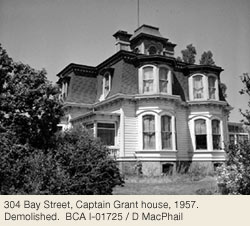 Local children attended Rock Bay School, built at 2518 Turner Avenue in 1890. It served as a Chinese Public School in the 1920s. Queen's Academy, a private school for girls specializing in bookkeeping instruction, was opened at 80 Henry Street in 1904 by Stephen Pope (1127 Catherine Street, Victoria West, 648 Niagara Street, James Bay), who moved the school to 2715 Rock Bay Avenue and later to Rockland. The building is now a 2-storey private residence and office. Children in the Gorge area went to Burnside School (3130 Jutland Road) as of 1913. North Ward Public School was built in 1895 on Douglas Street where the Times Colonist building now stands. A bell tower rising more than four storeys lent the landmark school a superior air not out of place in the fashionable neighbourhood.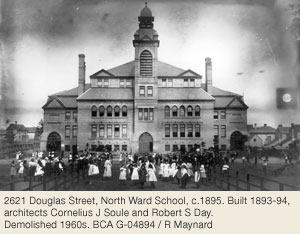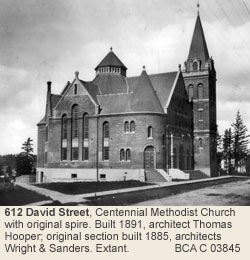 The duality of the Hillside/Douglas junction, blending 'country-living' within walking distance of town, was highlighted by the construction there of ornamental fountains and troughs in 1885. Tired horses hauling loads from rural Saanich to town welcomed the cooling water while riders preferred to slake their thirsts at the nearby Avenue Retreat Saloon (the fountain now stands in Market Square).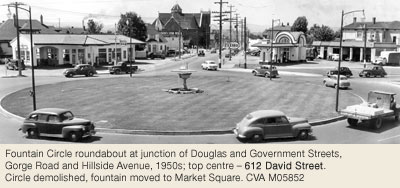 The desirability of the neighbourhood was anchored in the 1870s when three 'villas' were built on Douglas south of Hillside for the families of successful realtor and insurance agent Henry Heisterman (1521 Shasta Place, Rockland), hardware merchant Thomas Tye, and brewer Louis Erb. New residents in the 1890s included postmaster Noah Shakespeare, plumber Andrew Sheret, mill owner Joseph Sayward, Premier Theodore Davie and grocer Dixi Ross – who stabled his race horses on present-day Ross Lane. Westbourne Place was named after the elegant home of federal drydock master Captain John Devereux. A brick house on Douglas Street next to North Ward School housed the families of prominent builders William and Walter Luney. Their construction yard occupied the SE corner of Bay and Blanshard Streets in North Park until the 1970s. The large Arthur Porter house, graced with a 3-storey wooden tower, once stood on the site of today's Garbally transit yard.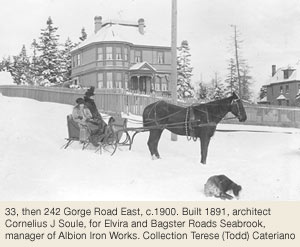 Select houses were also built to the west after Gorge Road opened up in the 1880s economic boom. Waterside lands beyond Cecelia Ravine were especially desirable. Albion Iron Works manager Bagster Roads Seabrook, gasworks secretary Charles Thomson, tannery operator and leather-goods merchant Frederick Norris, retired Okanagan cattle king Thomas Ellis, plus architects John Gerhard Tiarks and William Ridgway Wilson all lived in grand houses within the space of a few blocks. Turreted Armitage, built at the foot of Washington Avenue in 1894 for Victoria Machinery Depot (VMD) owner Charles Spratt (548 Lotbinière Avenue, Rockland), was especially elaborate, later providing a suitable residence for the large family of Premier Sir Richard McBride.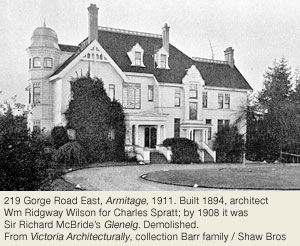 Grandest of all was the brick and stone Jacobean-style manor Ashnola, commissioned by Robert and Joan Dunsmuir (1050 Joan Crescent, Rockland) as a wedding gift for daughter Emily. Completed in 1890, it stood on 11 acres of cultivated grounds now occupied by Gorge Road Hospital.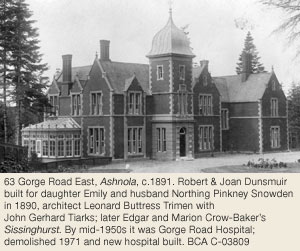 Although houses built in the early 1900s still dominate side streets, Gorge Road was irreversibly changed when it was designated as the Island Highway in 1915. Unwanted large Victorian houses, long past their fashionable youth, were divided into apartments. Demolition followed, making room for rustic auto courts then motels and today's condominiums.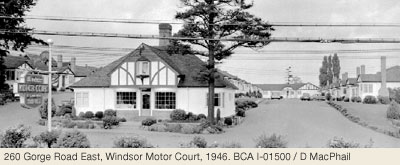 By the time the early estates were being subdivided for residential development, industry was firmly entrenched along the waterfronts of the Upper Harbour. Victoria Gas Co (502 Pembroke Street) and the giant Albion Iron Works (2101 Government Street), manufacturing everything from stoves to boxcars, were both established in the Store/Pembroke Street area in 1862.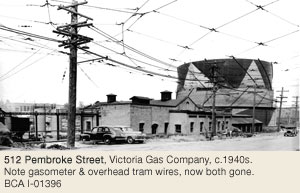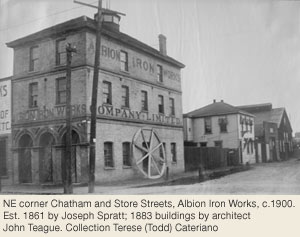 Within two decades, smokestacks, beehive burners and water towers lined the industrial shoreline north of downtown. Freshly-milled lumber for overseas markets was stacked on company wharves, ready to be loaded onto five-masted freighters. Steam-powered tugs pulled barges of coal and pig iron from Britain to feed the growing number of factories. Upper Store Street contained the Rock Bay Sawmill and Victoria Planing Mill that supplied the ornamental throne and other finishing woodwork for the new legislative buildings.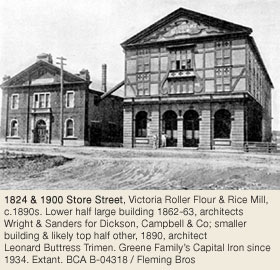 Victoria Roller Flour & Rice Mill (1900 Store Street) was established next door c.1890, followed soon after by BC Electric Railway Co's powerhouse and car sheds (502-08 Discovery Street). The big parking lot opposite was the terminus and marshalling yard for the E&N Railway, with tracks from the Johnson Street Bridge. Shawnigan Lake Lumber Co was located on Government Street at Discovery, kitty-corner to the 6-storey Victoria Phoenix Brewery that produced beer for almost 100 years. Gone too are the Queen City Sawmill, Capital Planing Mill and Crowe-Gonnason Sash and Door Factory, all founded in the late 1800s along the Government Street waterfront north of Pembroke. Wagon works, blacksmith shops, stables, warehouses, plus wood and coal yards also existed nearby. Surviving structures include the Smith Brothers foundry at 632 Pembroke Street and a former Chinese laundry at 740 Princess Street, both dating back to 1913.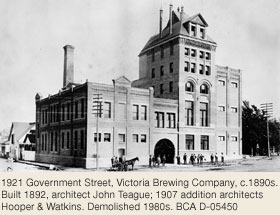 Industrial development spread along the north shore of Rock Bay by the 1870s. Wharves between Bridge Street and Ludgate Avenue – then called Tannery – served two tanneries and a trunk factory. Cow, sheep and goat hides were processed on site for leather-goods shops situated downtown. A floating boathouse for excursionists on the Gorge, shingle mill, match factory, shipyard and fruit cannery also occupied the waterfront at various times. The mighty Victoria Machinery Depot – builder of warships, provincial ferries and even an offshore oilrig at their Dallas Road site – originated near the foot of Turner Street in 1882. Machine shops, boiler sheds, a marine railway and wharves that projected far out into the Upper Harbour were a fixture of this company for more than a century. A fleet of sealing vessels wintered next door at Grant's wharf, home to the Pacific Whaling Co until the 1940s.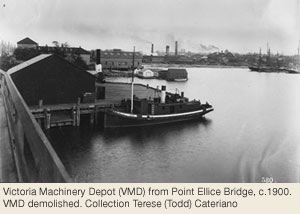 During the early 1900s much of Selkirk Water was covered with log booms to feed three large adjoining mills. Largest was the Cameron Lumber Co (1320 Purcell Place, Rockland), later Revelstoke, established at the foot of Garbally Road in 1908. A changing economy and declining log supply led to its demolition in the 1980s, long after other mills succumbed to hard times and devastating fires. Nor was the Cameron mill immune, being partially burned down twice – despite being near the No. 5 firehall, built at Douglas and Dunedin Streets in 1908. The Selkirk Waterfront Development occupies the mill site now.

Landfill between Bridge and Garbally Streets facilitated expansion of the city works yard established around 1917. The site still contains brick structures originally built as a wagon shed, blacksmith shop and stables. The enduring Economy Steam Laundry and Commercial Towel Co, on John Street, dates back to 1915. A former box factory (Dalziel Box Co, 70 Gorge Road East and 1128 Topaz Avenue, Hillside-Quadra), fertilizer plant, stone monumental works and soda factory have also contributed to changing the Rock Bay neighbourhood from residential to light industrial. Some small Streets, such as Mill Street and Wood Street, were erased from the map by development.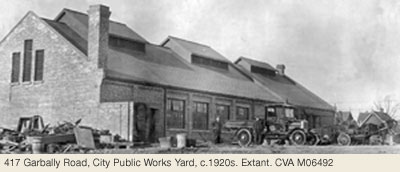 Commerce, quickly spreading from downtown, soon pushed private dwellings out of the Douglas-Blanshard corridor as well. The Field Street Apartments and the Scott Building at Hillside Avenue (originally with housing on the upper two levels) were on site by 1914. The Bay Street Armoury (713 Bay Street), Canadian Bank of Commerce (2420 Douglas Street) and Leland Building – home in the 1950s to the period-evoking Flying Saucer Coffee Shop – followed one year later. 1928 saw completion of the art deco BC Electric Substation, 637 Bay Street at Government Street. All are still extant.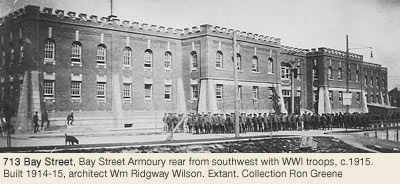 Gas stations attracted by island traffic funnelling into the city became a fixture at the Hillside/Douglas junction by the 1930s – site of a traffic roundabout known as Fountain Circle from 1950–1963. The grassy median was subsequently called Humber Green after a local brick-making family (610 Gorge Road East).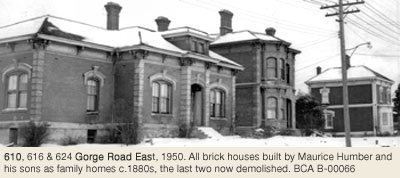 Douglas Street north of the junction was home after WWII to a wooden cycledrome, covered roller skating arena and stables for sightseeing horses, hence the Tally Ho Motor Inn. Construction of Mayfair Shopping Centre in 1963 put an end to a century of brick making on the Douglas Street site. Five companies operated there in the 1890s (Baker Brick Company – 714 Discovery Street, Burnside, and 968 Balmoral Street, North Park), churning out millions of bricks and tiles annually. The biggest change of all was the late 1960s Blanshard redevelopment scheme that led to demolition of North Ward School and more than 100 Edwardian houses for a major road realignment.