FAIRFIELD

• Fairfield Heritage Register Properties

• Fairfield Neighbourhood Heritage Walking Tour

Fairfield Neighbourhood History
By Cornelia Lange, with Richard Linzey & Helen Edwards  © 2004


Many prominent Victoria landmarks border Fairfield. To the south is the waterfront and Strait of Juan de Fuca, with views of the Olympic Mountain range. To the north on Richardson, Government House grows out of a rocky outcrop bisected by Linden to Fort St. The west includes the Cathedral Hill precinct, Humboldt Valley, and Beacon Hill Park, while the east includes Ross Bay Cemetery.

Long before the first Europeans arrived, First Nations people had hunted, fished and harvested the area, with seasonal camps in protected harbours and defensive positions on the cliffs and hilltops. The marshes were rich in fish and wildfowl, and sometimes, to avoid winter storms round the James Bay peninsula, they took a Ross Bay stream as a shortcut, with a portage from the wetlands to meet another stream flowing into the Inner Harbour.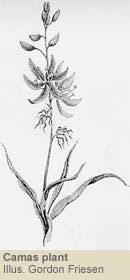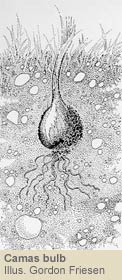 These indigenous people, Lekwungen, had a sacred place on the grassy knoll, Mee-qan, sometimes translated as "warmed by the sun," and now known as Beacon Hill. They used the hill and meadows to nurture and harvest the starchy camas bulbs, and roasted them for food. This was also an important burying ground, and in 1857, archaeologist James Dean counted 23 native burial cairns covering the hillside, though many of these have since disappeared, as the stone was looted for construction. Cliffs to the south show evidence of native use, including a fortified village at Finlayson Point.

Click on the titles below to reveal more information.
---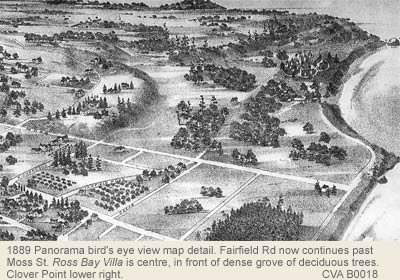 In 1842 James Douglas, making his second visit to the area in search of a site for a trading-post for the Hudson's Bay Co (HBC) landed at Clover Point, named after the red clover growing there. The fort he founded on the Inner Harbour and its network of farms grew rapidly, spilling into the nearest convenient building spaces. For Fairfield, development came comparatively late, as it was remote from Downtown and predominantly marshland. Land divisions for Fort Victoria were developed on the Wakefield Plan, which allowed the HBC to sell minerals and timber, but 90 percent of the proceeds had to be spent on farms, roads, education, a local militia, fortifications, and park and church reserves.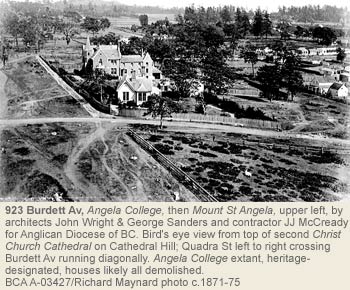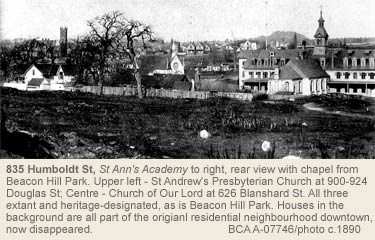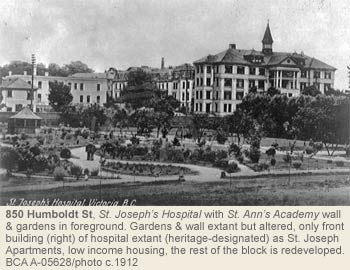 The Anglican Archdiocese acquired two city blocks from Blanshard to Vancouver atop Church Hill, the site of three successive cathedrals (908-12 Vancouver St), while Roman Catholic land lay below in the Humboldt Valley. Father Michaud of the Clercs de St. Viateur came to Victoria with the first four Sisters from Quebec in 1858. He designed and built St. Andrew's Cathedral in the style favoured for rural Quebec churches. In 1871, St. Ann's Academy was built as a school and residence, and the "cathedral" was skidded into place as the academy chapel (835 Humboldt St). The Sisters of St. Ann started St. Joseph's Hospital in 1875 (850 Humboldt St), which expanded over the years to include a school of nursing, nurses' residence, and Mount St. Mary residence for seniors (999 Burdett Av).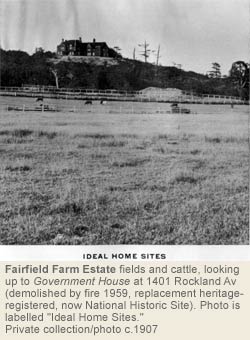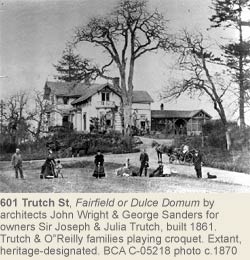 The original Fairfield Estate lay east of the Church Reserves and was given to the Governors of the new colony, but the first, Sir Richard Blanchard, returned to England after just a short stay. Sir James Douglas then became Governor and the owner of Fairfield Estate in 1858. Following a change in British colonial policy that mandated the establishment of a Crown Colony with an elected legislature (land ownership was necessary for voting privileges), the HBC began to sell portions of its land, mostly to HBC officials. Douglas also leased large tracts of his land to tenants who wished to farm: largely market gardens and dairy farms. Fine houses quickly followed. In 1859, civil engineer Joseph Trutch arrived in Fort Victoria and by 1861 had a home designed by Victoria's first major architects, John Wright & George Sanders, on a 10-acre piece of Fairfield Estate (601 Trutch St). In 1862 Trutch was elected to the Vancouver Island Legislative Assembly and in 1871 became the first Lieutenant-Governor of the new province of British Columbia.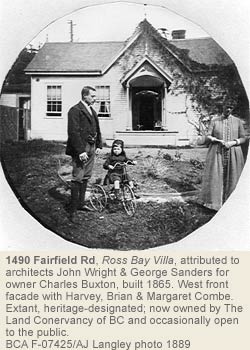 In 1865 Wright & Sanders likely also designed a home at 1490 Fairfield Rd for Charles Buxton. It was advertised as a "suburban residence" and leased to Francis Roscoe, a prosperous hardware merchant who became the Liberal MP for Victoria in Ottawa 1874-78. After his death, the new owners called the home Ross Bay Villa, as it is still known today. Through the extraordinary efforts of the city's heritage planner, local heritage advocates, and the newly organized The Land Conservancy, this home was saved and designated a Heritage Site in 1999.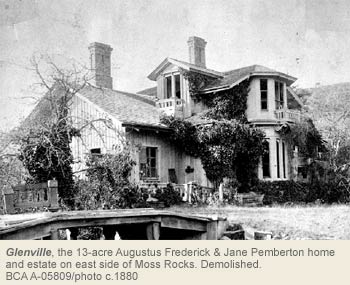 Victoria's huge growth and prosperity in the late 19th Century was reflected by many other fine homes built in Fairfield. The Hon. A.F. Pemberton, Victoria's first police court magistrate and cousin to J.D. Pemberton, had Glenville built at the corner of Fairfield and Moss in the 1880s. It stood where Fairfield United Church stands today, and included a  rock garden and tennis courts. In 1876, architect John Teague designed a handsome dwelling for Sir Matthew Baillie Begbie (knighted in 1875 and nicknamed the "hanging judge") on Collinson and Labouchere, now Fairfield, west of Cook St, with bay windows, niches in the main room for statues, ornamental cornices, wine cellar, stables, and outbuildings (all demolished). At the corner of Fairfield and Moss was Alfred J. Langley's home, The Maples. He operated Langley & Co Druggists on Yates St.

After Sir James Douglas's death, his estate was administered by trustees until 1900-01, when his two grandsons came of age, their father having died suddenly and unexpectedly. John Douglas built his Arbutus House (demolished) on the east side of a high point of volcanic rock scoured from the glacial retreat in the ice age, now known as Moss Rocks. His brother, James Andrew Douglas, built a handsome home on the west side of the same hill named Lillooet: It was demolished by developers in 2009.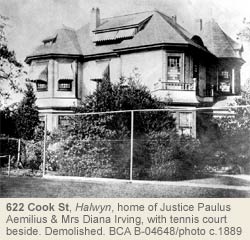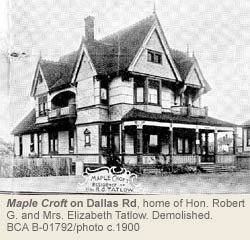 To the north, Fort St quickly grew with shops and large homes spreading to the Rockland hilltop, while Cook St skirted the hill. Halwyn (demolished) was home to Hon. Justice Irving, c.1902, with its circular driveway entering and exiting Cook near Richardson. The Hon. Capt. Robert Tatlow, BC Government Finance and Agricultural Minister from 1903-1910, had a 2½-storey shingled house, Maple Croft (demolished). With steeply gabled roof, sleeping porches, and a wraparound verandah, it stood at the corner of Cook and McClure.

Horse stables and hitching posts used by these residents have long since disappeared except in rare cases (Oliphant, Rockland).

The inclusion of Fairfield within the City's boundaries of the city in 1890 and the construction of
Fairfield Rd to connect it to the downtown core encouraged residential living. As the marshes were drained and streams culverted [C.C.Pemberton, who grew up in Glenville on Moss Rocks, recalled watching fires burning in the peatbogs below Government House, in the area that is now Thurlow & Brooke Sts. (BCA MS-0522. Reference courtesy John Adams.) A streetcar route was planned. The old Smith Dairy farm had operated south of Faithful St on land owned by James Andrew Douglas since 1860, but by 1907, the BC Land & Investment Co had sold it to a Calgary millionaire who built roads and created 171 lots. Many humble homes, some with only two rooms, were built, in contrast to Frederick Futcher's two-lot home at 55 Marlborough, complete with servant quarters, or Christina Haas' three-bedroom, three-bath, upscale bordello on two lots at 59 Cook St.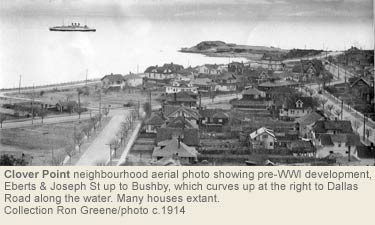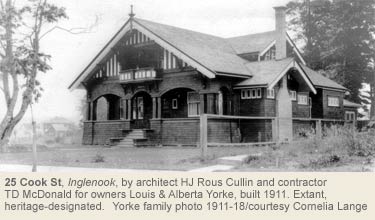 During the great land boom that followed from 1907-13, Fairfield quickly developed into an Edwardian, middle-class neighbourhood. Ads for homes featured "mature fruit trees" and rich dark soil for kitchen gardens. Local merchants lived amongst their customers and community assets sprouted: The Beacon Hill Park Lawn Bowling Club; Sir James Douglas Elementary School (1910, 401 Moss St); various churches like Fairfield United Church at Fairfield & Moss (1926), services like Mount St. Mary's Hospital (1941), the New Horizons Seniors' Activity Centre (1975); Fairfield Community Association (1975), the Boy's Club Hall on Chester St; and activities such as the Moss St Market (1991).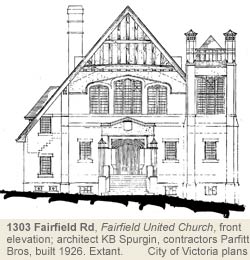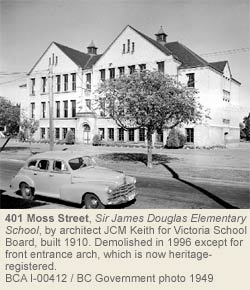 The residential building boom ended in 1913-14, and the neighbourhood took many years to infill with more modest homes. But automobiles brought with them wider roadways, garages, and gas stations, which became a neighbourhood feature. One early commercial garage still exists today at the corner of Vancouver & Collinson St. The first gas stations, at Cook and Pendergast, and Moss and Fairfield, are no longer there. By 1918 Dallas Rd was being promoted as a scenic marine drive.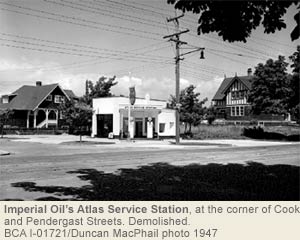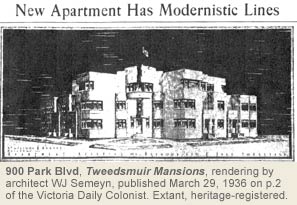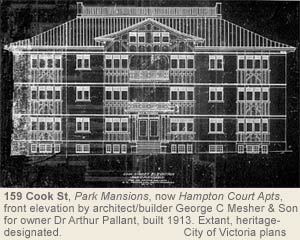 After 1900, apartments with posh lobbies, maid's quarters, and fireplaces were copied from New York and Paris: October Mansions (1910. 1030 Cook at Fort), Mount Edwards Apartments (1911, 1002 Vancouver St), Hampton Court (1913, 159 Cook St), Tweedsmuir Mansions, a 1936 Art Deco apartment at 900 Park Blvd and Art Moderne-style apartments north of Beacon Hill Park are notable examples. The Glengarry of 1908, a more affordable apartment in the Cook Street Village, was demolished in 2004 to make way for more expensive, modern, and dense condo living. Spurred on by a federal program to promote rental accommodations, 1970s developers demolished many older homes to make way for apartment buildings. Community members recognized the loss of beautiful stately homes, making the Cook St corridor unrecognisable. On Heywood Av, almost an entire block of homes was razed, only one small home surviving. A flashpoint for the community came when seniors were evicted from Alkazar Mansions, 1206 Fairfield Rd and Linden Av to permit demolition in 1977.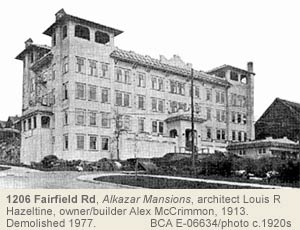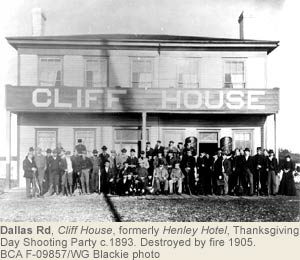 Beacon Hill Park was set aside as a public park in 1858. A beacon on its highest point warned mariners of the submerged reef called Brotchie Ledge, close to the entrance to Victoria Harbour. Horse races were held from 1858 to 1894 around the hill until they moved in 1889 to the Willows Grounds in Oak Bay. When Henry Henley leased 15 acres east of the park in 1860 for his Henley Hotel overlooking Clover Point, he encouraged his daughter to participate in horse racing around Beacon Hill, which raised Victorian eyebrows as the girl had to wear men's silk jockey clothing to race. After Henley's death in 1892, his son changed the name to Cliff House; it then burnt to the ground in 1905.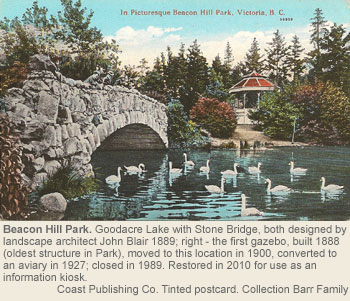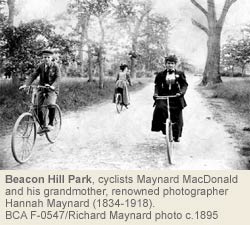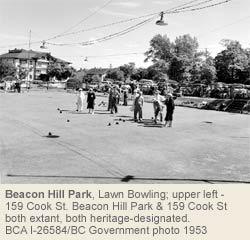 In 1882 city council organized a loan of $25,000 for Beacon Hill Park landscape development, resulting in the lake area and a small Victorian-style zoo. For years, some people complained about the condition of the bear pits. John Blair designed the landscape in 1889, with much of the park left in its natural state. The east side of Beacon Hill Park borders Fairfield, where the cricket field is located.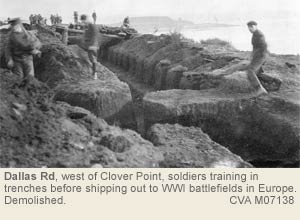 Many early Fairfield citizens were part of a local militia. Volunteer rifle companies and artillery batteries were formed as protection against external threat. Units trained and conducted exercises at an artillery battery on Finlayson Point built in response to the threat of Russian invasion in 1879, at a rifle range at Clover Point, and in mock battles in Beacon Hill Park. Schools had cadet corps until after WWII. During WWI, trenches dug at the cliff tops of Dallas & Marlborough were used for troop training. The rifle range lasted until 1923, when neighbours' complaints about danger and noise were finally heeded.

Prior to the Ross Bay Cemetery, graves were primarily located beside Christ Church Cathedral on Quadra St, now known as Pioneer Square (1030 Quadra St), and in the Jewish Cemetery. Robert Burnaby bought some of Isabella Ross's land (see Gonzales History), and sold 12 acres in 1872 to the Cemetery Trustees. Today the old curved farm road to the Ross home is incorporated into the cemetery design.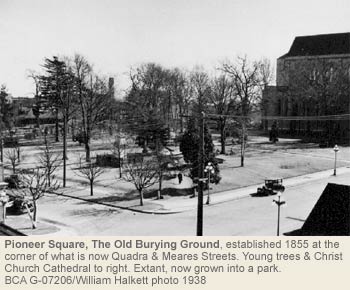 During the 1930s, the City of Victoria began planting trees that are now mature and form a green canopy over the gravesites. The Victorian-style cemetery contains numerous mausoleums and tall pillars from the early elite; several BC premiers are buried here. The road on the west of the cemetery was renamed from Lover's Lane to Memorial Cr early in WWII to commemorate fallen soldiers. In 1977, vehicle traffic through the cemetery was closed but vandalism of historic grave markers remains a serious concern. In 1997, the city designated the cemetery a Heritage Site.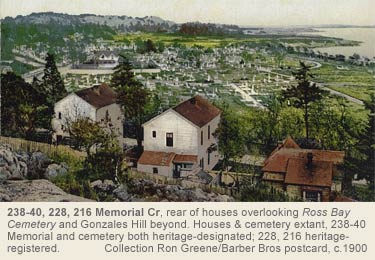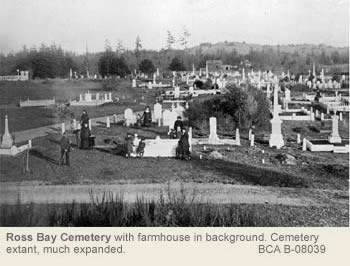 From 1880 to 1892, a dwelling on the western side of the cemetery served as an exclusive private boys' school. The city purchased the land from the Trustees of the Douglas Estate, converting the building to The Home for Aged and Infirm Men, administered by the city of Victoria. In 1894 and 1906, the city purchased more land to expand the cemetery on the east side. A 1909 storm washed away graves located on the beachfront and in 1912-13 a seawall was built to protect the cemetery; Dallas Rd was extended along the cemetery's south border. In 2000, the city dumped tons of gravel just off the beach, stabilizing the waterfront against ferocious winter surfs.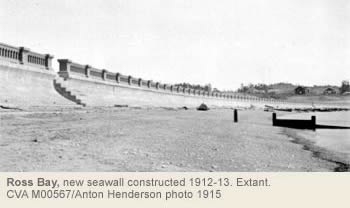 In 1878 the city boundary stopped at the corner of Pakington and Cook St. Further south, dairies run by Henry Smith, Joseph King, Robert Knowles, and Mrs. Irving dotted marshland bisected by seasonal streams.

In 1892, city council approached the Trustees of the Douglas Estate to lease Section 82 of Fairfield Farm Estate for a garbage dump next to Clover Point. The trustees refused, but did allow brick tunnels down Moss St to create the Clover Point sewer outfall. Emily Carr in her Book of Small recalls Cook and Pakington being used as a garbage dump, which it was until after 1907 when Cook St was extended to the waterfront. To reduce open dump sites in the city, in 1908 the city began using scows to dump garbage in the ocean just past Brotchie Ledge. Much of the garbage floated back to the beach, collecting at Clover Point and Ross Bay. Efforts to clean up Clover Point began in the 1930s and in 1958 garbage was redirected as landfill to Mud Bay.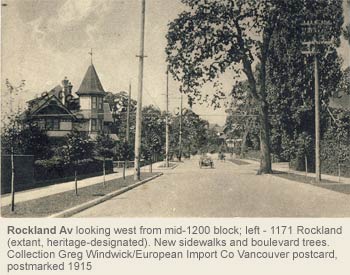 Early in the century, the city began expanding other infrastructure, building roads, sidewalks, boulevards, curbs, gutters, water lines, and sewer connections, plus planting street trees. Over time, streams running through Fairfield were covered and routed into the storm drains.

Streetcar service was established in 1909 down Cook St, turning left on May St to Fairfield Rd and turning round at Foul Bay Rd. People hopped off the trolley on their way home to shop along the route. Corner stores popped up at Cook and Meares (Wong Bros. Grocer - the oldest still surviving in Fairfield), Cook and Fairfield, Fairfield and Vancouver, Cook between Oscar and Oliphant, May and Linden, May and Moss, Moss and Fairfield, Memorial and Fairfield. Early subdivision residents could get dairy products, ice, firewood, produce, and newspapers delivered daily to their homes. The streetcar line was finally torn up in 1947-48 in favour of buses.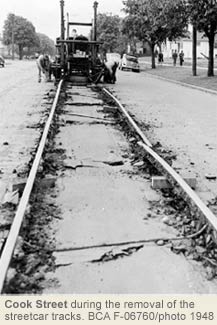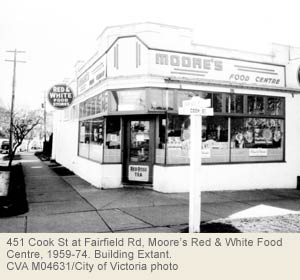 In 1957 a Provincial Capital City beautification grant was used to build the looped roadway on Clover Point, parking for 100 cars, a path to Cook St, and a boat ramp. Soil was levelled, bullets removed, and power lines buried. The City of Victoria's 100th anniversary celebration at Clover Point included a bonfire and fireworks on August 2, 1962. In 1977 a pumping station was built underground. In 1991 a new outfall pipe moved waste water 4,500 ft into the Juan de Fuca Strait, away from shore.

Herbert Warren, raised in South Fairfield, went to agricultural college in Guelph, ON, and then was Victoria's Park Superintendent from 1931-1970. Warren hybridized Japanese cherry trees that could thrive in Victoria's climate. He raised his own family at 28 Marlborough St, close to his office in the Beacon Hill Park Nursery (built 1905).

A former mayor of Salisbury, England, Thomas Futcher lived at 1029 Pakington St and imported Asian goods including chrysanthemums and flowering maples.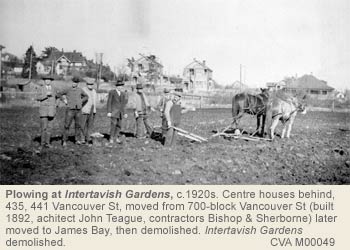 Several commercial nurseries developed in the area. Dr. John S. Helmcken proposed that the city acquire the Invertavish Gardens as an extension of Beacon Hill Park in 1896 but the city declined. The last of the greenhouses was demolished in 1952 and the area has redeveloped with no trace of the beautiful grounds. Horticultural exemplars in the area include J.T. Higgins, who in 1886 advertised his Florist and Ornamental Garden shop at Vancouver & Fairfield and himself as gardener to Sir M.B. Begbie. Richard Layritz had a nursery running along Moss and Richardson Sts. The Woodward family originally lived behind their greenhouses at Fairfield and St. Charles. They were replaced in 1958 by Fairfield Plaza.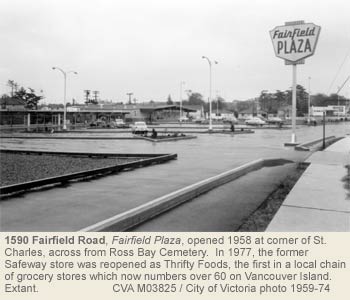 Now, roads are generally wide with boulevards and street trees - notably horse chestnuts on Cook St (1893) and flowering cherries, plums and May trees. Today's Fairfield exemplifies the development of 'suburban' Victoria and the creation of aspects of a classic British colony. It also reflects trade patterns in its American west coast architectural styles in its key period of development. Italianate, Victorian, and Edwardian homes were the first to be constructed, while California and Craftsman bungalows followed. Post war, infill homes and Art Moderne-style apartments were followed by Ranch-style homes.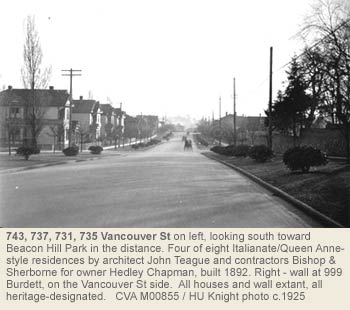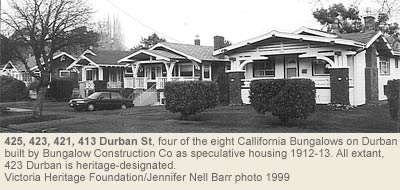 The Fairfield Community Association (FCA) came into being in 1975. Members were elected to council and city committees, which in turn generated new zonings and bylaws incorporated into a local plan. Guidelines for future neighbourhood development and specifically the Cook Street Village were developed with community consultation. The FCA played a major role in the City's first round of heritage designations in the 1970s and has continued to support the heritage program's objectives. While many historical buildings have succumbed to redevelopment over the years, the people in Fairfield are still connected to the land, the sea, the built environment, and their community.