GONZALES

• Gonzales Heritage Register Properties

Gonzales Neighbourhood History
By Carey Pallister with Ken Roueche © 2004

This neighbourhood is named for Spanish explorer Gonzalo Lopez de Haro, first mate of the Spanish ship Princesa Real, who helped chart the waters around Vancouver Island in 1790. He also lent his name to Haro Strait and Haro Rd on Ten Mile Point. Joseph Despard Pemberton, the first colonial land surveyor, named his home Gonzales. The home stood at St. Charles and Rockland for almost 100 years before being demolished in 1952. And Gonzales Rd, created in the 1920s, derived its name from the house.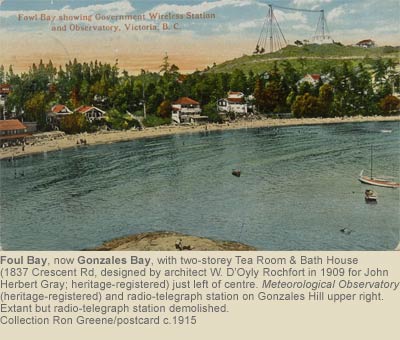 Today, the Gonzales neighbourhood is an area bounded by Gonzales (Foul) Bay to the south and Oak Bay Avenue to the north. The western boundary runs north on St. Charles St from Dallas Rd to Richardson St then east on Richardson to Richmond Av and north on Richmond to Oak Bay Av. The eastern boundary takes a more direct route along the border with Oak Bay with a small jog around the old observatory. These modern political boundaries, however, do not reflect the historical division or land use of the area.
Click on the titles below to reveal more information.

---

In 1855, Isabella Ross became the first female landowner in the colony when she purchased 99 acres from the Hudson's Bay Company which had bought the land from the Chilcowich Tribe. The land included most of what is now Ross Bay Cemetery, Hollywood Park, the Chinese Cemetery and the western part of Gonzales Hill (known historically as Section 19). Part of these lands form the southerly section of the Gonzales neighbourhood as far north as Lillian Street.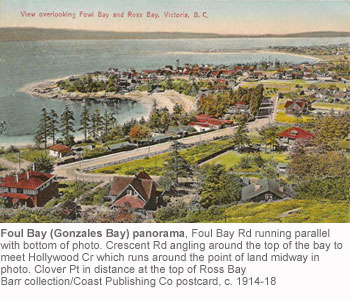 Isabella Ross and her children lived on her property at "Fowl Bay Farm" (possibly shown in photo above). Isabella's husband Charles Ross had been a Hudson's Bay Company Chief Trader in charge Fort Victoria and had died in 1844 soon after the fort was completed. Mrs. Ross began to subdivide her land as early as 1859 in order to support her family. The new owners were primarily interested in the land for investment and generally did not build; instead they held onto the land, in the hope that it would increase in value.

The sheltered waters and pleasant beach of Foul or Gonzales Bay provided a lovely spot for swimmers and picnickers and by the beginning of the 20th Century it had become a popular location for summer homes. Eventually showers and a dance pavilion were built for the holidaymakers. In 1903 the Chinese Consolidated Benevolent Association purchased land at Harling Point, on the east side of Foul Bay, for a cemetery. Many predicted that this would have a negative impact on real estate value in the area, but this proved to be largely untrue.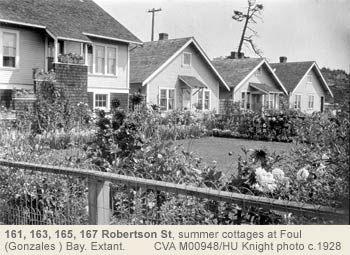 Through the 1950s and 1960s, Gonzales beach remained a popular recreation area, but the small beach cottages and cabins began to fall victim to the wrecker's ball and larger more permanent houses were built in their place. The beach was not without its problems; noisy beach parties and difficulties with log jams and beach fires were a constant source of frustration for local residents. For three days in November 1969, the worst storm in memory battered the Victoria shoreline. Due to the  efforts of the beach residents, no homes were lost, but in order to prevent further erosion or loss of property, the City built a retaining wall around most of the bay the following summer, giving the bay a new look.

Joseph Despard Pemberton owned the remainder of the land that now comprises the Gonzales neighbourhood stretching from Lillian Rd north to Oak Bay Av (known officially as section 68 and part of section 74). Like Mrs. Ross, J.D. Pemberton also began to sell off parcels of his land early on. Members of the wealthy merchant class such as A.C. Flumerfelt (855 Pemberton Rd, Rockland), Thomas Earle, the McQuades, A.J. Woodward, Angus R. Johnston, John Chandler, William Bayliss and Thomas Shotbolt purchased property in the area. Thomas Shotbolt, a pharmacist, built a grand home, Hollywood, in 1890 on seven acres; the house, at the SE corner of Foul Bay and Fairfield Rds, was a landmark in the neighbourhood until it was demolished in 1947.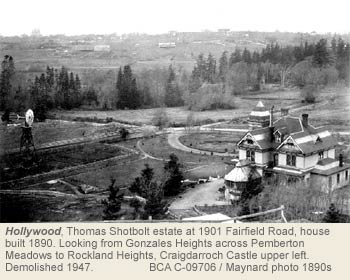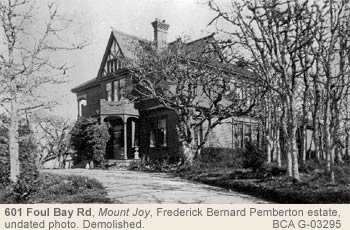 Pemberton did retain large tracts of land for himself, which he used for grazing pastures. The Pemberton property stretched from Rockland Av to Chandler St and from St. Charles to Gonzales. This area became known as Pemberton Meadows and a wooded area, Pemberton Woods.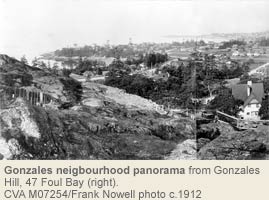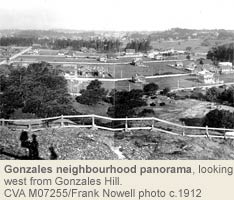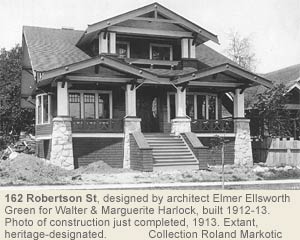 It was not really until after the turn of the century that the improved infrastructure and the economic and housing booms, which began in 1908, turned this area into a popular residential neighbourhood. On March 21, 1909 the No. 6 Streetcar began service to Fairfield and Gonzales.
The two mile extension of street car service ran down Cook St, across May St to Memorial Cr and up to Fairfield Rd, terminating at a loop at what is now the Margaret Jenkins School playing field.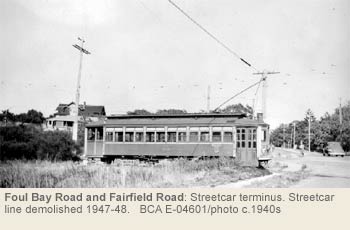 Streetcars were the backbone of the local transportation systems until the major expansion of bus service after WWII. The No.6 Line was carrying 5100 passengers per week in 1945, second only to the Esquimalt Line. However by July 1946 the company had signaled its intent to close the No.6 Line beyond Joseph St in Fairfield, and replace it with bus service. City Council resisted. So, when the Fairfield-Gonzales bus commenced service on November 28, 1946, the No.6 streetcar also continued to run to its distant grassy loop at Foul Bay Rd. No.6 ceased operations completely on December 1, 1947.

After Major Guy and Mrs. "Byrdie" (Dunsmuir) Audain moved into a Maclure-designed home at 550 Foul Bay Rd in 1909, the street became a fashionable place to live. The wealthy hired architects such as C. Elwood Watkins, Elmer E. Green, Henry S. Griffith, William D'Oyly Rochfort and Samuel Maclure to design elegant Arts & Crafts homes, many of which survive today and have been recognized for their heritage significance.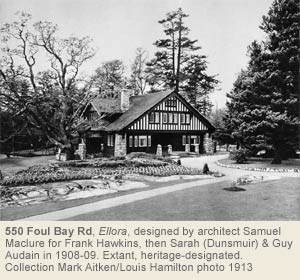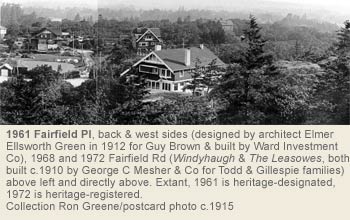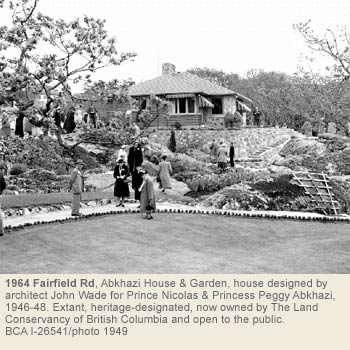 The most famous Gonzales area residents, however, were a couple who are not famous because of who they were, but because of the legacy they left – their garden. The Abkhazi Garden (1964 Fairfield Rd) was the work of Margaret "Peggy" and Nicolas Abkhazi who bought the property on Fairfield Rd in 1946. In 1999 the garden received international attention when residents of Victoria fought to save it from development. Slightly more than one acre, the garden features native Garry oaks, ornamental evergreens, rare rhododendrons and azaleas, rock and alpine plants, Japanese maples and weeping conifers.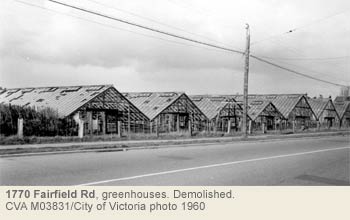 The area was not always exclusively residential. The fairly level topography and good soil made the area ideal for greenhouses. They were a major part of the early days of development with the largest operation located on Fairfield Rd at the current site of Glengarry Hospital. Immediately to the west was a Chinese business, Fairview Greenhouses, at 1650 Earle St, just east of the entrance to Hollywood Park. The third was considerably smaller and was located at the northwest corner of Lillian and Richmond. The greenhouses were built in the 1920s and survived until the end of the 1950s when they finally surrendered to the post-war housing boom.

In 1914 the Pacific Coast headquarters for the Dominion Meteorological Services, commonly known as the Gonzales Observatory (302 Denison Rd), was built on top of Gonzales Hill to the designs of William Henderson, Dominion Government Architect for BC, with meteorologist Francis Napier Denison. It recorded weather and took astromical  and seismic readings. It was also from there that the time ball, which was located on the top of the Belmont Building (Humboldt and Government Sts), was activated every day at noon by Denison, the superintendent of the station. Environment Canada abandoned the building in 1989 and after several failed proposals, the site was finally purchased by the CRD in 1992 and the 1.75 hectares of land turned into a wilderness park.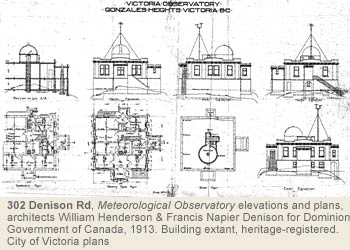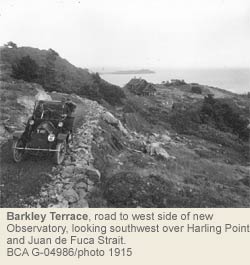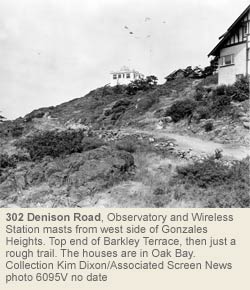 The Dominion Government Wireless Station (see photo in opening paragraph) was nearby and served as a communication centre from before World War I until just after World War II. That building has since been demolished.

As the population in the area increased so did the need for schools, local stores and other services. Margaret Jenkins School at 1824 Fairfield Rd opened on August 23, 1915. Built on a two-acre parcel of land that had been part of the Chandler Estate, the school was designed by architects Spurgin & Wilkins; a two-room school had been opened on the site in 1913. Margaret Jenkins School is the only school in the district to be named after a woman. A few streets north, the Norfolk House School for Girls, a private school which had moved locations many times, commissioned architect Percy Leonard James to design a school on a five-acre site at Richmond and Gonzales (801 Bank St) in 1931. It is interesting to note that the school used the old Pemberton home, Gonzales, as the residence for the boarders until 1952. In 1986, the school merged with Glenlyon Preparatory School for boys to form Glenlyon-Norfolk School.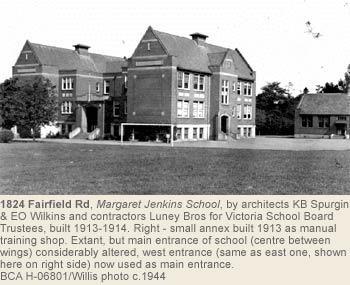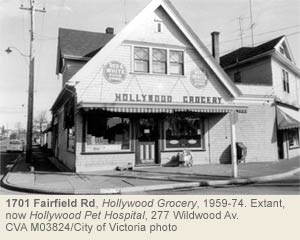 In 1912, William Bayliss, a hotel owner and butcher, opened Hollywood Grocery & Meats at the corner of Fairfield and Lillian. By 1927 the corner included a post office and the Victoria School of Expression. Retail activity continued to expand and by 1952 this corner included a barbershop, shoe repair shop, dry goods store and a beauty salon. Another group of small shops opened up at the corner of Fairfield Rd and Foul Bay Rd, opposite Margaret Jenkins School.

Street names in the neighbourhood remember early landowners, well-known citizens and First Nations while others such as Wildwood, Pinewood and Beechwood evoke an impression of an established urban neighbourhood.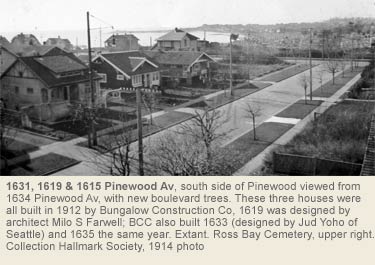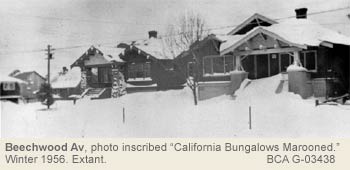 The street name in the neighbourhood that has received the most attention over the years is Foul Bay Rd. It all started in 1924, when Ald E.S. Woodward gave notice of motion to Victoria City Council to change the name of the Bay from Foul Bay to Gonzales Bay and Foul Bay Rd to Gonzales Bay Rd. 183 property owners, including some well-known citizens, signed a petition that forced the Council to take the matter seriously. One resident summed up the feelings of the residents "[the name] offends good tastes and in its ordinary meaning conveys a very wrong impression of the beautiful sand-fringed and clear bathing beach." A heated debate raged in the newspapers and research was undertaken to find the origin of the name. Francis H. Ross (1401 May St, Fairfield), grandson of Isabella, was determined that the name should stay but his arguments were not heeded and the name of the Bay was officially changed to Gonzales Bay in 1934. However, the feature is still called Foul Bay by many Victoria residents.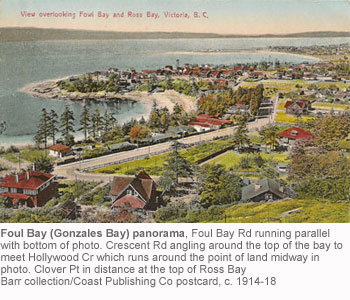 Other Gonzales streets are named for early landowners such as Chandler St for John Chandler (512 Simcoe St, James Bay), a Hudson's Bay Company factor; Earle St for Thomas Earle, a prominent merchant and politician who served on City council and as a Member of Parliament; and Robertson St which is probably named for Robert Affleck Robertson who appears as early as 1872 on Gonzales area land registry documents. Thomas Shotbolt, the well-known pharmacist, gave his name to Shotbolt Rd and Hollywood Cr was named for his fabulous home.

Irving and Beaven Sts (previously Cross Rd) were named in honour of well-known Victorians. Paulus Aemilius Irving came to BC in 1882, served as Deputy Attorney General from 1883 to 1890 and was appointed Judge of the Supreme Court in 1897. Robert Beaven came to BC in 1862. He was a merchant and became involved in provincial politics. He served as BC premier from 1882-1883 and as mayor of Victoria from 1892-1893.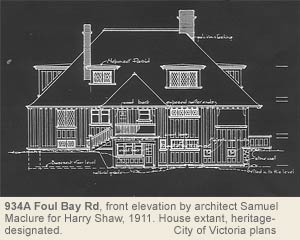 In the northern section of the neighbourhood, Clare St was probably named for the Poor Clares, an order of Catholic nuns who arrived here October 19, 1911 and established a monastery at 2050 Haultain St. Well-known Victorians are remembered in Redfern St and Davie St. Charles E. Redfern was a jeweller and watchmaker who served as mayor in 1883 and from 1897 to 1899. Dr. John Chapman Davie (638 Rockland Pl, Rockland) was a medical doctor and a Member of Parliament. Amphion St is named for HMS Amphion, which was a Leander class cruiser assigned to this coast in 1888. In 1889 she ran aground and sustained serious damage but was repaired and continued to serve the Royal Navy until she was sold in 1904. Somenos, Quamichan and Cowichan honour some of Vancouver Island's local First Nations.

From 1909 until 1945 development progressed slowly, initially supported by the extension of streetcar service and then by the 1907-1913 real estate boom. Following the 2nd World War, another housing boom saw the remaining vacant land developed. The Gonzales neighbourhood has evolved from farmland to one of Victoria's most popular neighbourhoods in less than 150 years.