HILLSIDE-QUADRA

• Hillside-Quadra Heritage Register Properties

• Hillside-Quadra Neighbourhood Heritage Walking Tour

Hillside-Quadra Neighbourhood History
By John Adams © 2004
The name Hillside-Quadra is derived from two of the neighbourhoods' principal streets that run east-west and north-south respectively, dividing the community into quadrants of unequal size. The names evolved from two sources: Hillside Farm (which occupied most of the area) and the 18th Century Spanish explorer Juan Francisco de la Bodega y Quadra (who never set eyes on any part of Victoria). The land rises generally from south to north, with the highest portion being in the northeast, variously called Work's Rocks, Summit Hill or Smith's Hill. A stream flowed from east to west, close to the southerly edge, just north of Bay Street. It drained from Harris Pond in Fernwood and flowed into Rock Bay. The neighbourhood boundaries are Bay Street on the south, Cook Street on the east, Blanshard Street on the west and Tolmie Avenue (the dividing line between Victoria and Saanich) on the north. In some ways these boundaries seem artificial because they do not follow the natural features in the landscape, but slice right through them or divide some neighbourhoods (e.g. north and south of Bay Street, east and west of Cook Street and east and west of Blanshard Street). When viewed in the context of early land ownership, however, they are quite logical.
Click on the titles below to reveal more information

Except for a narrow piece near Topaz Park, the entire Hillside-Quadra neighbourhood comprises the eastern half of Section IV of Joseph Despard Pemberton's 1851 survey of Victoria. All of Section IV was purchased by Hudson's Bay Company (HBC) Chief Factor Hon. John Work (Wark) in 1852 from the HBC. It was a tract of 583 acres, for which he paid the going rate of £1 per acre (minus standard deductions for unproductive rock and swamp). He also purchased other lands around Mount Tolmie and in Gordon Head, making him the owner of over 1,300 acres in total and the largest landowner in the Colony of Vancouver Island. He called Section IV Hillside Farm and used it as his base farm where he built his family home.

The Works' farmhouse (demolished) was located near what is now the corner of Vancouver Street and Kings Road, included in a complex of other farm buildings. The driveway angled off Quadra Street in a north easterly direction just a few doors north of Bay Street. It was built in the typical piece-sur-piece squared log construction of the HBC, a substantial 1½-storey house with three dormer windows.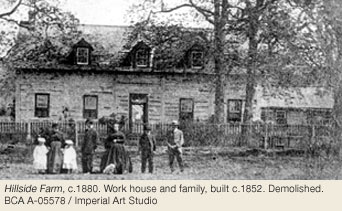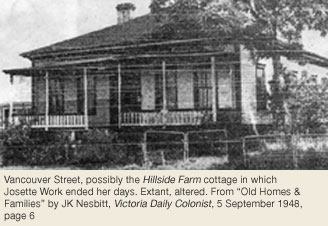 The Work family was large and known for its hospitality. John Work, a Presbyterian from Co. Donegal, Ireland, joined the HBC in 1814 and was a lifelong employee of the fur trade. His wife was Susette "Josette" Legacé, daughter of a French Canadian HBC employee and a Spokane woman. They had 12 children, four boys and eight girls, the daughters being one of the main attractions that drew many young men to dance, ride, or dine at Hillside in the days following the 1858 Fraser River Gold Rush. John Work died in 1861 and Josette in 1896. Son Henry (1844-1856) died of an accident and may have been one of the last to be buried in Pioneer Square (Fairfield). John (1839-1886) and David (1846-1878), were a disappointment, the elder being a drunkard and the younger one being described by John Tod as a "despicable character." [John, Henry and David Streets in Burnside were named for them.] The Work daughters fared socially and economically better than their brothers, most marrying prominent men of means. Eventually the sisters or their heirs inherited all of the family's remaining land in Section IV.*

* Some Work family research by descendant Pam Gaudio.

The first subdivision of Hillside Farm was in 1885 when the "Hillside Extension" was laid out, bordered by Bay Street, Douglas Street, Hillside Avenue and Quadra Street. The names of the north-south streets were First Street (later Rose Street, now Blanshard St), Second Street (now Dowler Place), Third Street (now Wark St) and Fourth Street (now Quadra St). Kings Road was the original main east-west thoroughfare through the subdivision. Houses soon began to appear in the "Hillside Extension" for a very diverse mix of people. The finer homes were built along Douglas Street and west of First Street. One of the most prominent residents was Noah Shakespeare, mayor and Member of Parliament in the 1880s, whose attractive Queen Anne-style house, Stratford Villa (demolished) stood at the corner of Second Street and Hillside Avenue. By the early 1900s the subdivision was built out, mostly with modest frame houses for tradesmen and middle class families.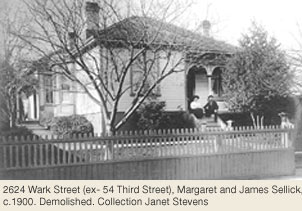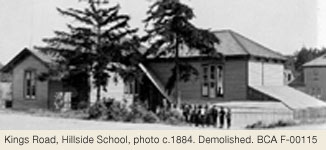 North Ward School (demolished, see Burnside History, This Old House Three) opened in 1894 on Douglas Street to serve the growing neighbourhood. Hillside School, later called Kings Road School, (demolished, now a park at the southeast corner of Wark Street and Kings Road) was built in the early 1900s as a two-room frame structure to help ease overcrowding at North Ward. When Quadra Street Primary School (2549 Quadra St) opened in 1921, Kings Road School became a segregated facility mainly for Chinese; by the 1940s it was the Dominion-Provincial School of Auto Mechanics.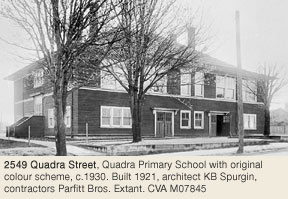 Virtually nothing remains of the original houses in the "Hillside Extension" because the Urban Renewal Report in 1961 recommended that it be the city's first priority for redevelopment. Citing the fact that 127 houses (representing 97% of the total) were constructed before 1912 and that 76% of them were in "poor" condition, it advocated their total demolition and replacement with 120 units of community housing to be funded jointly under a federal-provincial scheme. The concept was approved and Blanshard Court was built, with 157 families being displaced in the process. North Ward School was demolished and Blanshard Elementary School was built for the children of the project and nearby neighbourhoods. The structure is now used as a campus for the University of Canada West.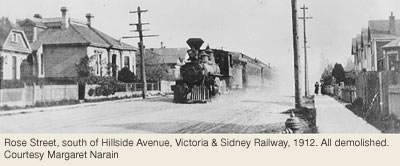 One of the reasons for clearing the "Hillside Extension" was to create a new access road into Victoria due to increased traffic from the Swartz Bay ferry terminal following the start of BC Ferries in 1960. Previously the main routes into the city from the north were Douglas Street or Quadra Street. Blanshard Street was not a through street until after the redevelopment when it was extended north as a dual carriageway, along what had been Rose Street (previously First Street). The new route also more or less followed the right-of-way of the Victoria and Sidney Railway that had opened in 1894, originally as far as Hillside Avenue and eventually into downtown Victoria. Part of the railway ran along city streets. After the railway ceased to operate in 1919 the tracks were removed. Blanshard Street soon became a busy thoroughfare that effectively created a barrier between the Hillside-Quadra neighbourhood and the once contiguous neighbourhoods to the west.
One of the dominant buildings in the neighbourhood was the red brick Hillside Gaol, sometimes called Topaz Jail, and situated in a grove of Garry oak trees on a rocky slope north of Hillside Avenue. The three-storey central block with two wings looked over the "Hillside Extension." The 66-cell structure opened in 1885 to replace the cramped and crumbling Police Barracks and Gaol in Bastion Square. Following a fire in 1912 it was demolished and the remaining foundations afforded neighbourhood children a place to play hide and seek and to hunt tadpoles when the cavities filled with rainwater. S.J. Willis Junior High School was built on the site in 1949.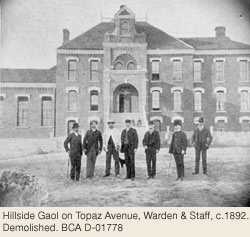 Between the Hillside Gaol and Quadra Street was a subdivision called "Hillside Extension A." Its most imposing house was Allandale at 818 Hillside Avenue, the private home of James Graham and Mary Work. Designed by John Teague it was built in 1884 and demolished in 1927.

North of "Hillside Extension A" and the jail, cutting into Hillside Farm, was a thin strip of land along Topaz Avenue, officially known as Section V. Part of Topaz Park is there now. Originally it was owned by Robert Clouston, another HBC employee, but changed hands after his death in 1859. In the 1860s William and Charlotte Galley built a 2-storey house (demolished) on a portion of the property that sloped down to Quadra Street and a large swamp. On a dark, windy night one of the Galley daughters, Alta Louisa, heard someone calling out. When the family went to investigate they found an intoxicated man stuck up to his armpits in the mud. On another occasion one of the Galley's cows grazing on the rocky bluff behind the gaol slipped over the precipice onto Topaz Avenue and died.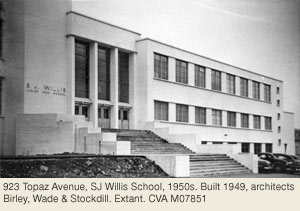 Further north, where most of the main playing fields of Topaz Park are now, was a rough, swampy area that supplied clay to the brickyards that operated west of what is now Blanshard Street. The last brickyard, operated by Evans, Coleman and Evans, closed in 1961 to make way for Mayfair Mall. To the east of this "wild" land, along both sides of Quadra Street, an avenue of substantial homes was developed from 1900 onwards.

Before the death of Josette Work in 1896, land east of Quadra Street and south of Hillside Avenue, closer to her Hillside farmstead, was subdivided and sold, the first houses being built around 1892. Most were modest frame houses in modified Queen Anne and Italianate styles for working class families.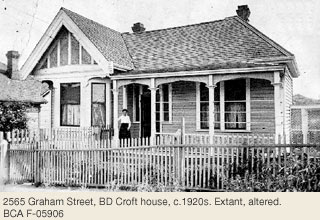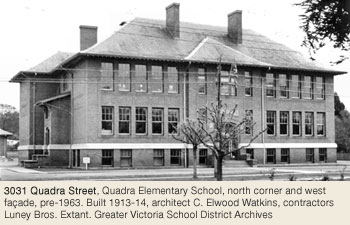 The system of numbered streets was continued east of Quadra Street, adding Fifth through Ninth Streets. In 1905 the names of all the numbered streets on both sides of Quadra Street, except Fifth, were changed. Most of the ones east of Fifth Street were given the married names of six of John and Josette Work's daughters or granddaughters. The new streets were: Vancouver (Sixth), Graham (Seventh), Prior (Eighth) and Blackwood (Ninth). They radiated off Kings Road since access to Bay Street was blocked by the stream until some time after 1907. From 1892 until 1912, block after block of houses was constructed along these streets. George Jay School on Cook Street (1118 Princess, Fernwood) served the elementary-school-age children of the neighbourhood. Commercial services for the area developed around the intersection of Hillside Avenue and Quadra Street. Several industries located nearby, such as Canadian Bakeries, which had its principal bakery and stables at 2629 Prior Street, with frontage also on Blackwood.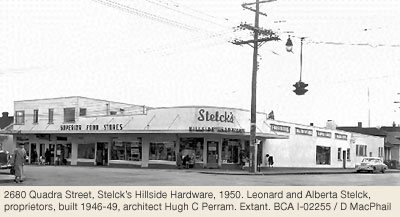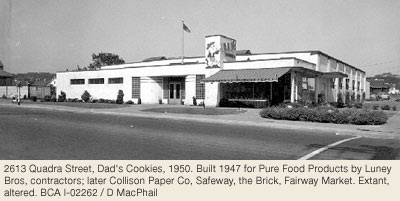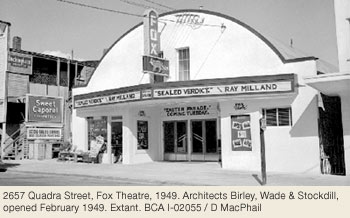 The land east of Quadra Street and north of Hillside Avenue, rising to the summit of Smith's Hill, was subdivided in the late 1880s but generally not developed until after 1900. The hill is named after William J. Smith, partner in the building contractors Smith & Elford (they also operated Victoria Brick & Tile Company, one of several brickyards at the present-day site of Mayfair Mall.) Smith built a substantial brick house and stables on Montrose Avenue in 1892. In 1923 the property was purchased by former Victoria mayor A.J. Morley (who lived at 1246 Montrose) & turned into Sunhill (TB) Sanatorium. The building was demolished in 1936.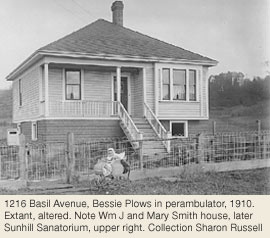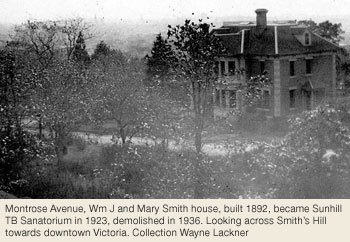 Most of Smith's Hill was called "Hillside Extension C." Here the married names of three more Work daughters were given to streets: Tolmie, Finlayson and Jackson. The reservoir at the top of the hill was opened in 1909 as part of a plan that included the water tower in Rockland. Both were intended to improve the pressure of the city's water supply drawn from Elk Lake until the new Sooke Lake Reservoir was created.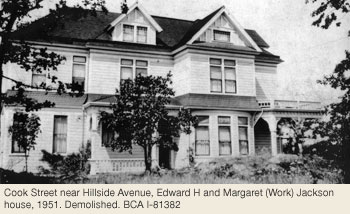 Halfway up the slope, at the corner of Topaz Avenue and Blackwood Street, the Khalsa Diwan Society purchased four lots in 1909 for the purpose of building a Gurdwara (Sikh temple). Mayor John Beckwith owned property nearby and opposed the plan. When civic officials withheld a building permit the Sikh community won a legal action against the city and work proceeded in 1912 on a concrete-block and brick Gurdwara designed by Henry S. Griffith, architect. The temple was largely rebuilt in 1969. When the cut stonewall around Sunhill Sanatorium was taken down in 1936 the stones were moved by horse and cart and by hand to the Gurdwara where they were used to build a new wall, still in place.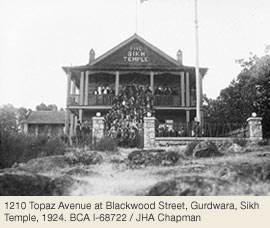 Smith's Hill mainly developed as a fashionable middle and upper-middle class residential neighbourhood during the years between 1905 and 1912, before an economic depression brought an end to most new construction. From 1911-1914, roughly at the same time Henry S. Griffith was designing the Gurdwara, he was building his own stately home, Fort Garry (now Spencer Castle, 2906 Cook St) nearby on a ridge overlooking Cook Street. Other houses built in this period include: 1052 Topaz, 1310 Topaz, 2715 Blackwood, 2733 Blackwood and 1150 Summit Avenue, which was designed by F.M. Rattenbury. Quadra Elementary School (3031 Quadra St) designed by C. Elwood Watkins, opened in 1914 to serve the students of the Smith's Hill area and other nearby subdivisions.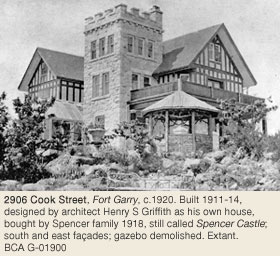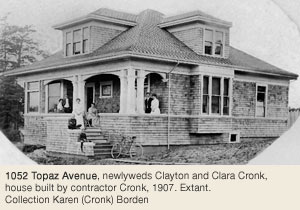 The last part of Hillside-Quadra to be developed was Topaz Heights. These were originally 101 rental houses of five designs built between Quadra Street, Tolmie Avenue and Finalyson Street in 1946-47 for returning veterans by Housing Enterprises Canada Ltd (HECL), mandated and financed by the Federal Government, and operated by insurance companies. HECL built 3,200 units in 24 cities across Canada and it is believed that these designs were only built in Victoria. HECL's other designs were Cape Cod and cottages similar to those used by Wartime Housing Ltd. Due to rising costs of materials and labour, HECL's projects were transferred to Central Housing and Mortgage Corporation (CMHC) in 1947.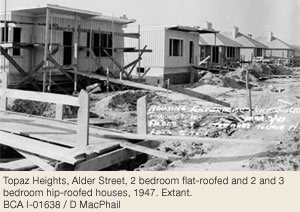 Architecturally, Topaz Heights represents the first foray into mass, domestic modern architecture in Victoria. While other houses and subdivisions were built in Victoria at this time none have all the elements of Topaz Heights. First, instead of being built scattered about town during and after the war as the Wartime Housing Ltd homes were, these houses were all built in the same place at the same time. Second, instead of using the conventional grid street pattern, modern planning is evident not only in the two pleasant curves interrupting the grid layout but also the park and inter-street paths. Third, rather than the mix of newly-married families with young children, with teenagers, and the retired, all the residents were young married veterans with small children. Finally, Topaz Heights was geographically enclosed as Finlayson turned into a trail at Yew, the gravel pits were on the south and the brickyard east behind Alder, leaving Tolmie and Quadra Streets as the through streets on the edges of the neighbourhood. All these factors resulted in a very cohesive neighbourhood of both new and existing homes. Even pushing through Blanshard and Finlayson Streets in 1963 and further widening of Finlayson did not damage the neighbourhood's integrity.