JUBILEE

• Jubilee Heritage Register Properties


Jubilee Neighbourhood History
By John Adams © 2004



On a map, the Jubilee neighbourhood resembles a large, inverted pork chop—very thin at the top and widening to the south. Historically it is an appropriate shape because pigs were raised there as early as the 1850s and during the late 1800s an abattoir was one of the area's first businesses. The name derives from the Royal Jubilee Hospital which dominates the skyline from many parts of the area and in recent years has dictated traffic patterns around it. However, the term "Jubilee" really is a recent invention of convenience, coined to describe several disparate residential enclaves around the hospital which developed out of farms and private estates of the principal 19th-Century land owners—Pearse, Vye, Finnerty and Lee.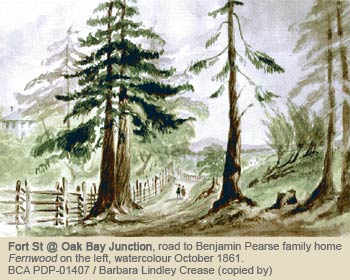 Jubilee Neighbourhood is relatively flat with arable soil, except for a low ridge of rock in the southwestern corner, on which the Pearse family built their home Fernwood in 1860 (demolished 1969). Bowker Creek crosses the neighbourhood from the northwest flowing to the southeast where it empties into the ocean south of Willows Beach. The creek and wells probably provided the water for the first farms in the area. In 1914 Bowker Creek flooded its banks and inundated what is now the intersection at Fort St. and Foul Bay Rd. Though portions of Bowker Creek are still exposed, the section through Jubilee flows in a covered culvert. In the late 1800s and early 1900s farming gradually gave way to housing, commercial and institutional uses.

The western boundary of the neighbourhood is an arbitrary one, following Begbie and Shelbourne Sts, which were connected into a major arterial route to downtown Victoria in the 1960s. An oddity in the neighbourhood is a finger on the northern edge which is a long, narrow panhandle to the east of Shelbourne, sandwiched between the Municipality of Saanich and Oakland Neighbourhood. The eastern boundary of Jubilee Neighbourhood is formed in the north by the boundary with Saanich and in the south by the boundary with Oak Bay. The southern boundary of the neighbourhood is Oak Bay Av and Gonzales and Rockland neighbourhoods.
Click on the titles below to reveal more information.
---

Jubilee Neighbourhood lies mostly in the area purchased by treaty in 1850 from the Chekonein people whose main village was at Cadboro Bay. It was surveyed by colonial surveyor Joseph Despard Pemberton and his assistant, Benjamin W. Pearse. Pemberton purchased a huge tract of what is now Victoria and Oak Bay, stretching from the eastern end of Government House in Rockland Neighbourhood through Gonzales Neighbourhood all the way to the Victoria Golf Course along Beach Dr in Oak Bay. The full length of Jubilee's southern boundary adjoins part of Pemberton's property. Pearse purchased Sections 75 and 76 in 1853 (95 acres), north of Pemberton's. All of Section 76 and a small portion of Section 75 comprise a major part of Jubilee.

Section 76 contains 100 acres bounded by Oak Bay Av, Foul Bay Rd, Bay St and a line running east of it through the Royal Jubilee Hospital grounds on the north and a line running just east of Shelbourne St along the west. Most of Section 75 is in Fernwood Neighbourhood, but a portion along Shelbourne and a wedge south of Begbie and east of Belmont is in Jubilee. The Pearse house Fernwood was a substantial stone building on a rocky ridge on what is now the south side of Begbie in Jubilee. "Fernwood" was the name applied to all of Section 75. Section 76 later became known as "East Fernwood." Fernwood's gatehouse stood where Sandringham Hospital is now.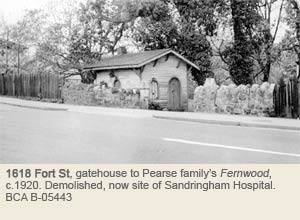 The northern finger of Jubilee comprises Section 8a, about 46 acres. It was purchased in 1853 by Rev Robert J. Staines, Hudson's Bay Company chaplain and schoolmaster at Fort Victoria. He had another 400 acres in Metchosin, devoted considerable time to farming and was especially proud of his fine pigs. He was critical of Gov James Douglas and the governor was critical of the chaplain's abilities as a teacher. In 1854 Staines was instrumental in circulating a petition against Douglas and was to deliver it personally to colonial authorities in London. However, he sailed on the Duchess of San Lorenzo which foundered off Cape Flattery and Staines perished. Section 8a was farmed, but not developed until the early 1900s. Many pre-1920 houses are located in the southern part. The northern part was undeveloped until the mid-20th Century.

Section 25 runs eastward from Section 8a toward Foul Bay Rd, mostly in Saanich. This land was originally purchased by the Roman Catholic Church in the name of Bishop Modeste Demers. Only the southwestern quadrant of Section 25 is in Jubilee Neighbourhood.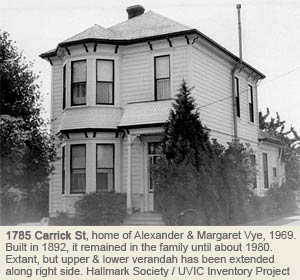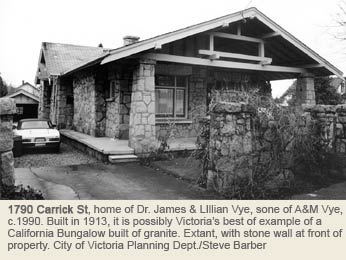 Section 25 was purchased in 1885 by Alexander and Margaret Jane Vye. Their Richmond Farm was a dairy and potato farm. Richmond Rd (originally Mt. Tolmie Av) runs through the middle and forms part of the boundary between Victoria and Saanich. Their first house was of brick (demolished), but their second one still stands (1785 Carrick St). The farm was subdivided and by 1902 streets were laid out to the west of Richmond Rd, eventually connecting to Shelbourne St. The streets at first were numbered (Burnside and Hillside-Quadra Neighbourhoods had streets with similar names), but later renamed. First St became Emerson; Second, Adanac; Third, Haultain; Fourth, Carrick; and, Fifth, Kings. There was no Sixth, but Newton is where it would have been, forming the northern side of Section 25 and part of the northern boundary of Jubilee Neighbourhood. This area started filling in with houses by the 1890s and early 1900s, though many vacant lots remained for years.

Early pioneers Thomas and Marietta Lee, an English couple, bought a large portion at the eastern side of Section 76 in 1868 (south of Fort St and west of Foul Bay Rd.) They established the Victoria Dairy and experimented with growing hops. Thomas died in 1880, and Marietta and her sons continued to farm, but gradually subdivided their property in the early 1900s.

The Finnerty brothers, Michael and John, acquired a large tract along the western side of Section 76 (north and south of Fort St along Richmond Rd, including the site of Royal Jubilee Hospital). They were from County Mayo, Ireland, and came to British Columbia for the early 1860s gold rush. They operated a market garden and feed business, supplying Victoria and the Lower Mainland. Michael Finnerty also bought a large tract in Gordon Head, now partly occupied by the University of Victoria and Finnerty Rd, but the family home was in Jubilee Neighbourhood, closer to town, at what became 1530 Bank St.

The creation of Royal Jubilee Hospital, which opened in 1890, was the single biggest factor in the development of Jubilee Neighbourhood (1900 Fort St). As late as 1920 the hospital maintained its own kitchen garden and raised pigs and chickens on what it termed "the Farm," but complaints from the growing number of neighbours eventually brought an end to the rearing of livestock.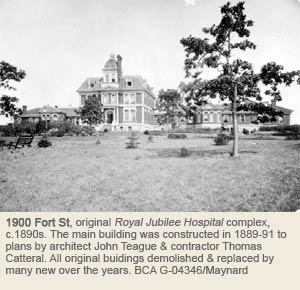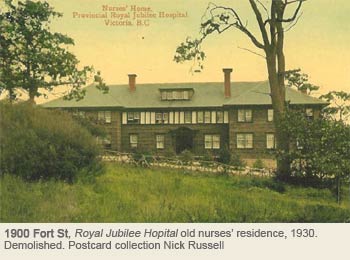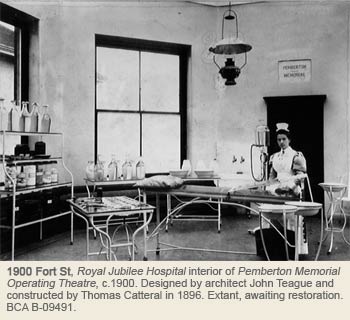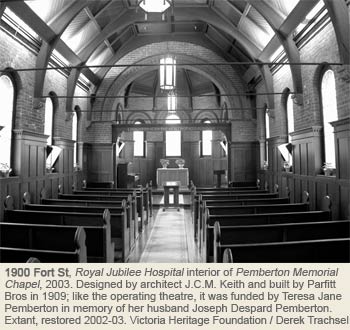 The opening of the Hospital coincided with the inauguration of the electric streetcar system which was instrumental in encouraging many subdivisions. One of the original lines ran along Fort St to the new hospital. In 1891 the line was extended to Driving Park (later Willows Fairgrounds) in Oak Bay and later, to Uplands. Other lines added in 1891 included one along Oak Bay Av to Windsor Park, which opened up the southern sector of Jubilee and the northen edge of Gonzales. The intersection where it branched off from the Fort St line became known as the Oak Bay Junction. In 1908 another spur line was laid from Fort St along Richmond Rd to Mt. Tolmie for hauling sand and gravel. Limited passenger service was started along the line to serve University School, but eventually full passenger service was introduced. A streetcar shelter, now in the couryard, is a reminder of Victoria's streetcar era that ended in 1948.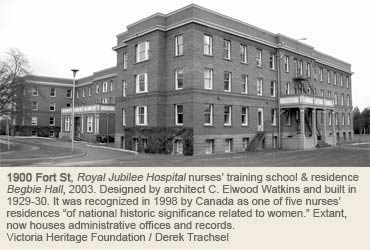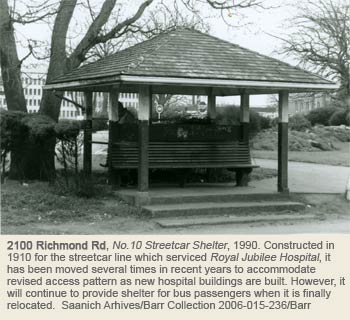 The original major roads through Jubilee are Oak Bay Av (formerly an extension of Pandora Av), laid out by J.D. Pemberton in 1890, and Fort St (formerly Cadboro Bay Rd). The houses built along these main routes tended to be more showy than those built along the side streets. After 1891 one of those who built along Oak Bay was architect A. Maxwell Muir. His Italianate cottage Bremhill was moved around the corner to 1511 Bank St. and altered, but it still stands. Isolated houses were constructed in the 1890s, but the biggest boom was from 1908-12 in Section 76 north of Oak Bay Av. Gessman & Pike, a land development company, acquired a large portion of the Lee farm and advertised lots along Foul Bay Rd, Bourchier St and Amphion St in 1908. Corner lots were $160, others were $140. By 1900 the Fernwood Syndicate was buying and selling land west of Richmond Rd, including the "tree" subdivision north of Fort St: Chestnut, Oak (now Ashgrove) and Maple (now Birch). Two of the oldest houses along the Jubilee section of Fort St were imposing Queen Anne structures built almost across from each other in the 1890s (1718 Fort St; 1739 Fort St).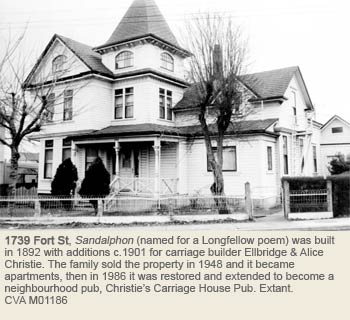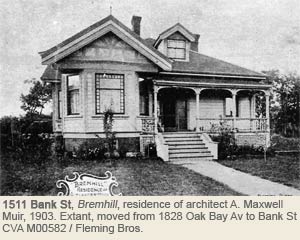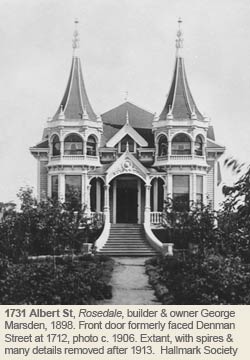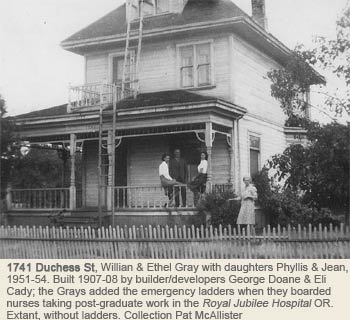 One of the anomalies in Jubilee is the wedge in the southwestern corner that extends as far west as Belmont Av. This was where the Pearse house stood and most residents probably consider it to be part of Fernwood Neighbourhood. In the 1880s Major Charles T. Dupont, businessman, member of the Militia and one-time president of Victoria Electric Railway Co and Victoria & Esquimalt Telephone Co, purchased a large property from Pearse, mostly west of Belmont Av in Fernwood Neighbourhood, but a strip ran along the east side of Belmont in Jubilee. His home and estate were called Stadacona. Before Pandora Av opened, Dupont created a small subdivision and opened Stadacona Av around it on two sides. Only the western side remains. An extension of the original Stadacona Av (now covered by Stadacona Park) forms a line with Cold Harbour Rd in Jubilee. The origin of the name of this dead-end street is a mystery because it is far away from the ocean. Perhaps the name was inspired by Dupont's speculation in land at Vancouver's Coal Harbour when the CPR was being built. The Billings house (1528 Cold Harbour Rd) is an Arts & Crafts gem hidden at the end of this unusual street.

The early development of Jubilee and nearby districts prompted the founding of two churches, in addition to the Royal Jubilee Hospital's Pemberton Chapel (1900 Fort St). In 1892 the Christian Endeavour Society of St. Andrew's Presbyterian Church built a modest frame church designed by A. Maxwell Muir at what is now 1602 Redfern St. Later the congregation became St. Columba's Presbyterian Church on Oak Bay Av and eventually moved to what is now Oak Bay United Church. The Redfern St church became a Masonic Lodge, a Scout hall and is now a residence. In 1913 the Religious Society of Friends (Quakers) purchased land at 1831 Fern St and built a Meeting House. Still in use, it is the oldest continuously operating Friends meeting house in BC. In 1951 St. Barnabas Anglican Church moved to the southeastern corner of Belmont and Begbie from Cook and Caledonia. Plain concrete blocks on the outside, the church contains a rare hanging rood screen and a replica of Our Lady of Walsingham shrine, used by pilgrims in Norfolk, England, since the 12th Century.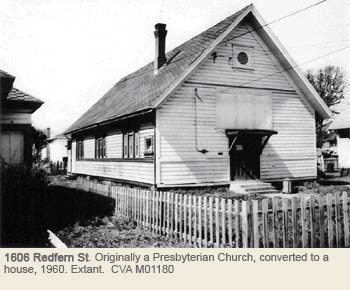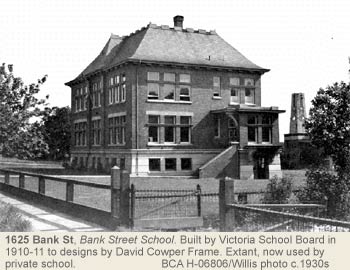 The first school in Jubilee was a small private boys' school opened in 1898 by Rev. William Washington Bolton in rented premises on Belcher St (between Fort St and Oak Bay Av.) In 1906 he joined forces with James Barnacle whose University School was nearby in Rockland (corner of Oak Bay and Richmond). In 1909 the school moved to a new campus at Mt. Tolmie. In 1908 a private girls' school, St. Margarets, was founded on Cook St. In 1912 it moved to the corner of Fort and Fern St in Jubilee. The property was bought from Pearse's widow, Sarah Jane. Francis Mawson Rattenbury designed the new school which opened in 1912. The school moved to Saanich in 1970 and the old structure was torn down to build an apartment block. The only public school in Jubilee is Bank St School (1625 Bank St), built in 1910-11.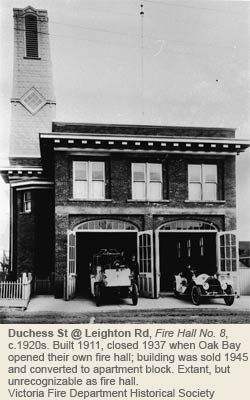 Fire Hall No.8 was built in 1911 at the corner of Leighton and Duchess, kitty corner from the school yard of Bank St School. It provided protection to the Jubilee Neighbourhood and adjacent areas, including Oak Bay, until that municipality created its own fire department in 1937. Loss of funding from Oak Bay and the general difficulties during the Depression forced the closure of Fire Hall No.8 in 1937. After that calls from Jubilee were handled from Fire Hall No.2 on Yates St and later from Fire Hall No.1 on Cormorant St (where Centennial Square is today). Fire Hall No.8 was enlarged and converted to an apartment building which still, minus its tower.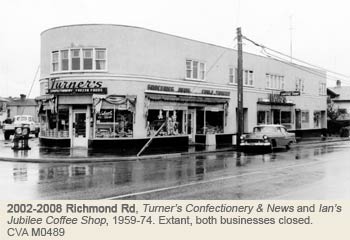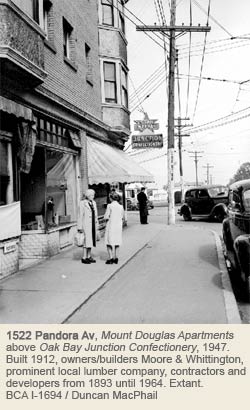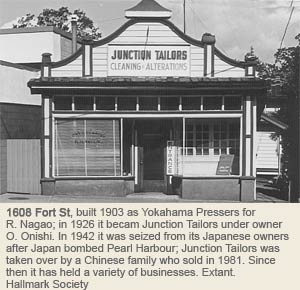 Jubilee contains several small commercial centres, generally coinciding with the streetcar lines and major intersections. One of the oldest commercial hubs is at the Oak Bay Junction. (Yokohama Pressers, 1608 Fort St). Another is at the corner of Fort St and Richmond Av, close to the hospital, Turner's Confectionery, opened in 1937, is a landmark building at the corner and many generations of nurses from the Royal Jubilee enjoyed the welcome given to them by "Ma Turner." Her son, Ian, started a coffee shop beside the store in 1945 where student nurses from Begbie Hall (1900 Fort St) across the street sat on their days off. Though Turner's is now closed, the building still stands. Another commercial strip has grown up along Oak Bay Av. Today Jubilee's biggest retail area is at the corner of Fort and Foul Bay, where Canada Safeway opened its first supermarket in the late 1960s, a site occupied until then by the Victoria Lawn Tennis Club. The club's original premises were in Rockland, but moved to Jubilee in 1910. It changed its name to the Racquet Club when it moved to Gordon Head Rd in the 1960s.