1449 Grant Street

Built 1907
Heritage Designated 2011

Jeremiah C. Shaw
Builder: John Emslie Beveridge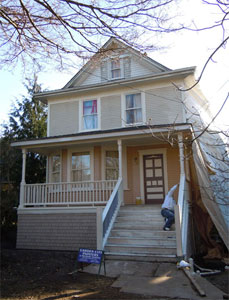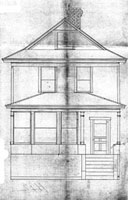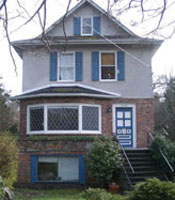 Located in a block of historic homes at the high-end of Grant Street, this residence was built for $2,400 at the start of the pre-WWI Victoria building boom. The 2½-storey structure is an unusual version of the Homestead style, reflecting a sense that the more typical, simple pattern had fallen out of fashion. The distinctive gabled roofline, gives the impression of an Arts and Crafts bellcast roof. The hipped roof is overlaid with setback gables facing front and back, creating a further half-storey, thereby maximizing density on a small lot. The exterior is clad in lap siding on all main floors, with shingles on the foundation wall. The left side features a two-storey box bay. A hipped front porch shelters an angled front bay. Windows are mostly one-over-one sash with horns. Leaded piano windows are located on both side walls. An offset porch at the rear, with a bellcast, hipped roof extends beyond the house width to provide a front-facing rear exit.
The house has undergone many alterations over the years including the addition of a garage under the porch, the removal of the porch, replacement windows with shutters and stucco and brick cladding. The current owner is returning the exterior close to its original design.
Little is known about the Scottish-born carpenter, John Emslie Beveridge, who designed the house. It is notable that he caused a minor stir in 1901 by advertising back in Scotland for a wife and receiving more than 100 replies, reflecting the gender imbalance in booming Victoria, and the social unrest in his birth country. The first owner, master mariner Jeremiah C. Shaw, was First Officer of the Steamer Princess Beatrice. He lived at 69 Menzies and built this house as an investment.
The Parrs and five of their children occupied the house between 1910 and 1911. Thomas H. Parr (1848-1914) and Sarah Annie (Saxelby, 1848-1912) were both born in England. The family had previously lived in Winnipeg, MB where Thomas was City Engineer. Thomas worked as a surveyor and civil engineer for the City of Victoria.
From 1912 to at least 1920, several members of the Myers family lived here. Herbert E. and Albert E. Myers (1856-1927) were both carpenters. Albert and Edward R. Myers who was a bookkeeper, were both employed by builder W.F. Drysdale. James E. Myers, also a bookkeeper and Maud A. Myers, a stenographer, were employed by H.O. Kirkham & Co. By 1920 Albert was still living here with his wife Catherine (MacDonald, 1854-1935). Both were born in Nova Scotia and arrived in Victoria around 1909.
G.E. Norris, customs officer, occupied the house between 1924 and at least 1926. Adelaide Beatrice Marshall (Oliver, 1884-1970), widow of Edward Galeb Marshall was listed as the occupant in 1929 and 1931. Robert Wyper Todd and Jane Anne Mauchland (1894-1988) resided in the house from 1933 to at least 1946. Both were born in Scotland. Prior to their marriage in 1927, Robert was living on James Island working as an engineer. Jane was employed as a domestic, living at Carlton Apartments.
By the 1950s Albert G. Bowbyes (d. 1997) and Lois Marion (1918-2008) were the owners. Lois was born in Regina, SK. Albert became Chief Petty Officer with the Royal Canadian Navy.