This was not as much a style as an ideological movement, although the Victoria architects who were influenced by it left a recognizable mark upon the local landscape. The Arts & Crafts movement is most simply summarized as one initiated by a group of British artists and architects reacting to several features of Late Victorian life, principally the dehumanizing effects of industrialization and the unquestioning imitation of earlier formal historical styles. Rather, they espoused architecture that showed evidence of human handiwork, that was functional, and that respected British vernacular traditions of house building. Ironically, their admiration of the vernacular meant that they often incorporated elements from medieval buildings in their work that were also copied by the proponents of the Gothic, Queen Anne, and Tudor Revival styles that they criticized. As a result it is sometimes difficult to discern the boundaries between these different styles.
Tudor Revival

Tudor Revival (also known as English or Elizabethan Revival) is a style that was created to evoke the spirit of traditional medieval English structures, particularly rambling country manor houses and rural cottages. The first examples were architect-designed stately homes in late-nineteenth century England that mimicked the appearance of growth through centuries of additions. Throughout the British Empire, and in Victoria in particular, this architectural style came to symbolize a traditional British way of life. There are a few instances in Victoria of homes similar to the original, historically inspired prototypes. However, most examples of the style here use it in eclectic mixtures. Many local architects (notably Samuel Maclure) used selected Tudor Revival elements in their designs, apparently to appeal to their clients' Anglophile bents, but without attempting to create historically accurate copies. And a large number of more modest homes built in the first third of the twentieth century were modelled on medieval cottages in a subset of the style called English or Cotswold Cottage, which sometimes included an attempt to simulate a thatched roof.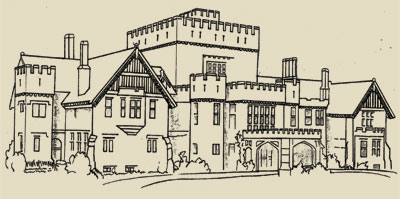 The style is described here as a set of features frequently found in houses that are at least part Tudor Revival. The more features that appear in a given building, the closer it is to the style. Hatley Park, designed by Samuel Maclure, with Douglas James, and illustrated here, is possibly the purest version of Tudar Revival to be found in the Capital Region.

steep, side-gabled roof
one or more steeply pitched front gables, often asymmetric or overlapping
decorative half-timbering inset with masonry (usually stucco) (This may also be found in the gables of Queen Anne and Arts & Crafts houses, which derive from medieval models as well. Half-timbered gables and walls usually indicate a Tudor Revival house.)
entry with either no or a small porch, frequently with a flattened, pointed (Tudor) arch and quoin-like tabs of brick or stone projecting into the surrounding masonry
oriel windows
either rows of three or more casement windows, or tall narrow windows, often with multiple panes or leaded diamond glass
jettied upper storeyes (also indicative of Queen Anne and Arts & Crafts houses)
massive chimneys on an outside wall, sometimes with multiple flues (This can be a feature distinguishing Tudor Revival from Queen Anne and other types of Arts & Crafts houses, whose chimneys are usually internal.)
crenellated towers and bay windows
British Arts & Crafts

The British Arts & Crafts concept was attractive in Victoria to "Little England" enthusiasts intent on recreating the homeland on Canadian soil. A large number of architects with appropriate backgrounds were available to oblige by providing house designs in this genre for upmarket clients. As the British models they worked from were diverse, so were the Victoria houses they produced; as well, individual architects added their own idiosyncratic touches to their work. But there is a common mood to these houses: although they look like they have just been plucked, steep-roofed and asymmetrical, from the English countryside, they don't look out of place in a British Columbian suburb, particularly in terms of their building materials.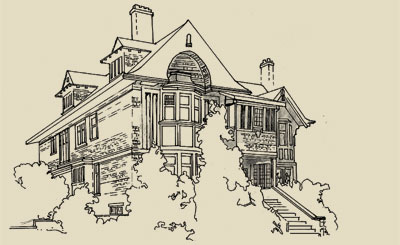 Brothers Douglas and Percy Leonard James, both trained in England, designed 1015 Moss (Rockland; drawing from photo, 1977, Hallmark Society), built in 1912-13. It is clad largely in shingle, but features many medieval British features such as half-timbered panels, leaded-glass windows, and oriel window on the side. The prominent gable on the left of the façade, with its recessed arch and two-storey bay window, looks as though it has come from an earlier Queen Anne, but there is no variety-for-variety's sake in this house: it has an overall unity to it.
Edwardian Vernacular Arts & Crafts

This vernacular house type with strong Arts & Crafts features, although not unique to Victoria, seems to have been built here in larger numbers than anywhere else. Thousands were constructed during an economic boom between 1904-1914; fewer can be traced to before or after that period. Most were built by contractors such as David Herbert Bale, and do not seem to have been architect-designed, although it has been suggested that some of the houses of renowned Victoria architect Samuel Maclure provided a model for them.

The basic characteristics of this house are a height of 1½ storeys, with the second level designed for living space, and a front-gabled roof pitched at approximately 45 degrees, with the gable ends at the top of the main floor walls. There are typically one or two dormers, usually gabled. Half-timbering and dentil mouldings are often seen in the gables, and many have wide bargeboards with eave returns at the bottom. Earlier instances typically have closed eaves; later ones may have open eaves and exposed raftertails similar to those in Craftsman houses. Almost all have an asymmetrical main floor on the the front facade, with inset entry porch on one side of the façade and a bay window on the other, and a symmetrical upper level.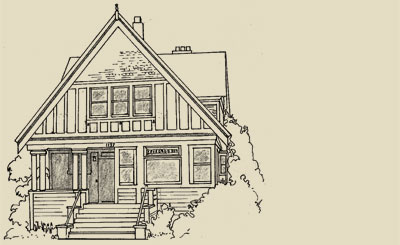 The façade of 1127 Fort (Fairfield) built in 1907, is suggestive of a gable on a Queen Anne house (which is related to the Arts & Crafts movement) in its multiple levels and surface treatments. The half-timbered gable and prominent roofline are reminiscent of several high-fashion Arts & Crafts houses based on a Swiss Chalet model designed a few years earlier by Samuel Maclure.
Craftsman Style

The Arts & Crafts philosophy was taken up in the United States by furniture maker Gustav Stickley in his magazine The Craftsman, where he made available plans for houses in that fashion for free; the magazine name subsequently became identified with the American version of the style. Stickley stressed the use of low, broad proportions, natural building materials, and the absence of artificial ornamentation in his houses. Two California architects, brothers Charles and Henry Greene, popularized Craftsman-style bungalows, and shortly after 1905 the style and house type became the dominant one for smaller American houses until the early 1920s; in fact, the style is frequently referred to simply as "Bungalow." Many companies sprang up to offer building plans, full kits of building materials that could be shipped to the customer's lot, or complete design and construction services to erect a house in this style. Many Victoria Craftsman bungalows, two-storey houses, and even a few Craftsman churches date from this period.

Craftsman buildings tend to differ from British Arts & Crafts structures in having lower-pitched roofs. Their ornamentation, although its medieval origins are discernable, is more stylized; almost all Craftsmans have open eaves with exposed raftertails, many have decorative beams or triangular braces under their gables, and local examples frequently have some token patches of half-timbering. They are usually side- or front-gabled, and have a front entry porch: in simple examples this will be incorporated under the main building roof, while more elaborate structures will have a gabled or shed-roofed porch in front. The porches on many Craftsmans have square supports based on battered stone piers or shingled balustrades. Bargeboards on gables are usually wide and frequently are slotted and have pointed tips.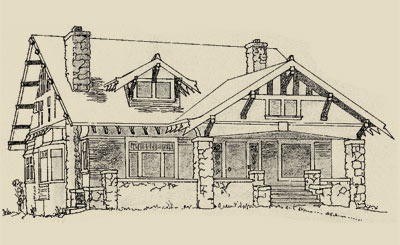 This house was built in 1911 at 20-24 Douglas (drawing from photo c.1913 from Craftsman Bungalow catalogue, courtesy Larry Kreisman) from Plan 327 designed by architect Jud Yoho of Seattle. Massive stone pillars support the porch; more commonly in Craftsman houses the stone would extend only part way up as a pier, and wooden supports would rest on them. The open eaves, exposed raftertails, and beam-ends with brackets under the gables are typical.
Foursquare (Vernacular)

A group of Chicago architects, inspired by Frank Lloyd Wright and known collectively as the Prairie School, originated a uniquely American house style at the beginning of the 20th Century. Many of these houses had low-pitched, hipped roofs with widely overhanging eaves, emphasizing horizontal lines. While this movement seems to have had minimal impact on professional architecture in Victoria, from houses scattered throughout the city there is ample evidence that builders, following their gut feelings on what clients wanted, were constructing scores of residences influenced by the style, presumably from the many pattern books available. Most date from shortly before WWI.

This house type is known as a Foursquare or Prairie Box. The basis of its appeal was in part functional – it is essentially a two-storey version of the Colonial Bungalow that had been an evergreen favourite for decades earlier because it was cheap to build. The introduction of platform frame construction would have decreased the cost of adding a second storey. In form it is also an expanded version of the Cubical Italianate that had been fashionable a generation earlier, minus the bay windows and eaves brackets, and plus some dormer windows on an expanded third level.

The classic Foursquare (so-called because it typically has four rooms on each level) is a hipped-roof cube with features that emphasize its horizontal lines: wide watertables, beltcourses, and friezes separating levels of the building; contrasting materials at different levels; wide front porches; and multiple strings of windows. It usually has at least one dormer window.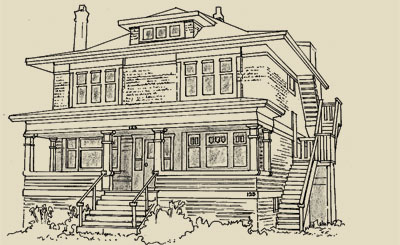 This Foursquare at 123 Howe (Fairfield, not on City's Heritage Registry) is a classic of the type. Its horizontality is accentuated by three bands of smooth boards girdling the house and separating the sections of rougher cladding, alternating claddings of shingle and beveled siding, and contrasting colours for the different materials. All windows in the façade are in groups of three, there is a wide, low front porch, and the low front dormer further stresses the flattening effect of the bellcast roof.