Not all houses are designed according to the latest mode. Some homes, typically built by their owners or by small-scale or nonprofessional builders, show little concern for changing fashions. The criterion for the choice of design of such houses is more likely to be the cost of construction or local architectural traditions. In this book houses that do not conform to a generally recognized style that occurs outside Victoria will be termed vernacular, or as a house form or type. Even so, these buildings have often obviously been influenced, directly or indirectly, by some conventional style. Vernacular buildings that contain some features associated with a standard style will be identified as such.

Colonial Bungalow / Classical Cottage

One house type frequently seen in Victoria that can be considered a vernacular style is the single-storey, hipped-roof cottage or bungalow. An important attraction it offers is economy: it provides the most space for the least money of any building shape. It has been suggested that this style was inspired by a building found by British colonial administrators in India called a bangla, resulting in its being named a Colonial Bungalow.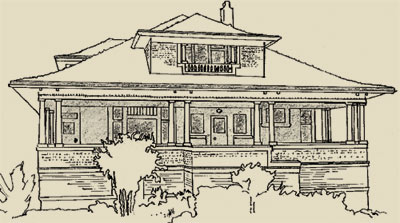 This 1½ storey, bellcast hipped-roof cottage built in 1911 at 614 Seaforth (Vic West) nicely demonstrates the basic features of the Colonial Bungalow. Many examples of this type have only attic space under the broad-eaved roof with a single dormer to light it, but this house was designed with second-storey living space, complete with generous dormer windows and a sleeping porch. A full-width front porch is sheltered under the house roof. The Tuscan Classical Revival columns supporting the porch are a sign of its being built in the Edwardian era.

There are other possibilities for the inspiration of single-storey, hipped-roof house-types in Victoria, such as similar houses observed in French North America or the Ontario Classical Cottage of the 19th Century. Classical Cottages generally have a smaller, more formal entry porch. They often have features borrowed from the dominant style of larger houses at the time they were built: the Italianate cottage typically has eaves brackets and a front angled bay window balancing the entry porch, both with hooded roofs, while if it has turned "gingerbread" porch supports and prominent, asymmetrically placed, pedimented bay windows it would be called a Queen Anne Cottage.