Around the beginning of the 19th Century there was a reaction to the principles of Classicism, intellectual assumptions such as the appeal of simple symmetric structures determined by geometric rules. Instead, a new movement called Romanticism proposed aesthetic standards based on how buildings arouse emotional reactions in the observer. (A similar development in music occurred when composers such as Tchaikovsky and Wagner moved away from the music of Bach.) Such houses are often called Picturesque because their appearance was considered appropriate to be the subject of a painting. The Romantic or Picturesque styles were inspired by the architecture of particular historical periods, although they were often not very accurate copies of buildings of those times.
Gothic Revival Style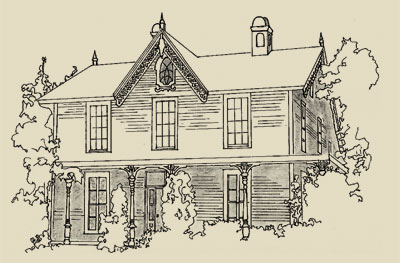 The first Canadian buildings in the Gothic Revival style were churches built at the beginning of the 19th Century, when it became considered as appropriate for religious and public buildings because of its associations with medieval European Christianity. It had earlier been used in England for grand country houses, and from there became popular for residences in the United States and Eastern Canada from about 1840 to 1865. Originally a style designed for masonry buildings, it was adapted to frame construction in a form called Carpenter Gothic for simpler homes. In Victoria it is mainly seen in churches and in residences originally built in country settings in the 1860s, although a few later examples can be found. Typical Gothic features are steeply gabled roofs with cross gables, elaborate carved bargeboards, flattened arches in porches, and pointed-arch windows (or rectangular windows with frame mouldings giving that effect) often extending into the gables.

Wentworth Villa was built at 1156 Fort (Fernwood) around 1862 in Carpenter Gothic. It is typical of how the Gothic style was applied to a modest residence with its steep side-gabled roof, centred wall-gable in the front façade, and intricately carved bargeboards. The wraparound porch with its support brackets simulating a flattened arch, and the token ornately detailed pointed window set prominently in the peak of the wall-gable, are examples of how an otherwise simple house could be transformed into a recognizable style.
Italianate Style

Houses based on Italian models were very popular in Victoria from 1860 to the turn of the 20th Century. Many of the first residences constructed on extensive estates outside town were inspired by the informal villas of the Italian countryside and were given the label "Italian Villa" style. These were rambling, two-storey structures, their low-pitched, gabled roofs frequently having widely overhanging eaves with decorative brackets beneath. They had tall, narrow windows with arched tops or hoods above them. The earliest examples had a prominent front-facing gable; a few later ones had a tower, almost always in the angle of two wings of the main building (rather than at a corner, as in Queen Anne houses).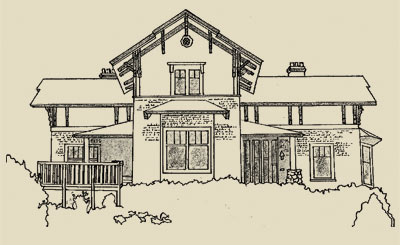 Fairfield at 601 Trutch (Fairfield) was built in 1861 on an estate that would later become the neighbourhood of that name. It is a frame building, with rectangular windows topped by hoods, unlike the segmentally arched ones typically seen on stone or brick houses.
A second Italian house style that proved attractive in early Victoria was the Cubical Italianate. This was a severe, two-storey, symmetrical, box-shaped building with a hipped roof and bracketed eaves. The originals were always stone, brick, or stucco, and usually had arched windows, belt courses, and corner quoins.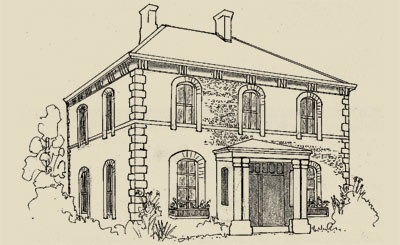 Built in 1860 (and demolished in the 1960s) on a country estate that was later subdivided to become the neighbourhood of the same name, Fernwood was a good example of Cubical Italianate. It had a simple entry porch with square supports and a flattened arch.

Although the Italian Villa and Cubical Italianate forms were easily distinguishable in the 1860s, subsequent builders frequently built houses that were a composite of the two types that became known simply as "Italianate style." Houses with several wings had hipped roofs, 1- or 2-storey bay windows were often added, and Classical Revival features such as triangular pediments on gables became common. At the end of the 19th Century many simple box-like structures were made stylish just by the addition of some eaves gables and window hoods. To complicate things further, many builders of Queen Anne houses added Italianate features, so that assigning a single style becomes debatable for many houses.
Second Empire (Mansard) Style

This style reached North American notice because of its part in the extensive building program undertaken during the reign of Napoleon III (1852-1870), France's Second Empire. So although it had its origins in the French Renaissance, it was perceived at the time as being a modern and very up-to-date introduction, in contrast to the Romantic and historic nature of the revival styles. Perhaps for this reason it was short-lived – it was used in Victoria for four public buildings in the period 1875-1882 (the Customs House, City Hall, the Masonic Temple, and the now-demolished Central Boys School) and a handful of surviving residences built around 1890.


The distinguishing feature of Second Empire is its mansard (dual-pitched) hipped roof that changes from a steep to a shallow angle. The steep portion of the roof can be straight, or curved in complex ways, and typically will have dormer windows in it. The remainder of the house is usually very similar to an Italianate home. A classic example of a Second Empire house, Trebatha at 1124 Fort (Fernwood) was built in 1887. Its roof begins with a flare and then straightens, topped with a shallow hip. The rest of the building is indistinguishable from a Cubical Italianate house with its narrow double segmentally arched windows.
Queen Anne Style

This style is the epitome of a Picturesque building style. Supposedly inspired by the architecture current during the reign of Queen Anne (1702 – 14), the concept was in fact created by a group of British architects in the 1860s working from late medieval models, which also provided inspiration for the Gothic and Tudor Revival styles and the Arts & Crafts movement. The first Queen Annes built in Victoria beginning in the 1880s represented this British school. But the style was modified south of the border to a more flamboyant architectural expression (typically with a wraparound entry porch decorated with spindlework), and the 1890s saw several still surviving homes built in a more North American mode. In Victoria the style was also frequently modified with Italianate elements, and in its dying days in the first decade of the 20th Century (Edwardian Era) Classical Revival features were often added.

This style was the antithesis of the simple, symmetric Classical approach. Victoria's typical Queen Anne house has a steep hipped roof and two or more gables projecting irregularly, although a few are front-gabled. More elaborate dwellings will have a tower, usually octagonal or round, projecting from a front corner. The defining characteristic, however, of the style is its variety of surface treatments – a Queen Anne house will use almost anything to avoid a smooth-walled appearance: pent roofs, cutaway bay windows, projecting gables, half-timbering, patterned shingles, terracotta tiles in brickwork.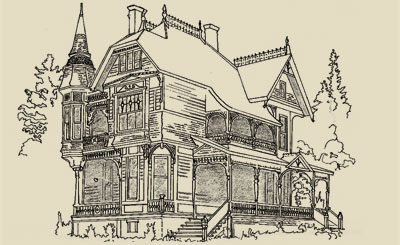 Roslyn (1135 Catherine, Vic West: drawing from photo courtesy CVA PR252-7098) also dates from 1890, but illustrates how the style had developed after being imported to the United States; this house was built from a mail-order plan by American architect G.F. Barber. On the porches it shows the feature most popularly associated with the Queen Anne style, spindlework. It also demonstrates many of the elements used to avoid flat wall surfaces: projecting gables, pent roofs, horizontal siding, and a variety of shingle patterns.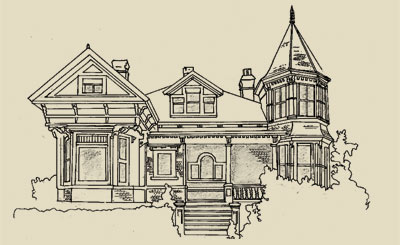 This is a picture of 223 Robert (Vic West), built in 1903-04. It has many typical features of the late Victorian Queen Anne style such as the fancy shingles and pent roof in the gables, the cutaway bay windows, and the Italianate brackets under the eaves. However, the beginning of the transition to the Edwardian period is marked by touches such as the discreet narrow beveled siding and Classical Revival features like the Tuscan columns on the porch. Smaller single- or 1½-storey versions are called Queen Anne cottages.

Shingle Style

This style originated on the northeastern coast of the USA, principally in vacation residences in fashionable resorts, and inspired several Victoria homes and churches at the end of the 19th Century. The defining feature of a Shingle building is wall cladding of continuous wooden shingles, almost like a skin, which unifies the irregular shape of the house within a smooth surface. They often have substantial masonry foundations or ground floors. Their roofs are typically steep and may be gabled or hipped with cross-gables (like the Queen Anne), and like that style they are usually rambling, asymmetric buildings. They also frequently have corner towers, usually integrated bulgelike into the body of the house, rather than attached as distinct structures. The classic examples of the style emphasize the horizontal lines of the building, strips of multiple windows often contributing to this impression. Shingle buildings often also incorporate Romanesque arches and Classical Revival details such as Palladian windows.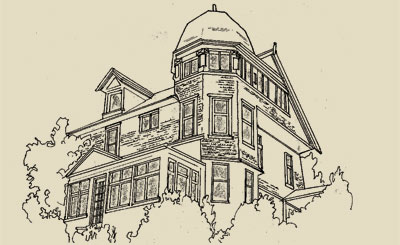 This house built in 1896 at 1032 McGregor (Rockland) is based on what appears to be a rubble stone foundation, above which it rises like an irregular pile of simple geometric forms, all bound together by a shingled casing. Window surrounds have little decorative detail, and the continuity of the surface has minimal interruption from features such as cornerboards and stringcourses. A multiple string of windows runs around the top of the tower and across the overhanging gable in an attempt to counteract the vertical impression given by the building's siting on the brow of a hill.