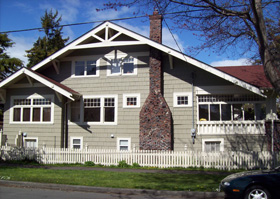 About Southwest Fairfield

This low-lying area of Fairfield was once open meadows, grasslands and marshes with two small streams. These were important to the Songhees First Nations people as a winter canoe portage to avoid the dangerous approach to the harbour during heavy seas. In 1843 James Douglas landed at Clover Point to establish a trading post for the Hudson's Bay Company. Queen Victoria later appointed him Governor of Vancouver Island and then British Columbia. Douglas subdivided the land and purchased 418 acres for himself, naming it Fairfield Farm. To the east were the lands of Joseph Pemberton and of Isabella Ross, the first female landowner in BC. Douglas leased out most of his land for cattle grazing and farming. In the mid 1860s the Henley family leased some farmland on Dallas Rd near Linden Ave and soon opened a roadhouse known as Henley's Hotel and later as Cliff House. There was a military presence established on the waterfront between Cook St and Clover Point as early as 1866. A rifle range was located on the waterfront from 1900 until 1931.

Fairfield was still largely undeveloped until the arrival of the electric street car line. This coincided with Victoria's largest building boom that began in 1907 and ended in 1913. Swamps were drained and the streams culverted. The dairy farms, Chinese market gardens and the skating ponds disappeared. Early municipal planning decisions were designed to create a utopian suburban vision for Fairfield. Boulevarded streets with residential lots were laid out in a rectilinear grid. The No. 6 Foul Bay streetcar line began operating in 1909 and intensive development took place along the route soon after. The land boom resulted in a very competitive building industry with many spec-built houses. Houses were often built and financed on the installment plan by local builders such as W. Oliphant, J. Moggey and A. McCrimmon as well as the larger construction companies of The Ward Investment Co. and The Bungalow Construction Co. They often purchased several lots in a row and built similar looking homes. This rapid development of Fairfield resulted in a cohesive and successful, middle-class neighbourhood of mostly single-family homes with small private gardens.

Fairfield has remained a dynamic community that is a reflection of its residents and their times. The WWII war-time demand for cheaper accommodation and the difficulties of sustaining large houses in the post-war period resulted in many homes being converted into suites. A similar trend is seen today, with homeowners and developers renovating and sometimes raising houses to create additonal suites. It is hoped that this is done in a sympathetic way that preserves the architectural style of the buildings and the human scale of the streetscape.