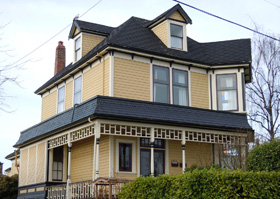 About Fernwood

The Fernwood & Spring Ridge neighbourhoods, just east of downtown Victoria, date from the city's earliest beginnings as a Fort. In 1843, the colonial governor, James Douglas, engaged men of the Songhees nation to cut trees from Cedar Hill to the north of the neighbourhood, to build the Fort's palisade. The springs of Spring Ridge emerging from a gravel ridge - Spring Ridge - to the west of Fernwood Village supplied water for the burgeoning town of Victoria. Water was carried in barrels by horse carts and later piped to households via wooden pipes.

By 1849, the entire townsite region was deeded to the Hudson's Bay Co which surveyed it and sold large portions to early colonists. Surveyor Benjamin Pearse acquired a hilly heavily wooded parcel in 'the country' beyond Spring Ridge. On a hill above present day Begbie St, he built a fieldstone mansion he called Fernwood Manor in keeping with the landscape. This home, which stood from 1860 to 1969, is the source of the neighbourhood's more contemporary name. Originally a wilderness area of Garry Oak meadows alive with wild flowers, springs, swamps and small lakes, Fernwood also contained sand pits and gravel banks which supplied materials to build the growing town.

When Victoria started piping water from Elk Lake in 1875, the area of the springs became municipal gravel yards used to pave roads and sidewalks and as fill in James Bay for the building of the Causeway and the Empress Hotel in the early 1900s.

The California gold rush of 1858 spurred the expansion of Victoria and by the 1880s more lots had been subdivided in the Fernwood district. These were initially developed with cabins and cottages. The introduction of a street car line in 1890 led to rapid residential development of comfortable homes for the swelling middle-class population.