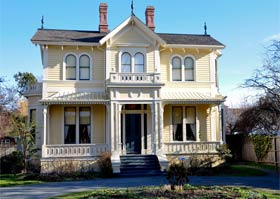 About James Bay

The fertile flat land of Beckley Farm across the Bay from Fort Victoria is the neighbourhood we now know as James Bay. The farm provided food for Hudson's Bay Company (HBC) personnel at the Fort, established in 1843 by Sir James Douglas; Queen Victoria later appointed him Governor of Vancouver Island, then British Columbia (BC). James Bay and Douglas Street were named for him.

After construction of the first government buildings for the Colony of Vancouver Island in 1858, James Bay became desirable residential property for Victoria's social and political elite. During the 1880s and '90s, James Bay's west end became an important industrial area. This led to further residential construction, for workers' houses and "widows' cottages," rental houses for annuity income. Grand homes, like 228 Douglas St, continued to be built until the First World War. Redevelopment and modernization in the 1950s-70s destroyed many historic structures.

However, continued activism by this close-knit community, and a change in attitude and policy by municipal government, helped to stem the tide of highrises, and to preserve a large number of James Bay's heritage buildings. But the current building boom is once again taking its toll on more of James Bay's beautiful old homes and streetscapes.