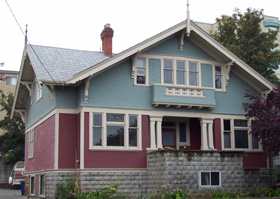 About North Park

The northern portion of North Park was developed much later than the southern, because it was originally part of Roderick and Sarah Finlayson's farm estate. Finlayson, a Hudson's Bay Company (HBC) Factor, was in charge of Fort Victoria from 1844 to 1849. He purchased 103 acres from the HBC in the 1850s, and built Rock Bay in the block now surrounded by Douglas, Bay, Government and Queens. Finlayson died in 1892, Sarah in January 1906, and the estate was subdivided. About that time, the rock was blasted for Bay Street between Wark and Quadra.

Many homes were built in North Park from 1907 to the beginning of World War I (WWI), a period coinciding with Victoria's greatest building boom, although the market had begun to collapse by 1913. The neighbourhood was close to downtown and City Hall. Several new schools were built near by, and NP can still boast of churches of many denominations. A number of the City's recreational venues are found here, including Royal Athletic Park, the Memorial Arena, the Curling Club & the Crystal Pool. Central Park, the city's second oldest park, is well-used for ballgames and other events.

This newly-developing area of North Park was one of the first suburban neighbourhoods to which wealthy Chinese businessmen and their families moved before WWI. Possibly the finest house in the area, Lim Bang's, is now gone. By World War II, there were many Chinese families here, such as the Lees and Tongs on Empress, the Chus, Lowes and Wongs on Queens, the Lou-Poys, Lowes and Wongs on Pembroke, the Chans and Quans on Cook, and the Joes on Vancouver. Their children went to George Jay School for regular schooling, and the Chinese School on Fisgard Street after hours.