Heritage Register
Gonzales

971 Bank Street

Built 1920
Heritage-Designated 2003
For: Albert & Gertrude Emsley

Designer/Builders: Wood & Richards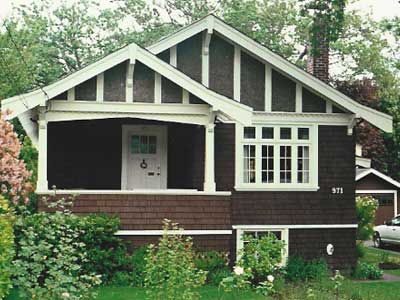 ARCHITECTURE:

Unique bargeboards rule this distinctive little Craftsman Bungalow, built for a soldier returning from World War I. The flared fascias significantly increase the street presence of the single-storey cottage, suggesting a bellcast roof. The upswept shape is continued on the gabled porch with square supports over the offset, recessed entry. The stucco and half-timbered gable has triangular braces and dentils underneath, while shingles cover the main floor. A window on the right front consists of four vertical segments, with leaded glass above and multipaned casements below. On the right side there is a clinker-brick chimney, a cantilevered box bay window, and a side-gabled wing with a second entry door. A small addition tries to emulate the flared bargeboards –but gets it upside-down!

This is one of 54 houses (47 remain) built in Victoria under the federal Soldiers' Settlement Act funding program following WWI; this one cost $3,500. Like some other municipalities in BC, Victoria obtained funds from Ottawa and oversaw the construction of houses for veterans. This was Canada's first national housing scheme, and a forerunner of the much more extensive wartime and veterans' housing schemes during and after WWII.

ORIGINAL OCCUPANTS:

Contractors Frederick Wood and Reginald Percy James Richards designed and built four of the Soldiers' Settlement houses in Victoria. In the 1920 voters' list, Fred Wood listed himself as an architect, although he never joined the Architects Institute of BC. By 1921 he had formed Wood-Foyster Construction Co with partner K.B. Foyster (724 Linden Av, Fairfield).

Albert Lawrence Seaborn Emsley (1882-1958), a veteran of the 13th Overseas Field Ambulance, CEF, was born in Napanee, ON. He married Gertrude Frier of Listowel, ON, in 1910, the year he arrived in BC from Calgary. Albert joined the army in 1916, and Gertrude lived in Nanaimo. By 1920 they were in Victoria, but Albert was living at 971 Bank, Gertrude in the Savoy Mansions. It is possible that the house was unfinished at the time, and the owner was left to complete the interior, as was the programme policy in other municipalities. Emsley had a variety of jobs, including commercial traveller and taxi driver. Before the war, he worked as a railway mail clerk (mail was sorted on special mail trains as they rushed towards large distribution centres). The Emsleys moved to Burnaby about 1921. Albert retired in 1941 and died there in 1958.
.
OTHER OCCUPANTS:

The next residents were veteran Robert Nelson Ching Hemberow and his wife Edith Mary Popley. They were born in Brighton, England, came to Canada in 1911 and 1912 respectively, married in Vancouver in 1912, then moved to Victoria. Robert enlisted in the Royal Navy in 1917 and was discharged in 1920. He was a clerk in the Land Titles Office until retirement, and died at 91 in 1975. Edith, the daughter of a wealthy family of English silversmiths, died in 1973. Daughter Ella Margaret "Pat," who was born in Victoria in 1915, lived in various places from 1940 until returning to the house in 1976. She lived here until her death in 1986. Her daughter Andrea (Fraumeni) Brimmell then moved in with husband Richard. Their children are now the fourth generation of the family to live at 971 Bank.