Heritage Register
James Bay

86-88 Dallas Road (ex-68-70 Dallas Rd)

Built 1891-93; 2004
Heritage-Designated 2003

For: Robert & Mary Tait

Builder: Robert Tait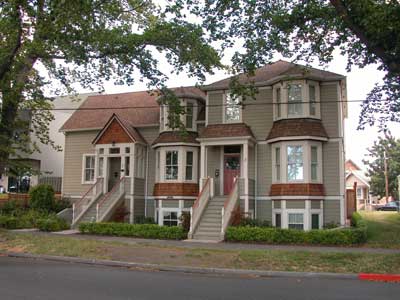 ARCHITECTURE:

This rambling edifice correctly presents the impression of having been built in stages. The original 1891 Vernacular Italianate section, on the right, is two-storey, cubical and hip-roofed. It has a two-storey angled bay on the front to the right, with a wide pent roof dividing the two bays; to the left is a hip-roofed entry porch with square posts. Extending to the left of the porch is an 1893 two-storey, side-gabled wing with a gabled front entry porch. Between the porch and the original 1891 section is a two-storey bay, reminiscent of the famous Lunenburg "bump". [Note: Nova Scotians developed a distinctive bay that cuts through the roofline to a 5-sided Scottish dormer; many of the Lunenburg examples are three-storied and centrally located over the entrance.] The house was raised and rehabilitated in 2004, with a considerable addition to the rear on St Lawrence St.

ORIGINAL OCCUPANTS:

Owners: 1891-1912: No.86: Robert Tait (b. SCT 1855-1924) and Mary (née Armit, b. SCT 1854-?), Plymouth Brethren, came to Canada in 1889. Robert, a carpenter, first worked for Smith & Clark (321 Belleville St, James Bay). He began building the left part of this house (86, ex-68 Dallas Rd) in 1891, then built a carpentry shop on the property, and the right portion (88, ex-70) in 1893. In 1905 Robert and son Robert (1885-1953), a carpenter, (1310 Topaz Av, Hillside-Quadra) constructed the detached house (90, demolished 2017) on the corner of the property, which was later split off. Robert Sr. worked for Cameron-Genoa Shipbuilders at Point Ellice during WWI, then was an independent contractor again. His death certificate lists his wife as Harriet Jane, but no death date for Mary or marriage to Harriet has been found.


OTHER OCCUPANTS:

Tenants: 88: 1894-97: Dr. Charles Newcombe (138 Dallas Rd).
1898-99: Arthur and Rosanna Kent (805 Linden Av, Rockland) of Pacific Transfer Co.
1913-18: Vancouver Milling & Grain Co salesman Campbell Highet (b. Garlieston, SCT 1873-1948) and Mary Warwick (née Young, ex-Ringsham, b. SCT 1876-1959). Their eldest son, James Alexander (b. Garlieston, SCT 1899-1916) signed his attestation papers for the CEF in July 1915. Pte. Highet was with the 2nd Canadian Mounted Rifles Btn when he died at Ypres in June 1916. His death wasn't confirmed to his parents until 1917. He is remembered on the Menin Gate Memorial at Ypres, Belgium.

Owner: 1949-53: Widow Ethel (née Smith, b. New Westminster 1890-1958) Maynard converted each side into a duplex. In 1910 in Victoria, she married Ernest Maynard (b. ON 1886-1940). His father, James Maynard, took over Maynards Boots and Shoes from Richard and Hannah Maynard, who were famous BC photographers.