Heritage Register
James Bay

228 Douglas Street

Built 1907; 1944
Heritage-Designated 1977
For: Georgina & Charles Herbert Kent

Architect: Samuel Maclure (1907);
Frank I.M. Owen (1944)
Contractors: attributed to John Young (1907);
Luney Brothers (1944)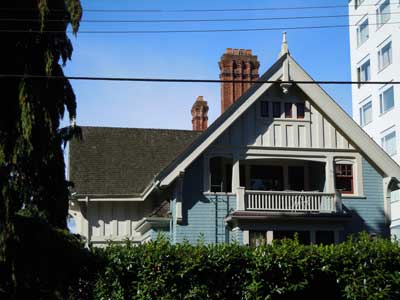 ARCHITECTURE:

This house, a British Arts & Crafts combination of shingle and half-timbering in the Tudor Revival idiom, is typical of Samuel Maclure's early work. It is 1½ stories with a full-height basement, and has a cross-gabled roof with two gabled wings on the left side and a through-the-roof gabled wall dormer on the right side. The gables have bracketed finials, elongated brackets at the lower ends of the gables and decorative half-timbering under the windows in the gables on the left side of the house. There is a bank of four small windows in the upper portion of the front gable; the balcony of the sleeping porch below sits over a wide box bay. On the left side is a shallow, hip-roofed box bay adjacent to the more prominent gabled wing which gives access to the entrance on the main floor. The less-prominent gabled wing beyond has a shallow box bay on the front; another access to a main floor entrance is located between these two wings. All the windows on the house are multi-lights-over-one. There are two corbelled brick chimneys on the ridge, one with four flues and the other with three. A previous owner said "a large, wide front porch and stairs" were removed when the house was converted to suites in the 1940s. In the 1990s a sympathetic double garage with accommodation above was built at the left side of the property. The Colonist noted that the house was built for $6,500 for Mrs. H. Kent in 1907.

In 1977 Aubrey Kent told a Hallmark Society researcher that this house was designed by Samuel Maclure. This was recently confirmed by Herbert Kent's journal notes. Jean Mason interviewed him for Camas Chronicles and said that he also named John Young as builder. Maclure was a prolific architect, yet only designed a handful of buildings in James Bay. This is the last remaining of the great houses on south Douglas Street. Evidence of another is the stone and wrought iron wall and giant sequoia trees at 250 Douglas St. Other fine houses are gone without trace, demolished to make way for Goodacre Towers and later apartments.

ORIGINAL OCCUPANTS:

(Charles) Herbert Kent was born in Manchester, England, in 1862 and came here with his family in 1864. His first job at age 10 was at St. John's Iron Church on Douglas St; he was responsible for lighting the fires and gas lamps, and pumping the organ. After high school, he worked at various odd jobs, until hitting his true passion in life: music. He began working for M.W. Waitt & Co, established in 1876, which sold safes, office equipment, musical instruments (he got the Earl and Countess of Aberdeen and their children cycling during their stay at Government House in 1898), and sporting goods. There he met the proprietor's daughter Georgina. Herbert and Georgina married in 1886, he became manager of the store in 1887, inherited the store, and changed its name to Kent Piano Co in 1913. Son Aubrey took over in 1928.

Rightly earning the nickname "Mr. Music," Herbert was a founding member of Arion Club men's choir in 1892, and sang with them until he was 92. From 1886-95 he was choirmaster at St. John's Anglican Church, then at Christ Church Cathedral. He was a singer, director and conductor, playing leading roles in a number of operas and operettas, including The Pirates of Penzanze in 1885 and The Mikado in 1894. Herbert died in 1958 at 96.

Georgina was born on Quadra St in Victoria in 1866 in the home of her parents, Marshall Wilder Waitt and Mary Angelina Chesley, who married here in 1862. Marshall was a stationer and bookseller for T.N. Hibben, then formed his own firm. He died during Victoria's 1892 smallpox epidemic. Georgina had a keen interest in music and appeared in many amateur plays and operas. She started a club for newspaper boys, giving them with concerts, picnics and other activities. Georgina died in 1933.

OTHER OCCUPANTS:

In 1944 Lieut.Col. Aubrey Kent converted the house to five apartments under the National Housing Act. Aubrey and wife Doris (109 St. Andrews St, James Bay) lived in one until their deaths in 1978 and 1977 respectively. Their son Barney Kent sold the house in 1985. Barney was a nursing orderly and married twice, the last time to Edna Hurrell.