Heritage Register
Victoria West

303 Langford Street

Built 1890
Heritage-Designated 1977
For: Sarah M.A. McNaughton

Builder: attributed to Alfred Oldershaw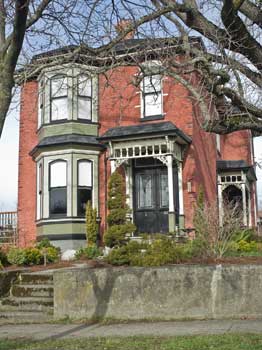 ARCHITECTURE:

One of Victoria's rare brick houses, this landmark building is in the Italianate style, with ornate spindled and bracketed front and side entry porches. There are four chamfered posts on the front porch and three on the side. The balusters on the front are turned, but square on the side. Typical of most brick Italianates, this house features segmental-arched windows, including those in the wooden two-storey octagonal front bay. There is a one-storey, wooden, shed-roofed addition on the back. It is interesting to compare this brick house with the similar, in style, wooden structures at 1190 Fort St and 1449 Pembroke St in Fernwood. The January 1, 1891, Victoria Daily Colonist reported that the house cost $2,400.

ORIGINAL OCCUPANTS:

1890-1935: Sarah Mary Ann Oldershaw (b. Chatham, ON, 1862-1952) came to Victoria c.1875 with her parents Alfred and Mary Anne Oldershaw (715 Catherine St) and her siblings. At 16 in 1879 she married Charles Musgrave McNaughton (b. Sydney, NS, 1855-1889) and moved to New Westminster, BC. They had three children before Charles, jeweller and watchmaker, died of tuberculosis after three years of illness. Sarah returned to live near her family in Victoria West and had this house built on some of the family's property [she also owned 309 Langford and 912 Catherine St.]

In 1891 Sarah signed marriage articles with Capt. Caleb McDougall (b. Nova Scotia, 1853), formerly master of the sealer E B Marvin. He had died by 1894 when Sarah remarried again, to Robert William Ward (b. Cumberland, ENG, 1864-1935) who came to Canada in 1890. He was variously a butcher, a miner and a barber. Living with them in 1901 were two boarders, as well as her three children: Alfred "Bruce", reputedly a wonderful piano player, was a dental mechanic for some years, and retired from the Royal Canadian Army in 1940; dentist Charles Musgrave married dentist Florence Mary Fraser in 1912; and Mary Jane "Mamie". After Robert Ward died in the house, Sarah left it and later died in Colwood.

OTHER OCCUPANTS:

1937: Ambrose Maltravers and Gladys Mae Snelgrove married in Vancouver in 1920. Ambrose was a bookkeeper with Cowichan Creamery Traders. His mother Maud Snelgrove lived with them. Ambrose and Gladys later separated and he ran a resort. 1938-39: Donald Robert Joseph and Patricia Grace Keirs married in Victoria in 1936. Donald was a salesman for Ray's Ltd groceries & meats, 734 Fort St, then for 19 years a clerk in the BC Department of Recreation.

1940-42: Mary A. Shore, widow of G.C. Shore, and her daughter, E. Blanche, a nurse at Royal Oak Private Hospital. 1941: VMD helper Frederick William and Edith June Suffern. Fred was born in North Battleford, SK; his brother, VMD helper George H. and Joyce Suffern lived at 538 Langford. Fred retired as a janitor for BC Department of Public Works; when he died, he and Edith lived at 149 Rendall St, James Bay.
1943-46: Widow Elizabeth Dean with her sons Donald, a shop boy at National Motors, and Ernest, a driver for Northwestern Creamery.
1947-48: Barber Frederick and Vera Louise Mitcham, and their daughter Beverley, a seamstress with Victoria Bed & Mattresss Co. Vera was born in Fort Qu'Appelle, SK, in 1905, the year Saskatchewan became a province.

ADDITIONAL INFORMATION & IMAGES:

• Vic West History

• Vic West Heritage Register



• This Old House, Victoria's Heritage Neighbourhoods,
Volume One: Fernwood & Victoria West