Heritage Register
Fairfield

123 Cambridge Street

Built 1912
Heritage-Registered
For: Albert Pike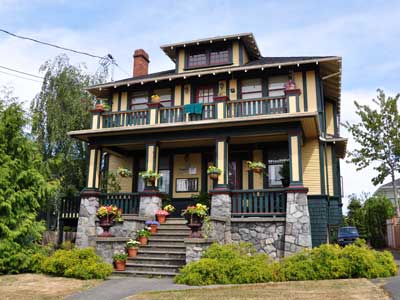 ARCHITECTURE:

This handsome 2-storey Foursquare has a full-width front porch and a balanced design. Square posts support the porch and extend to the balcony above; each have matching simple slat balustrades. The lower windows have leaded transoms. The slightly offset front door has panels instead of sidelights. The porch has random dressed granite battered piers and infill. The central front steps and porch floor are concrete. The south side has a 1-storey box bay in front and a 2-storey box bay behind. The hipped roof with exposed rafter tails has a front-facing dormer lit with a pair of multi-pane sashes. Upper storey windows are a mix, but mostly 1-over-1 double hung sashes. The rear has two 1-storey box bays and the north side has an angled bay window with leaded transoms matching the front. It has narrow bevelled siding on the lower portion, half-timbering on the upper, and shingled basement. The tall red brick chimney has dentil detail.

ORIGINAL OCCUPANTS:

Albert Pike (1855-1943), a stonemason and bricklayer, built this house. In 1900 he built 554 Niagara St (James Bay) as his family home. He also built a house designed by Samuel Maclure across the street at 116 Cambridge.

OTHER OCCUPANTS:

The Fields family bought this house in about 1913. William Milne (1841-1924) and Violette (Cass, 1843-1943) Fields were born in Castleford, Yorkshire, England, came to Canada in 1905 and BC in 1912. However, they were living in Milnesville, USA in 1867 when their son John Cass Fields (1867-1950) was born in 1867. William was a retired bank manager. Violetta was still living at this house when she died in 1943. Both John and his brother Charles Arthur Fields (1872-1944) worked as salesmen, in timber and mines respectively, and lived in the house for a number of years with their widowed mother. John sold the house in 1946 and moved to an apartment on Belmont Av.

New owner Michael Schleppe converted the house to a triplex in 1946. Charles Lee (1912-1974) and Edith Winifred (Howland, 1913-1976) Frankham bought the house by 1949 and lived here until 1962. Charles was an agent with Prudential Insurance. They divorced at some point and Charles re-married.

In 1982 the house was converted to six suites.