Heritage Register
Fairfield

308 Chester Street (ex-Cambridge St)

Built 1912
Heritage-Registered
For: Charles Boniface

Builders: Charles Boniface & Frederick Wright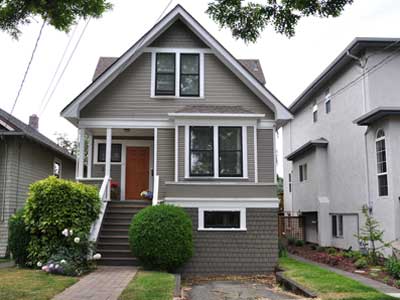 ARCHITECTURE:

This 1½-storey, front-gabled Edwardian Vernacular Arts & Crafts house has matching gabled side dormers neatly finished with whalebone bargeboards. Eaves are enclosed and there are two corbelled brick chimneys. Double-bevel siding, separated by a horizontal belt course, covers both levels. Shingles are used on the upper gable and basement. Paired double-hung windows with horns are featured in the front gable and the two shallow box bays. The front box bay with its hipped roof, balances the recessed corner porch with its simple wood posts and solid balustrade. A leaded multipaned window abuts the front door which is not original. This house has been raised. An earlier projecting front garage addition has been converted back to living space.

Carpenter Charles Boniface (1883-1957) built several houses as revenue property: he never lived here. Charles came to BC in 1908 and married Alice Paddon (1885-1951) the next year. They were living on Heywood Av with their infant daughter Alice in 1911. The Bonifaces moved to Vancouver sometime around 1914 where they remained for many years.

ORIGINAL OCCUPANTS:

The first known residents of this house were plasterer George Thomas (c.1845-1913) and Emma Allen, who were first listed at this address in 1912. Born in England, George and Emma came to Canada in 1871 and to Victoria in the early 1890s. The Allens lived here until George's death in 1913. Following a period of vacancy, Harry Spedding (1881-1956) took up occupancy in 1920 and lived here for several years. A pattern maker, he was born in Yorkshire, England, and came to Victoria in 1901.

OTHER OCCUPANTS:

The Harding family bought this house in the early 1920s and lived here for 30 years. Frederick William Harding (1888-1956) was a letter carrier. Born in Sydney, Australia, he came to Victoria in the early 1890s. He had a long-time affiliation with the Victoria Shamrocks lacrosse team as a timekeeper and honorary president of the senior B league. Frederick married San Francisco native Annie Clark Thomson (1890-1954), likely around 1912 when she arrived in Victoria. Frederick sold this house after she died and moved to Saanich, where he died two years later.