Heritage Register
Fairfield

1456 Clifford Street

Built 1913-14
Heritage-Registered
For: F.H. Ware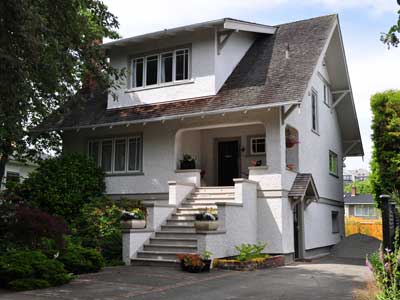 ARCHITECTURE:

In 1913 this house cost $2,750 to build. It is a high 1½-storey, side-gabled Craftsman with large shed-roofed dormers both front and back. The steeply-pitched roof has wide overhanging open eaves with exposed rafter ends and large triangular knee brackets. The brick wall chimney may have been rebuilt. Roughcast stucco covers the original exterior siding,with a wood belt course above the basement level and in the upper gable ends. A long wooden staircase, flanked by a stepped solid balustrade, leads to a recessed corner verandah with arched openings. The front door is glazed with four high, small panes of beveled glass. Original windows are either fixed or casements. The Craftsman-style geometric window muntin designs are reversed at each end on the banks or groups of windows. The east side wall displays a large leaded art glass window in the interior stairway.

ORIGINAL OCCUPANTS:

This house was built in 1913-14 for F.H. Ware, but there's no evidence he lived here. The earliest known occupants were Alma Thomas (1892-1971) and Pearl May (Stevens, 1895-1979) Porter, who lived here c.1920-21. Alma was born in Victoria, to Mary Overton and John Porter. He resided with his family at 603 Francis Av until 1917-18, even after his marriage in 1915 to Seattle-born Pearl Stevens. Alma was a printer and proprietor of the Quality Press until he retired in 1961. Pearl and Alma were long-time members of the Salvation Army.

OTHER OCCUPANTS:

The Walton family bought this house by 1924 and lived here until the early 1940s. Born in Lancashire, England, William Henry Walton (1874-1946) and his wife Annie (1868-1942) came to Victoria in 1911. William worked as a car repairer for the BCER for many years. Their daughter Mabel and her husband Archibald E. Read moved in shortly before Annie died. The family sold the house a couple of years later.

Retired couple Elizabeth (Williams, 1884-1949) and Frederick Thornett (1887-1969) owned this house briefly in the mid-1940s. By 1949, Nellie and George Ellwood Fox (1900-1959) bought this house. Born in Victoria, George was a salesman at Eaton's and later a clerk at the HMC Dockyard. He married Nellie Warburton in 1928. Nellie remained at this house for at least 20 years after George died in 1959.