Heritage Register
Fairfield

911 Collinson Street

Built 1912
Heritage-Designated 1993
For: Alfred & Irene Carter

Designer/Builder: D.H. Bale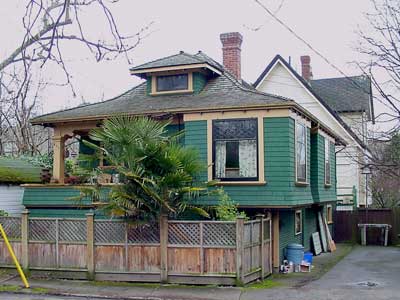 ARCHITECTURE:

This modest dwelling is a good example of the basic hip-roofed Bungalow with Arts & Crafts detailing, as designed and built by David Herbert Bale. He did a number of this basic shape including a smaller one at 1324 Balmoral Rd in Fernwood and others at 1082 Davie, 3189 Fifth and 2514 Prior, but none of them are on the heritage register. This version features a bellcast roof with exposed rafters at the eaves, wood shingle cladding, a partially enclosed porch with heavy decorative porch brackets cut like jigsaw pieces (a feature on a number of his houses), decorative stained glass and original interior features. 910 Fairfield Rd, which backs onto this property, was also owned by the Carter family and designed by D.H. Bale, but in his EVA&C style; the back of is seen in this photo.

ORIGINAL OCCUPANTS:

Alfred Edward Carter was born in Victoria in 1889. By 1912 he was an electrician living at 736 Courtney with his mother Elizabeth Alice (Miles, 1852-1942), who had come to Canada from England in 1887 with her husband John William Carter.

In May 1912 Alfred took out a plumbing permit for this house and in September that year he married Irene Beatrice Nason at St. Mary's Church in Oak Bay. She was born in the gold-mining town of Barkerville in 1890. They moved into their new house at 911 Collinson after honeymooning in Prince Rupert. They did not live here long, as by 1917 this house was listed as vacant, and the Carters were living with Alfred's mother at 910 Fairfield. Alfred was an electrical engineer at the BCER Power House.

Alfred's sister Zealandia in 1906 married Edgar Lionel Fawcett, son of one of Victoria's earliest and most notable historians, Edgar Fawcett.

OTHER OCCUPANTS:

US Immigration inspector Roy C. Matterson lived here in 1921, followed by Laurence Lupton in 1924. BCCSS marine engineer Frederick Kingdon Bailey (1891-1958) lived here c.1926-29. He was born in Portsmouth, England, and came to Victoria with his family as a young boy. He apprenticed at Bullen's Marine Ways, now Yarrows Ltd. In 1920 he joined the CPR; in 1934 he became assistant superintendent engineer and later superintendent engineer. He retired in 1955. Frederick first married Elsie Kate Bucknell in Cardiff, Wales, in 1915. He later married Alice Louisa Westwood (1895-1983).

Following a brief period of vacancy, Julia Attwood (Tyndall, 1884-1972), widow of Frank Edward Attwood, took up residence here by 1933 and lived here until about 1950. Born in Kent, England, she immigrated here in 1912. Frank was a bricklayer and joined the CEF in 1916. It is unknown what happened to him, although it seems likely that he died during WWI.