Heritage Register
Fairfield

1005 Cook Street

Built 1906-07
Heritage-Designated 1977
For: Leonard & Emily Locke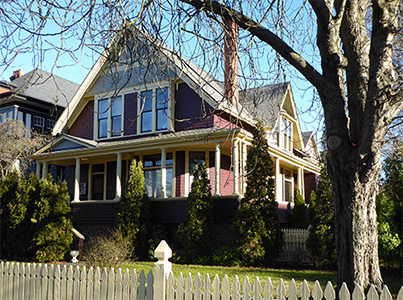 ARCHITECTURE:

This is a 1½-storey shingled Edwardian front-gabled house on a corner lot with a wrap-around verandah featuring wooden Tuscan columns on a solid shingled balustrade. The front-facing entrance at the left has side-facing steps, under a portico-like gable in the porch roof above. The entrance door is panelled and has an art glass leaded light and matching transom. To the right is a large angled bay and above in the main gable is a shallow box bay under courses of fancy cut shingles. The right side of the house has a full height angled bay through the porch roof and capped by a gabled dormer. Windows are mostly 1-over-1, double-hung sash, usually grouped. Bargeboards and other details are simple. The house has a concrete foundation with red brick above. The property is set off by a substantial picket fence. The house is critically sited at the main entrance to Rockland Av.

ORIGINAL OCCUPANTS:

This house was built for Capt Leonard Pye Locke (1852-1918) and wife Emily (1853-1942), who lived here until c.1912. Capt Locke was in command of the ill-fated CPR ship Princess Sophia, when it sank in Lynn Canal, near Juneau, AK, after being grounded on Vanderbilt Reef Oct. 25, 1918. This disaster killed over 343 passengers and crew members. Locke was born in Halifax, NS, and began his career at 16. He began working for the Dunsmuir family in 1895, and by 1901 joined the CPR steamship fleet. Their daughter Emily (1880-1974) married Douglas Blamey McConnan and lived at 629 Niagara St (James Bay).

OTHER OCCUPANTS:

Paul Raoul Chaney of Heath & Chaney Real Estate lived here briefly in 1914 after marrying Hilda Carmen Turnbull in New Westminster that year. He was born in Nantes, France, and had been living in Portland, OR. Dr. Annie Cleland (Chambers, 1859-1949), a physician, and widow of Hugh MacKenzie Cleland (c.1869-1903) lived here and operated her practice here c.1917-20. Dr. Joseph Douglas (1881-1970) and Anita Alice (Lawrence, 1885-1949) Hunter lived here from 1921 until c.1929 and then bought 911 Linden Av (Rockland), where they lived for many years.

This was home to the Victoria School of Expression from 1930-54. Capt Wilfrid (1886-1954) and Marion Jessie (Evans, 1880-1967) Ord were the owners, and Marion was principal of the school, offering singing, elocution, and drama. The Ords came to Canada c.1920. Born in Heidelberg, Germany, Wilfrid was a federal civil servant in the transportation department for over 20 years. He was a veteran of WWI.

Marion was born in Dublin, Ireland, and was visiting Victoria with her four-year-old son when he was killed in a car accident in 1921. Wilfrid came to Victoria from England, and the Ords decided to stay here. A short time later, Marion established the School to help her cope with her son's death. She taught for 37 years, but left the house after Wilfrid died.