Heritage Register
Fairfield

451 Durban Street

Built 1912
Heritage-Designated 1998
For: Bungalow Construction Co.

Architect: Elmer Ellsworth Green
Builder: Bungalow Construction Co.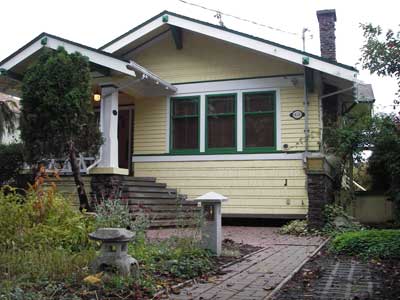 ARCHITECTURE:

This house is another of the eight California Bungalows built by the Bungalow Construction Co (see 423 Durban St) on Durban. It has the typical low-pitched, front gabled roofline, sheltering an offset front porch with roof of the same pitch and cut ends on the bargeboards, a common feature of E.E. Green's houses. The square porch posts are slightly battered, and set on clinker brick piers. The same distinctive brick, seen on many California and Craftsman Bungalows, is used for the two chimneys, and an unusual small wall which juts out in front of the right corner of the wall, and holds a planter. The foundation level and gables have double-coursed shingles; the main level has bevelled siding. The watertable becomes a high belt course under the main windows, which are capped by a wide string course at the front. The windows are elaborate multi-panes over single-panes.

ORIGINAL OCCUPANTS:

The first known occupant of this house was George E. Davis, a City Hall clerk who lived here until at least 1917.

OTHER OCCUPANTS:

By 1921 Mrs A.L. Gordon was here, then Raymond J. Balcom in the mid-1920s. Richard operated the Victoria Oil Co. John R. Michell, a salesman at G.T. Michell, retailers of farm equipment, lived here from c.1929-31.

By 1933 Angus Wheatley (1903-1988) and Winona Waite (1900-1975) McIntyre were the residents. They lived here until about 1941. Angus was an industrial chemist born in St. John's, NF. Winona was born in Moose Jaw, SK, and they married in Victoria in 1929.
George L. and Vallie Regina (Cossarini, 1908-1982) Rossington lived here from c.1943-early 1950s. George was a clerk at the Imperial Bank of Canada.

From 1993 to 2002 this was home to Russian émigré Prince Nicholas Vladimir Galitzine (1914-1999 and his wife, Princess Anita (Frisch, born 1933 in Riga, Latvia). He was born in a palace in St. Petersburg, where his mother was lady-in-waiting to the Czarina. The prince married Anita in 1956, and their children and grandchildren all inherited the titles. Anita sold the house in 2002 to move to 75 Cook St (Fairfield) with her eldest son Alexander and family.

The house was purchased by actress Meg Tilly and her husband John Calley, a former president of Sony Pictures. They lived in the Uplands, and for two or three years used this property as a guest house when they had visitors to Victoria.

ADDITIONAL INFORMATION & IMAGES:

• Fairfield History

• Fairfield Heritage Register



• This Old House, Victoria's Heritage Neighbourhoods,
Volume Four: Fairfield, Gonzales & Jubilee