Heritage Register
Fernwood

1921-23 Fernwood Road

Built 1909; 1913
Heritage-Designated 2002/Commercial
For: Parfitt Brothers

Architect: C. Elwood Watkins
Builders: Parfitt Brothers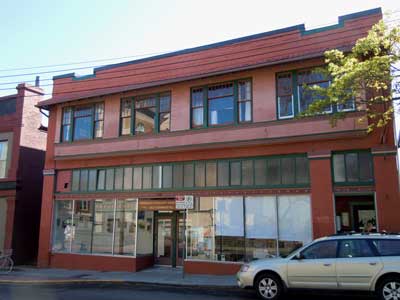 ARCHITECTURE:

This building began as a 1½-storey, cross-gabled Edwardian Vernacular Arts & Crafts house. The gables and the two through-the-roof wall dormers were shingled and there was double-bevelled siding on the body. The rear portion of the house remains, but is mostly covered in stucco. In 1914 the front was replaced by a two-storey, flat-roofed, brick and stucco commercial block. The second floor is an almost full-width, shallow cantilevered box bay with a hipped pent roof, and exposed rafter tails. There is a metal-topped parapet above. The first floor is approximately 14 feet high, with an entrance door to shop space flanked by two glass display windows. An entrance door to the second-storey apartments is to the right. The entire floor is topped by clerestory windows.

ORIGINAL OCCUPANTS:
.
Parfitt Brothers was one of Victoria's best known and longest surviving construction firms from 1907 until 1950, when it became Parfitt Construction Co, under a later generation of the family. The five Parfitts grew up in the coal mining village of Carlingcott, Somerset, England. On July 6, 1889, the first three, James Bishop (1865-1938), Aaron Jr (1868-1952, 1421 Grant St, Fernwood), and Frederick Sr (1870-1931), landed in Victoria. Within a month, they joined the Methodist Church Choir, and before the end of the year Jim had married his hometown sweetheart, Elizabeth "Ellen" Moons (1866-1934), directly off the train in Vancouver. In 1890-91 the three brothers worked as construction labourers on the Metropolitan Methodist Church (1411 Quadra St/907 Pandora Av, Harris Green). Aaron and Fred sang in the choir at the opening celebrations in May 1891.

Fred returned to England in 1892, and Jim and Aaron later worked on the BC Parliament Buildings (501 Belleville St, James Bay). In May 1907 Aaron left his job with contractors Moore & Whittington (1433 & 1437 Vining St) to form a company with Jim. By the end of the year they were joined by Fred and younger brothers Mark (1879-1969), and Albert (1885-1961), as the firm Parfitt Brothers. They immediately began to win prestigious contracts, including the Federal Post Office in Ladysmith and the Royal Jubilee Hospital Nurses' Home and Pemberton Chapel in 1908 (1900 Fort St, Jubilee), George Jay School, 1909-10 (1118 Princess Av, Fernwood), the Rennie & Taylor Bakery, 1910 (1284-98 Gladstone Av, Fernwood), the Bank of Commerce, 1910, the James Bay Inn at 270 Government St, 1911, St. John's Anglican Church, 1912 (1611 Quadra St, North Park), Oaklands School, 1912 (2827 Belmont Av, Oaklands), the Rennie and Taylor Apartments, 1913 (2006-10 Fernwood Rd) and the Bay Street Armouries, 1914-15 (713 Bay St, Burnside). Other major works included the Normandie Apartments on Cook at Balmoral, Quadra Primary School 1921 (2549 Quadra St, Hillside/Quadra), Christ Church Cathedral Memorial Hall 1923-24 (908-12 Vancouver St, Fairfield), Fairfield United Church 1926, Royal Jubilee Hospital East Wing 1925 (1900 Fort St, Jubilee), Plimley Motors at 1010 Yates St 1927, the BC Electric Substation 1929 (637 Bay St, Burnside) and the Esso Tower on the Causeway (812 Wharf St, Downtown) 1929. However, their largest contract was for the construction of Christ Church Cathedral 1926-29 (908 VancouverSt, Faifield).

Fred and Sarah (Hamblin, 1876-1957) Parfitt lived in the earlier house until the front section was built, and moved to 2663 Fernwood Rd, Oaklands, in 1913. The new building was first known as the Parfitt Brothers Block and by the 1930s, as Fernwood Apartments at 1921 Fernwood.

1914-59: 1923 Fernwood, the main floor, housed the Fernwood Pharmacy: 1914-15: Druggist Holmes DeWolfe Pineo (b. NS 1884-1927), the son of Albert and Elizabeth Pineo (1924-26 Belmont Av, Fernwood), was a widower when he married nurse Helena Evelyn McKenzie in 1915.

1915-25: Druggist William James Barker (b. Palmerston, ON, 1868-1941) sometimes lived upstairs in #1 or #2, 1921 Fernwood; by 1926 he was the secretary of the Victoria Chess Club.
1926-30: Druggist Sydney Howard Knott (b. Victoria 1899) married clerk Ellen Beatrice Dutton in 1925. Syd was the son of Herbert Thomas and Charity Jane Knott (1466 Gladstone Av, Fernwood) and grandson of Thomas and Emma Matthew (1460 Gladstone Av).

1931-32: Druggist John Bower McLean Hodgins (b. Arnprior, ON, 1873-1960) was a widower when he married milliner Martha Elizabeth (née Jones, b. Nanaimo, 1893-1987) in 1917. They lived in apartment #2, then #4 upstairs in 1921 for many years and John became the caretaker of the building. After his death Martha worked as a saleswoman for Miss Frith Millinery and Fashions until 1967, but returned to Nanaimo before her death.

1933-53: Druggist Elmore Frederick Clark (b. Toronto 1907-1984) married divorced stenographer Alistaire "Alice" Mildred Pruden in 1933.
1954-55: Druggist George Gibbs Thompson (b. Pilot Mound, MB, 1897-1975) and his wife Norma lived in the 1929 Parfitt Bros apartment block at 1905 Fernwood Rd.
1956-59: Druggist G. Martin Doan.

OTHER OCCUPANTS:
By 1963 the Fernwood Pharmacy was replaced by the Fernwood Bakery.

In the 1970s the newly formed Fernwood Community Association moved into the building, which has now been owned by the City for many years. It has given this active citizens' group a high profile for the last four decades.