Heritage Register
Hillside-Quadra

2549 Quadra Street
Quadra Primary School

Built 1921
Heritage-Registered

For: Victoria School Board

Architect: Karl B. Spurgin
Contractors: Parfitt Brothers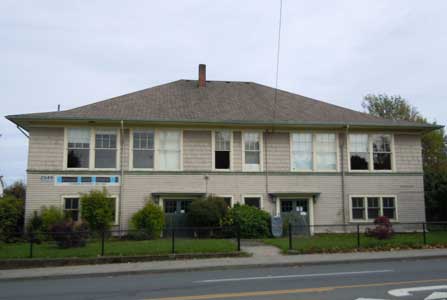 ARCHITECTURE:

This four-roomed school was designed like a large Colonial Bungalow but without a verandah. The front façade is symmetrical, with two double-doored entries at street level and a raised entry on each side, to separate the boys and girls. All entries are sheltered by small roofs supported by curved brackets. In Arts & Crafts fashion, the windows are 6 or 2-over-1 double-hung sash, and the siding double-coursed shingles on the upper floor and bevelled siding on the lower.

It was built to replace Kings Rd School and to help accommodate an increasing school population in the north end of the city. Major Karl Branwhite Spurgin, architect, was born in England where he had a considerable career before coming to Canada. His work there included churches, schools and factories, as well as residences. Major Spurgin was a veteran of both the Boer War and WWI. As well as many residences in the Victoria area and up-island, Spurgin designed Margaret Jenkins School (1914, 1824 Fairfield Rd, Gonzales) and the Saanich War Memorial Health Centre. He died in Victoria in 1936.

ORIGINAL OCCUPANTS:

The school cost $46,500 and opened in September 1921 with 137 students who transferred from Kings Road School along with Miss Mary Lucas who became first principal at the new school. She was close to retirement and in 1924 Miss Victoria E. Lemmax took over as principal. She remained here until the late 1950s. Quadra Primary School became an annex of George Jay School in the early 1970s and later an annex of Blanshard School.
OTHER OCCUPANTS:

Sundance Elementary School was established at the school as an alternative programme in 1973, and served over 100 students from the Greater Victoria area until 1978. From 1979 until 1990 it was a school for the BC Ministry of Human Resources. Quadra Primary School was left empty for a number of years until 2005 when it became the Vancouver Island School of Art.

Along with Quadra Elementary (3031 Quadra St), George Jay (1118 Princess Av, Fernwood), Victoria High (1260 Grant St, Fernwood), Burnside (3130 Jutland Rd, Burnside), Oaklands (2827 Belmont Av, Oaklands), and (1824 Fairfield Rd) Margaret Jenkins, Quadra Primary School was added to the City of Victoria's heritage registry in 2002.

ADDITIONAL INFORMATION & IMAGES:

• Map of Victoria Heritage Register Properties

• Hillside-Quadra History

• Hillside-Quadra Heritage Register

• This Old House, Victoria's Heritage Neighbourhoods,
Volume Three: Rockland, Burnside, Harris Green,
Hillside-Quadra, North Park & Oaklands