Heritage Register
Hillside-Quadra

3031 Quadra Street
Quadra Elementary School & Annex

Built 1913
Heritage-Registered

For: Victoria School Board

Architect: C. Elwood Watkins
Contractors: Luney Brothers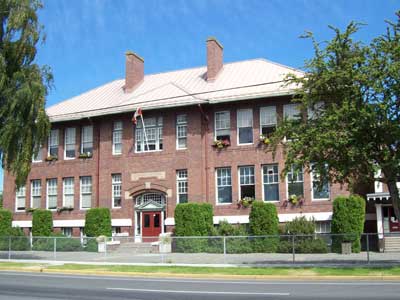 ARCHITECTURE:

This handsome 2½-storey brick school has no pretension to any one historical style, more a tendency to functionalism, even modernism. It has a symmetrical façade, including offset wings at the back; a ridged, hipped roof with a slight flare at the bottom edge, exposed rafter tails underneath, and ridged metal replacing the original slate tiles, removed for fear of injury during an earthquake; and massive rectangular chimneys with extended flat concrete caps. The wood windows are 6-over-1 double-hung sash surrounded by raised panels of brick, with 3-over-1 basement windows. The light and dark high-fired brick cladding is laid in diapered panels between the main and second floor and between the upper windows on the entrance bay, with sandstone panels and keystones highlighting the segmentally arched entrances. A wide raised concrete water table separates the main floor from the basement, and a band of vertical brick runs around the building under the main floor windows.

The newer sections at the back and south end continue the tendency to function and style for their own times. The right side has banks of windows and exaggerated flat rafter tails. As well as serving as an elementary school, this well-preserved building is also a significant landmark. A new two-storey entrance porch was constructed in 2014 to the right side of the original building, at the same time as the building underwent seismic upgrading and rehabilation.

ORIGINAL OCCUPANTS:

In 1912 the need for a school in the area was so urgent that classes began in a tent on the 2.36 acre site. Architect C. Elwood Watkins was asked to provide eight classrooms and a large assemby hall. This building was completed in 1914 at a cost of $46,500 by Luney Brothers.

Prior to this, a two-room brick annex was erected on Finlayson Rd at a right angle to the main building. It was intended as an industrial training centre but such was the need for regular classroom space that the annex was used for two divisions taught by Misses Madeline B. Davies and May C. Frank during the 1913 school year. They were paid $70 and $60 per month, respectively. The main building opened in 1914 with 181 students and a staff of four: Misses Violet Evalina M. Sweet (she married William Llewelyn Thomas in 1916, and was forced to give up teaching), Jean M. Duncan, W.H. Jauck and May C. Frank. Angus B. McNeill joined the staff as principal in 1916 at a salary of $112.50 per month.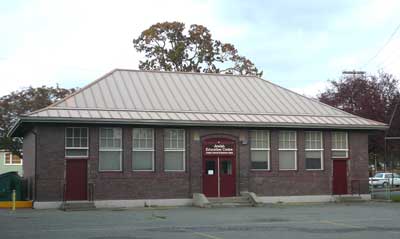 By 1916 enrolment was up to 305. Industrial training began in the annex around this time. Large classes of 54 to 58 students were the norm in the 1920s. In 1950 grades 7 and 8 were sent to S.J. Willis School and the training centre was closed. The annex was then remodelled into two classrooms. Later in the 1950s more classrooms were added in the basement of the main building, using former play space. A new wing was completed in the spring of 1963 and grade 7 classes resumed at the school that fall. By 1964 the school was teaching 16 divisions from kindergarten to grade 7 and total enrolment was 646.

The school celebrated its Golden Jubilee on June 5 1964. P.D.(Dan) Parfitt was principal at the time. Early in his teaching career he took a sabbatical to help his father's firm (Parfitt Brothers) build Christ Church Cathedral. Dan Parfitt retired from Quadra Elementary in 1967 after a 41-year teaching career. A special guest at the jubilee was former Victoria mayor Percy George, who was a founding PTA member and later PTA president for many years.

With six other Victoria schools, Quadra Elementary School was added to the City of Victoria's Heritage Register in 2002.


ADDITIONAL INFORMATION & IMAGES:

• Map of Victoria Heritage Register Properties

• Hillside-Quadra History

• Hillside-Quadra Heritage Register


• This Old House, Victoria's Heritage Neighbourhoods,
Volume Three: Rockland, Burnside, Harris Green,
Hillside-Quadra, North Park & Oaklands