Heritage Register
Fairfield

1060 Burdett Avenue

Built 1910
Heritage-Designated 1997
For: Elijah Anderson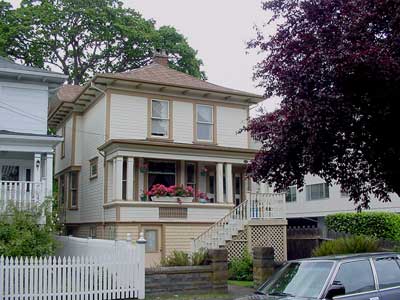 ARCHITECTURE:

This house has a strong street presence in collaboration with its twin to the west, 1054. It is somewhat representative of the smaller scale Edwardian villas with modest ornamentation and detailing. The upper storey street elevation suggests a kind of symmetry which is not reflected below the verandah roof line. Its slightly bell cast pyramidal roof and dentilled soffit, heavy fascia band and multiple square columns are distinctive. The side, which faces its twin, is articuluated with a combination square and angled cantilevered window projection which in turn, generates an offset roof line. The 'fenced' side is devoid of any substantial decoration.

The two houses (1054 and 1060) are identical to a 1911 pair at 1030 and 1034 Princess Av (North Park) and almost identical to a 1912 house at 327 Simcoe, James Bay, designed by C. Elwood Watkins. However, the plans for the Burdett and Princess St houses, which appear to be drawn by the same hand, are too crude to have been by a trained architect.

ORIGINAL OCCUPANTS:

William (1872-1958) and Francis Elizabeth (Giles, 1870-1967) Press sold the property to Elijah Anderson (15 South Turner St, James Bay) who built two houses on the lot. The Presses bought back the east half of the lot with 1060, and Elijah and his wife Charlotte lived in 1054 for a number of years. Born in Nottingham, England, William Press came to Canada in 1899 and BC in 1911. Frances came to Canada from England in 1903 and to BC in 1910. By 1912 William was an accountant for Green & Burdick, then for the Soldiers' Settlement Board after WWI, and by 1930 for Begg Motors, for whom he worked until his retirement in 1944.

After graduating from Victoria High School at 17, daughter Marjorie Press began working as a stenographer with the provincial government; however, the government considered her too young to work night sessions. She then went east and worked as a secretary for the CNR in Montreal, but returned to Victoria after WWII began. In 1942 she began working for the Unemployment Insurance Commission of the National Employment Service, placing women recruited for wartime work at the shipyards and Boeing Aircraft. In 1963 she was appointed supervisor of the Women's Unit of the National Employment Service of Victoria. She was a founding member and first president of the Victoria Toastmistress Club, past president of Victoria Business and Professional Women's Club, and a member of the Association of Women Electors, Greater Victoria Art Gallery and Royal Colwood Golf Club. The Press family left the house sometime after William's death.