Heritage Register
Fairfield

907 Collinson Street

Built 1908
Heritage-Designated 2003
For: Lucy Curtis

Builder: attributed to Charles Serjeantson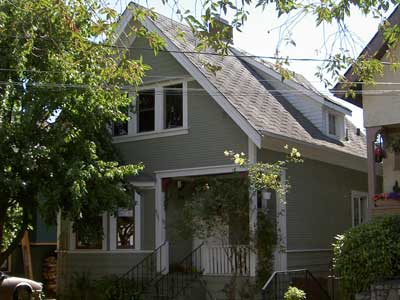 ARCHITECTURE:

This is a 1½-storey, front-gabled Edwardian Vernacular Arts & Crafts house. It has an inset entry porch with brackets and a single square support in the right-front corner, and an angled bay window with a hipped roof on the left front. The roof has plain narrow bargeboards, closed eaves, and a shingled shed dormer on the right side. There is a ribbon of three windows in the gable under a small, pent roof. The house is clad with double-bevelled siding, shingles in the peak of the gable, and lapped siding below the water table.

ORIGINAL OCCUPANTS:

Lucy Gower Curtis (1875-1921) had this house built as rental property in 1908. She was a spinster at the time, born in Gloucestershire, England, who came here about 1904. Her father, Capt James Dillon Curtis, of the Royal Navy, who possibly provided the funding for the house, was well known in Victoria as a veteran of the Crimean War, the Indian Mutiny and the suppression of the slave trade off the east coast of Africa. He was also on the notorious Xanthian expedition in 1843 which "rescued" statuary from the Parthenon in Athens to be deposited in the British Museum as the Elgin marbles. In September 1909 Lucy married contractor Charles Rowland Serjeantson.

Lucy's first tenants were newly-weds John (1879-1957) and Harriet Cotsford (Mackay, 1881-1958) Hart. They lived here until 1911. At the time, John was an insurance agent, but he soon became a partner in the prominent firm, Gillespie, Hart & Todd, and from 1941-47, served as the 23rd Premier of BC (1961 Fairfield Pl, Gonzales).

OTHER OCCUPANTS:

The 1912 occupants were contractor Frederick (1874-1935) and Ethel May (Lawrence, 1876-1969) Wood, who were born in Luton, Bedfordshire, and Gateswood, Northumberland, England, and came to Victoria in 1911. Fred and Reginald Percy James Richards, as Wood & Richards, designed and built five of the Soldiers' Settlement houses in Victoria in 1920 (971 Bank St, Gonzales). In the 1920 voters' list, Fred Wood listed himself as an architect but he never joined the Architects Institute of BC. By 1921 he had formed Wood-Foyster Construction Co with partner K.B. Foyster (724 Linden Av, Fairfield).

They were followed by Andrew Messer, a city clerk, then bartender Fred L. Smith in 1914-15. It was vacant for several years. Maud and Herbert Hunt, a labourer, and later kitchen help in the Empress Hotel, were here in the mid-1920s. Alma Haikala (1885-1957), widow of Eino, lived here throughout the 1930s, along with her offspring. Elmer, a chauffeur with Quarter Cabs, Harold, a student at Victoria College, Helma, a waitress at the Dominion Hotel, and Ina, cashier at the Empress Hotel. Alma was born in Finland and came to BC in 1910. During WWII, Mildred Evans lived here while her husband, painter Stanley W. Evans, was on active service.