Heritage Register
Fairfield

938 Collinson Street (ex-60 Collinson St)

Built 1890
Heritage-Designated 2003
For: George, Mary & Fanny Maidment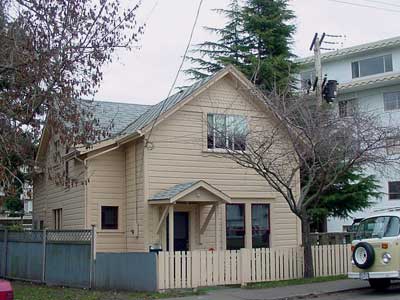 ARCHITECTURE:

Surrounded by multistorey commercial structures, this almost-2-storey, L-shaped gable-front-and-wing Vernacular house is a dogged survivor from the 19th Century. It has not survived unscathed, however; surface shadows uncovered during its recent restoration reveal the loss of some of its original features. The windows originally had more ornate casings, and the present simple front-gabled entry porch with square supports replaced an earlier hipped-roof one running across the front and around the left side, like one on a similar house built a few years earlier at 1347 Gladstone Av. The wing on the left side is constructed in an unusual way with a gable on top of a shed-roofed lean-to, likely the result of an addition to the house at some unknown time. The house is sheathed in drop siding, apart from shingles in the gable peaks.

ORIGINAL OCCUPANTS:

George (1839-1916) was born in Dorset, England, Mary (1831-1903) in Kent, England, and they came to Canada in 1871, the year their daughter Anne "Fanny" (1871-1926) was born. They came to Victoria about 1889, and shortly afterwards purchased this lot in their daughter's name. George and their son Charles Beng (1866-1928), were both carpenter / builders. The Maidments bought properties and built houses on spec, including three houses very similar in James Bay. (Only two of those, 117 and 119 Oswego St, still exist, but both are designated heritage.) After Mary died, George lived with his daughter at 428 Quebec St, then in St. George's Hotel at 765 Esquimalt Rd for two years until his death. Charles was the proprietor of that hotel for some years, then worked for the CPR in the carpenters' shop for many years; he died in 1928 at his home, 521 Simcoe St (James Bay).

Fanny Maidment married Frederick Wilton Stubbs (c.1872-1928) in March 1898. Fred was born in Chester, England, came to Canada in 1889, and was a clerk. In 1901, Fanny, Fred and their two small daughters were living with her parents and brother at 42 North Park St. Fred later worked as foreman with Worswick Paving Co, then as an inspector for the BC Government. Fanny died in New Westminster. Fred died two years later.

In 1900, the Maidments sold this property to their neighbour, Edith Cullum, who may have used it as rental property. The Cullums had been neighbours on the Vancouver / Collinson corner since 1889, when widower and retired Naval Officer Thomas Francis Cullum (c.1836-1895) had built a cottage for $1,000 on Vancouver at Collinson and opened a grocery store. In July 1891 Edith Flora Williams (1852-1945) from London, England, married Thomas Cullum, who was born in Plymouth, England. She was 32 and a Presbyterian, he was 60 and a member of the Plymouth Brethren, or Quakers. Edith continued to run the grocery after Thomas died. In 1902-03, another house was built on the lot, to the east of 938 Collinson. Edith sold the house in 1907, and by 1912, was living on Fisgard.

OTHER OCCUPANTS:

The house had various tenants, including sailor William Hogan in the late 1890s, salesman Fred Bradshaw, carpenter Thomas Cowan and real estate salesman Alfrew Wilson in the 1900s. From 1914-20, Arthur and Helena Gosling lived here. Arthur was a plumber with Colbert Plumbing & Heating Co. From 1921-49, Mary E. O'Neill, the widow of Keiran J. O'Neill, who died in Coupeville, WA, in 1918. Nothing more is known about Mary.